How To Choose and Use Lemongrass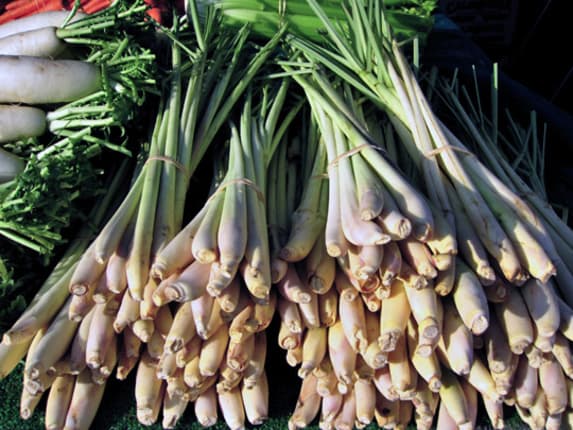 Lemongrass is a fragrant herb used in curries, meats, tofu, and other dishes where a zesty, lemony flavor is desired. If you've never bought or cooked with it before, the thick, grassy stalks may be a bit daunting. But it's really quite simple. Here is our guide to buying and preparing lemongrass, whether your recipe requires sliced, minced, or bruised.
What You Need
Ingredients
Lemongrass stalk
Tools
Cutting board
Chef's knife
Mortar and pestle (optional)
Food processor (optional)
Microplane zester (optional)
Instructions
1. Lemongrass is often sold in bunches of stalks one to two feet in length.
2. Choose stalks that feel firm, smell fragrant, and look fresh. Look for tight bulbs and pale to bright green stems and tops. The tops may be somewhat dry, but avoid any that appear overly dried out, brown, or yellow.
3. Although the entire stalk is edible, in general it is the tender middle section that is used. Using a chef's knife, trim the fibrous top and about two inches off the bottom. Discard the upper and lower parts or reserve for another use. (Try using the leaves to infuse soup or tea.)
4. Using your fingers, peel away the tough outer layer(s) to reach the fleshy interior.
5. Using a chef's knife, thinly slice into rounds. Depending on the recipe, use as is or proceed to steps 6 or 7.
6. For finer pieces, mince the slices with a chef's knife.
7. Alternatively, grind the slices using a mortar and pestle or food processor.
8. A microplane zester may also be used to finely grate lemongrass for use in stir-fries or other recipes.
9. Some soup or curry recipes call for bruised rather than minced lemongrass. To bruise, use the back of a knife to press the stalk in several places until fragrant.
10. Bending the stalk is another way to bruise the lemongrass and release its oils.
Additional Notes: To store lemongrass, wrap tightly in plastic and refrigerate for up to two weeks or freeze for up to six months.
(Images: Emily Ho)