How To Bake a Potato in the Slow Cooker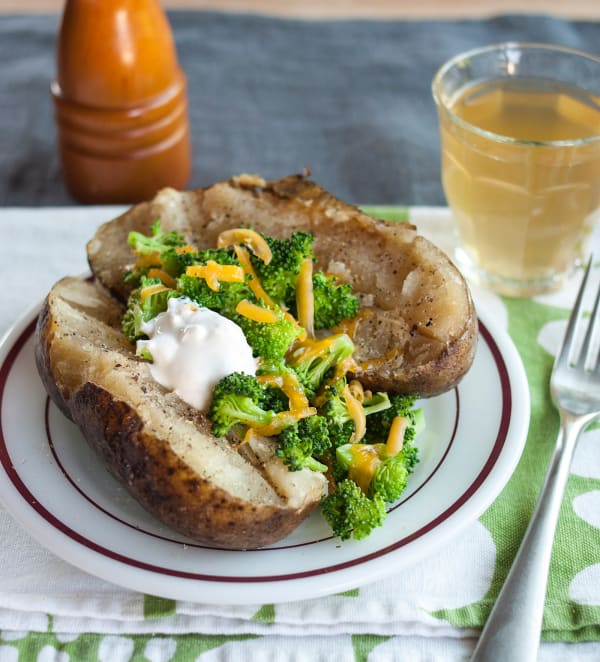 How would you like to come home tonight to the aroma of roasting potatoes and know that all you have to do is pull out a foil package and add the butter? Oh, yes, this kind of instant dinner gratification is totally possible. All you have to do is grab some potatoes and take your slow cooker down from the shelf.
Baking potatoes in the slow cooker is one of those things that is so easy, it feel like there must be some kind of catch. Except...there isn't. In the morning, wrap anywhere from one to eight potatoes in foil, pack them into your slow cooker, and set it to LOW. No extra liquid is necessary. By the time you get home later that evening, those potatoes have cooked in their own steam, turning into some of the softest and most richly flavored potatoes you've ever eaten.
The only slightly unusual thing that happens is that the flesh of the potato darkens as it cooks, turning a caramel-tan color. It can be slightly disconcerting the first time you break open a slow-cooked potato, but it's nothing to worry about. This color change is thanks to the maillard reaction, which happens when starches are cooked in the absence of liquid, and it actually produces mouthwatering nutty and roasted flavors in the potatoes.
One other note before we jump into it: these potatoes can be baked for anywhere from 8 to 10 hours on the LOW setting on your slow cooker, but don't let them linger too long in the WARM zone. The longer the potatoes are kept warm (below 140°F), the more there's an increase risk of food poisoning from things like botulism. So if you think you might be a little late coming home, set your slow cooker to 10 hours to be safe.
How to Bake a Potato in the Slow Cooker
Makes 1 to 8 potatoes
What You Need
Ingredients
1 to 8 russet potatoes (See Recipe Note)
Olive oil
Salt
Equipment
Aluminum foil
1 slow-cooker, any size
Instructions
Prepare the potatoes. Lay a square of aluminum foil on your work surface and set a potato on top. Prick the potato all over with a fork. Rub it with 1/2 teaspoon of olive oil and sprinkle with salt. Wrap the potato tightly. Repeat with remaining potatoes.
Arrange the potatoes in the slow cooker. Lay the potatoes in the slow cooker so they fit snugly next to each other. If you are baking 1 to 2 potatoes, set them in the middle of the slow cooker; stack 5 or more potatoes in a second layer.
Bake for 8 to 10 hours on LOW. Cover the slow cooker and set it to LOW for 8 to 10 hours. The potatoes will be ready to eat any time after 8 hours, but will be fine if cooked for up to 10 hours. You can remove the potatoes and eat them at any point between 8 and 10 hours. Do not leave them on the WARM setting for more than an hour.
Remove potatoes from the foil, split, and eat. When ready to eat, unwrap the potatoes, split them along the length, and top with your favorite toppings. Leftover potatoes can be kept, wrapped in foil, for 3-4 days in the fridge.
Recipe Notes
Try this method with other hard root vegetables like sweet potatoes and beets as well!
Want more smart tutorials for getting things done around the home?
See more How To posts
We're looking for great examples of your own household intelligence too!
Submit your own tutorials or ideas here!
This post was requested by jo_jelly for Reader Request Week 2013.
(Images: Emma Christensen)