How One Woman Eats for $80 a Week in Portland, Oregon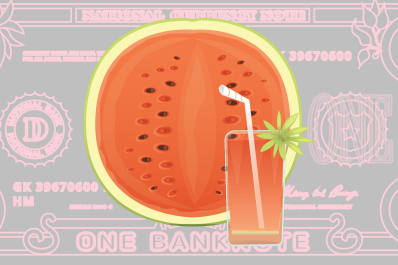 (Image credit: Watermelon: Gaidamashchuk/Shutterstock.com; Background: GettyImages)
Welcome to Kitchn's Food Budget Diaries series, where we show you how people around the country spend money on what they eat and drink. Each post will follow one person for one week and will chronicle everything that person consumed and how much it costs them.
Name: Morgan
Location: Portland, Oregon
Age: 29
Number of people in family: 1 (I have a roommate, but we don't share expenses)
Occupation: Volunteer coordinator for a local animal shelter
Household income: $50,000
Weekly food budget: $80 ($60 for groceries and $20 for meals out)
Day One: Monday
6:00 a.m. Do you have dogs? I have two and my roommate has a third, and they get us up around 6 a.m. every day. I am definitely not a morning person, so this is a daily struggle for me. I get up, feed and walk both my dogs, and have some iced tea. Can't think about breakfast yet.
8:00 a.m. Something is wrong with our stove so a repair man is coming to fix it sometime between 8 a.m. and 12 p.m today. I am working from home so I can let him in. I have a bowl of Joe's O's, followed by a slice of sourdough toast with peanut butter. I am not really a big breakfast person, but I actually woke up hungry today.
9:00 a.m. I am planning out my meals and grocery list for the week and I just happened to look at the forecast for the week. We are expecting it to be over 100 degrees for at least three days this week. Eww! Unacceptable! We Portlanders do not do extreme heat well. I will definitely be looking for meals that don't involve turning on my oven.
10:45 a.m. Still waiting for the repair man … browsing recipes is making me hungry.
My mom stayed with me this weekend because my roommate was out of town and I was sick. She made a yummy chicken and rice soup, so I am going to heat a small bowl of it up. I tend to be a grazer; I rarely eat a big meal. I add a little bit of homemade chicken stock that I made last week. Mom's soup cures everything, am I right?
11:45 a.m. Finally! The repair man arrives! Darn those four-hour appointment windows! I make some sun tea on the kitchen windowsill. I drink iced tea all day every day. A box of 100 tea bags usually costs me about $2, and it lasts about two months. Way cheaper when I make it myself! And now I can finally go to the market.
Get the recipe: How To Make Sun Tea from Kitchn
12:30 p.m. I manage to get in and out of WinCo with only one impulse purchase (frozen popcorn chicken). It's a guilty pleasure of mine, but I love having a snack or meal item in the freezer in the event of an emergency or those nights I just don't feel like cooking. Usually my fall-back is a quesadilla, but sometimes I need something more.
WinCo
Popcorn chicken $4.98
Natural chocolate pudding $2.38
Bulk carrots $0.22
Rice crackers $2.56
Graham crackers $1.48
Sweet potato $1.36
2 navel oranges $1.51
2 small avocados $1.96
Total Cost: $16.45
1:10 p.m. I head over to New Seasons, my very favorite grocery store. A little secret about myself: I absolutely love grocery shopping. I wish I could live in a little city in Europe and walk to the different markets daily to pick up fresh bread, cheese, fruit, and veggies. I love all of it. So I don't mind going to a few different stores to get exactly what I need.
In order to prevent myself from picking up unnecessary items, I don't get a basket. That way I can only hold the one item I need: rotisserie chicken from the hot bar. It's quick and easy to make a meal out of it during the week and this way I don't have to buy a whole chicken, or cook one this week with the soaring temperatures. At the entrance, they have a sampling station, where I try a couple cups of limeade and chicharrones. I've never had them before and they are delicious! They are on sale so I pick up a bag as a special treat.
New Seasons
Chicken from the hot bar $5.75
Chicharrones $2.50
Total Cost: $8.25
1:40 p.m. Next I swing through Costco to get grilled chicken skewers. I had them at a friend's house a few weeks ago and they were delicious! I decided last-minute to pick them up for the week because they don't need to be heated up. I actually prefer them cold. When I get home I put half in the freezer because we will never eat them all in a week. I manage to escape without trying any samples (Costco at lunchtime is a nightmare), although I do swing through and get a frozen yogurt on my way out. Best $1.35 I've ever spent.
Costco
Chicken skewers $11.89
Frozen yogurt $1.35
Total Cost: $13.24
2:30 p.m. I get home, unpack groceries, and walk the dogs. It's already over 90 degrees so I want them to get their walk before it gets even hotter. I have a Doberman (black fur) and a Pit Bull, and my roommate has a Golden Retriever (long hair) so they overheat easily. I put my yogurt in the freezer to eat later (I only ate a quarter of it) and munch on some rice crackers while I put away the food.
4:00 p.m. I did laundry, made the bed, washed dishes, and cleaned around the house, and now I'm hungry again. I had a few bites of watermelon and a handful of cherries that my mom brought over this weekend. One of my dogs is obsessed with watermelon, so I share with him. Now I need to clean up the watermelon mess on my kitchen floor (silly dog!)
5:00 p.m. I'm hungry again. I made a quick and easy quesadilla, my go-to for snacking. I used corn tortillas, shredded cheese, and some leftover bean dip I made last week. My roommate and I are on a bean dip kick lately. I make it every few weeks and we eat it for dinner throughout the week. It's a crowd-pleaser, and so easy to make. I usually have the ingredients on hand so it's easy to whip up in a moment's notice.
Get the recipe: The Best Bean Dip from The Girl Who Ate Everything
7:00 p.m. It's Harry Potter Day (Harry Potter's birthday, and J.K. Rowling's birthday) so tonight we celebrate by watching the Deathly Hallows Part 2. I heat up some more of my mom's soup for dinner, and make some cheesy bread with a baguette leftover from sometime last week. My roommate and I eat on the couch while watching Harry Potter. I drink some more of my sun tea, and we each have a Lindt truffle from the fridge. That is one of our guilty pleasures. I stumbled upon a giant bag of them at Grocery Outlet many months back. It is way cheaper to buy the big bag. I buy a few bags for $6 each and it lasts us months. We keep them in the fridge and we go through about one each a day. It's out little treat at the end of the day.
9 p.m. We call it a night. Dogs are walked one final time and it's off to bed for everyone.
Day Two: Tuesday
6:43 a.m. The dogs started stirring around 6 a.m., but I pretended to be asleep and they settled down for a bit. (I do not like mornings!) But now they are whining for breakfast so we get up. They are fed and walked. I make myself a bowl of Joe's O's and some iced tea I made yesterday. We watch the morning news, and all the anchor talks about is our impending heat wave.
7:30 a.m. I put a lunch together, and toss in lots of snacks for the day. I graze all day — especially the days I am in my office at the shelter. I pack too much but I'd rather have choices. I make a jar of cold brew with a splash of milk, and have a piece of toast with peanut butter as I head out the door. The coffee will keep me going until about noon.
9:45 a.m. Someone brought in chocolate hazelnut crème cookies, so obviously I eat two at my desk while digging my way through emails. Thank goodness for cold brew coffee.
11:20 a.m. I realize I'm hungry and bust out a jar of cherries I packed. Moms, I tell ya! I mentioned that my mom made soup for me when I was sick this weekend. I discovered last night that she also put a few goodies in my fridge. She went to our local farmers market and picked up some cherries, watermelon, apples, and I believe she also delivered a beautiful piece of halibut that her neighbor caught on his most recent trip to Alaska.
We have amazing local markets in Portland, and you can find one any day of the week. I love that because sometimes you just can't go on the weekend. I also love that we have friends who share beautiful, healthy, fresh-caught fish. I often am surprised with a delivery of salmon or halibut from their frequent trips to Alaska. I can't remember the last time I bought fish. I return the favor by house sitting for them when they take weekend trips. I leave a jar of extra cherries in the break room to share, as I will never finish them all before they go bad.
1:00 p.m. Lunch time! I am a creature of habit, so on days I am in the office I always take a break at 1 p.m. Normally in the summer I sit on the picnic bench outside, but it's over 90 degrees already so I opt for the cool break room today. I'm having some of the rotisserie chicken I got yesterday with half an avocado smashed up on crackers. I could eat this literally every day. Avocados are one of my favorite foods so I try to eat them whenever possible. Luckily there is a magical window of time during the summer that allows me to do so fairly cheaply.
I drink water while I munch and read Neil Gaiman's American Gods. I am an avid reader but am late picking this one up. It's super weird but I am loving it so far! I also spend a few minutes looking at Instagram before heading back to my desk.
4:15 p.m. I head home early from work, as I'm still feeling a little under the weather. I walk the dogs and put ice cubes in their water (by the time I got home it was 102 degrees.) I cut up an apple to share with the dogs, a special treat for them, and drink the rest of my sun tea from yesterday. I will make more on the windowsill to enjoy later. I drink a lot of iced tea.
5:45 p.m. I had planned to make sweet potato and avocado tacos, but that just doesn't sound appealing at the moment. I'm craving Alfredo pasta so I decide to get creative with what I have in the fridge. We always have random ingredients on hand, so I can usually whip something up when a craving strikes. I bought ingredients this week that I'm sure I won't use, just like I bought things last week, and the week before, that I didn't use. Upon some digging, I use milk, cream cheese, butter, Parmesan cheese, and a little goat cheese to make an Alfredo-esque sauce (I hope no one is counting calories right now!). I finish the sauce off with a little garlic powder and pepper, and mix in some al dente pasta. I let the pasta finish cooking in the sauce to soak it up, and my goodness it's delicious! I eat about half a cup because it's so amazingly rich, but I have lots of leftovers and will feed my roommate when she gets home. I'll put the rest away to eat tomorrow or another day this week.
No matter how well I plan my meals for the week, I always go off course a few times. I end up using the ingredients I bought one way or another, but I change my mind all the time.
7:15 p.m. We are all hanging out in the dark living room to escape the heat. I have two Lindt chocolates as my dessert. I am not a big sweets person, but those chocolates are my vice. I don't like them unless they are practically frozen. I have another glass of iced tea and watch the Real Housewives of New Jersey on Hulu.
8:00 p.m. My mom is my best friend in the world. We talk on the phone at least once a day, usually in the evening to discuss our days. Tonight, we talk about how work was and how the dogs are doing in the heat. My parents' AC went out so I offer for them to come stay with us. I hope she will take us up on it. I make a cup of peppermint tea to settle my stomach before bed.
The dogs will get a walk when the sun goes all the way down so the pavement isn't so hot on their feet. Our dogs are part of our family, and we often joke that our lives revolve around them.
Day Three: Wednesday
6:45 a.m. And we're up. The dogs tricked me into getting up, oh well. They are fed and walked. And walked, and walked. Have you ever tried to house train an adult dog? It's a challenge, let me tell you. At least I'm getting plenty of exercise.
7:15 a.m. I heat up the last of my mom's soup and have some sun tea while watching the news. I pack my snacks for the day and put my cold brew in my travel mug. I should brew it myself, but I've never made coffee so I'm a little afraid to mess it up. Plus, Stumptown makes a delicious cold brew that I can easily get. But it's on my list. I inhale a few graham crackers in the car on my way to the shelter.
10:15 a.m. Cherries at my desk. I am determined to get through the bag. They are on their last legs but are still really yummy. I am still working on my cold brew while sorting through emails.
11:00 a.m. Two hours until lunch? I am surprisingly hungry this morning. No, I'm probably just easily distracted so I want to eat. Instead, I will go help clean kitten kennels. It's a win-win! There are some fabulous perks to working in an animal shelter.
11:47 a.m. I find some crispy M&M's in my desk drawer. I don't actually remember buying them … I wonder just how long they've been there.
1:00 p.m. Lunch time! Today is a repeat of yesterday. I finish off the chicken with smashed avocado on garlic crackers. I drink water and read in the break room. It's over 100 degrees and yikes that's just too hot for me! We have a cooler full of drinks to keep cool so I snag a Gatorade for later in the afternoon. Must stay hydrated.
4:15 p.m. I made a quick stop at Safeway for limes on my way home. It's now 106 degrees and I want to check on the critters. I grab two limes and two pints of Baskin Robbins mint chip ice cream because they are buy-one-get-one-free. Have I mentioned that we Portlanders don't do extreme heat well?
Safeway
Limes (2) $1
Ice cream (2, BOGO) $3.99
Total Cost: $4.99
4:30 p.m. Back home I decide to try to make watermelon juice. I scoop out the remainder of the melon and add the juice of one lime to the blender. Blend it up and strain it. Holy moly, it's fantastic! How have I never tried this before? I actually text my roommate and ask her to get another melon on her way home. (She's already stopping at the store and we often pick things up for one another.)
I drink a glass of the fresh juice and save the other for my roommate. I also have a scoop of the mint chip ice cream.
4:45 p.m. We moved into our townhouse about a month ago, so it's still a bit disheveled. I spend an hour or so organizing, putting things away, cleaning, etc. I finish the last of my sun tea and make some more.
6:15 p.m. I spent more time cleaning than I planned and now I'm feeling hungry again. I heat up a small bowl of pasta from yesterday and have a chicken skewer (cold). I prefer them that way. The pasta is so rich I can only eat a little bit at a time.
8:15 p.m. My roommate and I watch an episode of Buffy the Vampire Slayer and I finish off the watermelon juice. It's so good. It's definitely a special summer treat I look forward to making again soon. I do some work on my computer and play with the dogs. I'm not going into the office tomorrow so I can start planning out my day. I do some mat pilates but it proves challenging as the dogs get in the way. Silly boys.
10:00 p.m. Final dog walks and off to bed.
Day Four: Thursday
6:15 a.m. It's stifling in my room. I am on the third floor of our townhouse so it can get pretty warm, even with the air on. I open up the windows for a few minutes, as it's cooler outside. The air quality is terrible this week because of fires in B.C. It looks hazy and ugly out. I walk the dogs while it's cool and we take our time. They will be spending all day safely inside.
I make a piece of peanut butter toast and have some sun tea. We watch the local news and I plan a quick grocery outing before the day gets too hot. My mom called to say she will be staying with us this evening, as their air isn't working. I'm excited to have a night in with my mom!
8:45 a.m. I head out to run a few errands before it gets too hot. I drop off some donations at a local thrift shop and make a couple of grocery stops. I don't want to cook tonight so we decided to have a snacky mix, so I need to get a few things. A good cheese platter goes a long way with me!
Grocery Outlet
Moose Munch $3.99
Saltines $1.29
Watermelon $4.99
Total Cost: $10.27
Have you had Harry and David's Moose Munch? It's so good! I love Grocery Outlet because you never know what you're going to find — such a yummy surprise!
Safeway
French baguette $1.89
English cucumber $1.99
Total Cost: $3.88
Trader Joe's
Joe's O's $ 1.99
Cold brew $3.29
2 yellow peaches $ 1.38
Total Cost: $6.66
Whole Foods
Garlic crackers $4.24
Piece of tiramisu $3.99
Total Cost: $8.23
I am a certified cracker fiend. I am very particular about my crackers. And for our pretty spread tonight I want these specific garlic crackers. The tiramisu slice was an impulse purchase. Totally worth it. I munch saltines on my way home.
11:15 a.m. I make myself a quesadilla for a snack. I use small corn tortillas and it gets excellently crispy — quick, cheap, easy, no fuss. All three dogs stare at me but I'm not sharing this time.
12:30 p.m. In preparation for girl's night tonight, I cut up my watermelon to make juice. Note to self: Be careful not to get lime juice in the papercut on my left hand! Gah that really hurt yesterday! It makes a ton of juice. I also make myself a small ice cream cone to cool off.
2:30 p.m. I feel like it's a sign of a true adult when you get excited about a vacuum. We have a lot of pet hair so I finally caved recently and ordered a special pet hair vacuum. I've been going to town on this house cleaning. It's cathartic. I take a break from cleaning to have some more of my watermelon juice.
5:00 p.m. I've done approximately all the laundry in the world (okay, all the laundry in the house) and I'm feeling like a nibble so I have a handful of the Moose Tracks. It's pretty sweet so I don't like it in large amounts. I'm definitely a fan of salty over sweet.
6:35 p.m. Mom arrives! I put out all the yummies and we all go to town! We have baguette and goat cheese, cucumber, apples, chicken skewers, olives, assorted pickles, cherries, and watermelon juice! I love all things cheese, and snacks.
Make your own snack board: How a Snack Board Is Different from a Cheese Board
My roommate joins in the festivities and we all watch some girly movies on Netflix. It's a perfect way to escape the heat and spend quality time with my mom. (I totally and completely forgot all about my special garlic crackers and smoked salmon from the farmers market. Oh well, it'll get eaten another day.)
Day Five: Friday
6:10 a.m. So. Not. Awake. The foster pup has been whimpering and whining for a good 30 minutes so I roll out of bed to take him outside. I feed them and walk them and my mom heads off to work. I make myself a bowl of Joe's O's and have some sun tea. We watch the local news and thank goodness it's not supposed to be so miserable today! High of 91 degrees. Never thought I'd be excited about 90 degrees.
8:30 a.m. I'd really like to take a nap but I'm on call for my volunteer position today so I can't. I get ready to head over to the east side of town so I can be closer in case I need to go in. The YWCA where I volunteer is about 45 minutes away from where I live so I like to hang out at my folks' house on days that I'm on call. I eat a peach and sip on some watermelon juice while I get ready to go. Starting out the day well-hydrated! I make myself a travel mug full of cold brew coffee to take with me; hopefully that'll help wake me up.
10:30 a.m. I get to my parents' house and unload a portable air conditioner unit for them to use until theirs is fixed. It's definitely warm in the house so I go scrounging in the fridge and find cold watermelon. Still enjoying my cold brew with my snack. I also have a handful of quicos (giant toasted kernels of corn). Delicious and salty. Parents always have excellent snacks.
11:15 a.m. More watermelon. All the watermelon. Yum.
12:00 p.m. I pick up my mom from her office and we had to New Seasons, a local grocery store that we both adore. She needs to pick up a few things and they have a great selection of lunch foods. I get Peruvian chicken and rice, and my mom gets soup. She picks up the tab for lunch.
After we eat we meander through the market to pick up the items on her list. My favorite cold brew coffee is on sale for 50% off so I get two big jars. That'll last me a while, but will definitely put me over budget for the week. We nibble on samples including local blackberries, tomatillo salsa, iced tea, and rice crackers. They always have fantastic samples.
New Seasons
2 Stumptown cold brew coffees $10.98
Total Cost: $10.98
2:00 p.m. I hang at home and have a nice conversation with my brother. We set up the AC for our folks and I have a pack of Annie's organic fruit snacks.
5:00 p.m. Back home, no calls today volunteering. I'm hungry so I make a bean and cheese quesadilla and have some iced tea. I just need a little something to hold me until dinner.
6:45 p.m. I don't really want to heat anything else up, but I want to work through the stuff in the fridge. I finish the last of the creamy pasta and the tiramisu from yesterday. I also eat a peach. I make more iced tea and contemplate a mocktail of sparkling water and watermelon juice. In a wine glass? Works for me! My roommate finishes off the chicken skewers. We hang out and eat while figuring out weekend plans.
We are planning on going to get our ears pierced again tomorrow to celebrate her passing her engineering exam and them going out to lunch. Currently debating burgers versus tacos. Decisions, decisions.
10:15 p.m. I have a couple of saltine crackers, listen to some music, and fall asleep.
Day Six: Saturday
7:45 a.m. A small miracle happened! The dogs let me stay in bed until almost 8 a.m.! This is literally unheard of and I am thrilled. I haven't been sleeping well and getting up early with them is really a struggle for me. The fact that this morning everyone hung out until 7:45 was a big deal. I got up, took the dogs for their walk, fed everyone, including myself, and made tea. I had a bowl of Joe's O's and half an apple.
10:45 a.m. My roommate, Rachel, and I got ready and headed out to the Home Depot to return some painting supplies. Then we headed to Robot Tattoo and Piercing to get out ears pierced! Rachel is an engineer and recently got her license so we needed to celebrate.
12:15 p.m. We head to the other side of the river to Stella Taco. I get two fried avocado tacos, Rachel gets a carnitas taco and a black bean taco, and we share their chips and queso. It is one of my favorite taco places in Portland. My friends and I go here for birthdays, celebrations, or just on a Tuesday. Because, who really needs a reason for tacos? They have amazing slushy margaritas but the machine is broken today. So very sad, but I suppose water is a better decision.
Across the alley there is a frozen yogurt place, so we obviously need to get yogurt. They source only local and seasonal ingredients. I get chocolate yogurt with gummy bears.
Stella Taco
Fried avocado taco $2.75 each
Chips and queso $4.50
Total Cost (including tip): $11.50
Eb & Bean
1 chocolate frozen yogurt with gummy bears
Total Cost: $4.70
2:40 p.m. Hungry, or maybe just looking for an excuse to put off more cleaning, I have a bowl of cereal and a can of La Croix sparkling water that my mom left here. Vacuuming makes me hungry.
5:40 p.m. A friend calls to see if I want to get together for dinner.
6:15 p.m. He's running late and now I'm starving.
7:20 p.m. HUNGRY! I make a small bean and cheese quesadilla to hold me over until my friend gets here. He wants to go out to try a new Japanese restaurant so I do my best not to keep snacking.
8:00 p.m. We finally make it to the restaurant. Both of us are famished, and it seems like we order the whole menu. Really, I order edamame and udon noodles while he gets two appetizers and three sushi rolls. He sips on sake while I have tea and we stuff ourselves. We split the tab as to what we ordered and mine comes to $11.
Sushi Hero
Edamame $3
Udon $8
Total Cost: $11
He covers the rest of the bill and the tip.
11:00 p.m. We catch up while watching episodes of An Idiot Abroad. He heads home and I have a few saltines after walking the dogs one last time before bed.
Day Seven: Sunday
7:30 a.m. And we're up! Dogs, come on. Why can't we sleep in on a Sunday? We take walks and everyone gets fed. I have a bowl of Joe's O's and some tea. Today is going to be a nice, mellow day. I add milk to my grocery list for tomorrow as I finished the last of it with my cereal.
10:15 a.m. After some puttering around, I decided to make a loaf of chocolate chip zucchini bread. When we moved a few weeks ago, a friend brought over some zucchini from her community garden. Can zucchini go bad? Will it kill me? After a quick Google search, I think it's probably fine. I mix up some bread and pop it in the oven. I have a standard recipe I use but I tweak it a bit so I'm not sure how it will turn out.
Get the recipe: Double Chocolate Zucchini Bread
12:15 p.m. We make another thrift store donation drop-off and run a few random errands. I tried a slice of the zucchini bread and it's really yummy! Success! I also eat an apple and have some iced tea. I'm enjoying my lazy Sunday.
2:20 p.m. I think I'll take a nap.
4:00 p.m. That didn't go as planned. I rested but I don't know that I got any sleep. It was warm upstairs in my room and the cat was making a bunch of noise. I have some rice crackers and more iced tea. Time for dog walks!
5:30 p.m. I make some noodles. I get a piece of chicken from the freezer and use the broccoli I find in the fridge. We ate so much yesterday so I'm not super hungry, but should eat something healthy. My roommate loves all things noodles so it's always a winner for us.
Get the recipe: Sesame Noodles with Chicken and Broccoli from Cooking Classy
It's super easy to make and we watch an episode of Buffy the Vampire Slayer while catching up on our weekend.
8:00 p.m. After cleaning up the kitchen and putting food away, we finish off the mint chip ice cream. Best not to leave any behind, right? I decide to take half the zucchini loaf over to our neighbors, as we probably won't be able to eat it fast enough and I'd rather share.
10:15 p.m. Final dog walks for the night and it's off to bed for me. I grab a few saltines to munch on while I read before getting into bed.
1. How did you set your food budget?
A few years ago I went grocery shopping once a week for a month and kept track of exactly how much it was costing me. I know about how much I spend on specific things so I came up with an average. When I'm working with a tighter budget I know how to cut my costs down and I just stick with it as best I can. About $60 a week is good for me to get everything that I need, although I occasionally go way over when stocking up on things. That makes up for the weeks that I spend hardly any money on food.
I spend a lot of time with my friends on the weekends and although I always try to make food at home for us to eat, they usually would rather go out. That's the hardest part of sticking to my budget. Often I'll have a snack before I meet up with everyone so that I'm not tempted to order food. I can order a drink or a small snack and it's cheaper that way.
I went over budget 100 percent because of the sale on cold brew coffee. Normally I don't buy so much of it, but it was half-off! I adjusted my budget for the following week to make up for my extra coffee purchase last week.
2. What are the kitchen ingredients you can't live without?
I always keep tortillas, cheese, rice, and pasta on hand. If I don't have time to go to the store I can almost always whip something up with stuff in the pantry. I also make stock from scratch frequently so I can pull together something tasty.
3. What's the budget recipe you always rely on?
Soup. It's so easy to get some stock out of the freezer and just add in whatever veggies I have on hand. Then I can add rice or pasta, or any leftovers that I have from the week. You can make soup out of almost any ingredients. It's a good way to rework food that I may be tired of eating. I can add new seasoning and mix it up. Plus, no matter the weather, I can always eat soup. I probably eat soup at least once a week.
At Kitchn we believe setting a food budget for you and your family is an essential part in getting your financial life in order. Don't know where to start? We have a guide for that. Want to share your food budget diary with Kitchn? See how here.
Kitchn supports our readers with carefully chosen product recommendations to improve life at home. You support us through our independently chosen links, many of which earn us a commission.