How Long Can You Keep Opened Condiments?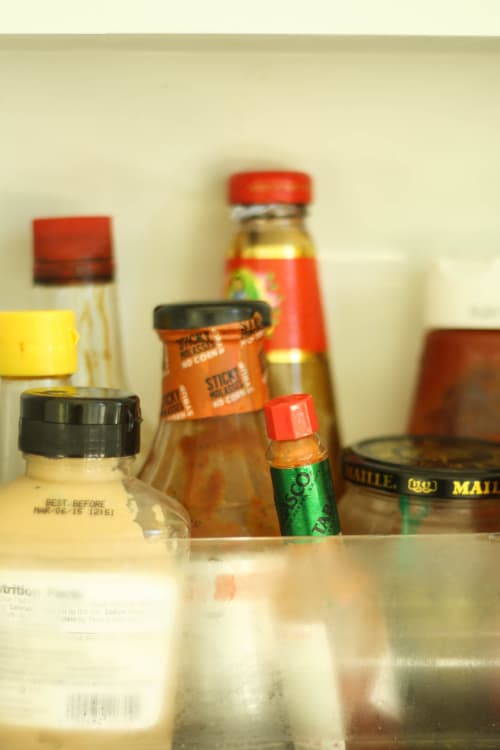 I have an ongoing real estate battle in my refrigerator door between condiments and cocktail ingredients. While I can ignore boozes and bitters since they seem to last practically forever, condiments definitely have shorter shelf lives and need to be pruned occasionally.
We can all read a date stamp, but an opened container is another thing. Here's a rundown of some of the most common condiments and how long they last once they're opened.
In dealing with my refrigerator door battle, I stumbled on Still Tasty, a handy website that helps demystify how long foods last. Here are their guidelines for how long you can keep opened containers of common condiments (commercially produced, not homemade) in your refrigerator:
BBQ Sauce: 4 months
Capers: 1 year (brined)
Horseradish: 3-4 months (prepared)
Hot Sauce: 5 years
Jam and Jelly: 1 year
Ketchup: 6 months
Mayonnaise: 2-3 months after the "Use by" or "Best by" date
Miso: 1 1/2 years
Mustard: 1 year
Olives: 1 year or date on the package (jarred or canned), 2-3 months (from the deli)
Pickles: 1 year
Pure Maple Syrup: 1 year
Relish: 1 year
Salad Dressing: 6-9 months (sold unrefrigerated), 6 months or date on package (sold refrigerated)
Salsa: 5-7 days (sold refrigerated), 1 month (sold unrefrigerated)
Soy Sauce: 2 years
Tartar Sauce: 6 months
Worcestershire Sauce: 2 years
Now you never have to worry about whether or not something is still safe to use! And for those condiments that you'll need to finish up soon, here are some delicious ideas on how to integrate them into your everyday cooking so they don't go to waste: