How Legos Taught Us to Build Family Dinners for Everyone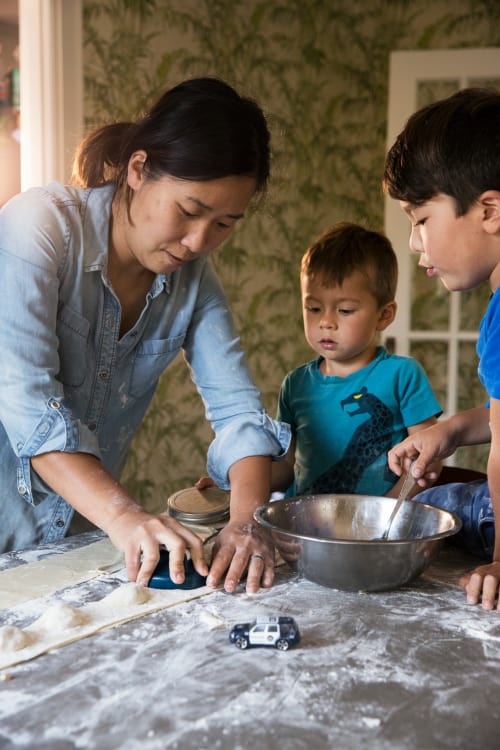 (Image credit: Charity Burggraaf)
It's so easy when my husband and I eat without the kids. Preferences? We eat everything! Spicy food OK? Sure! Dietary restrictions? None!
Then there's dinner with our children, aged 7, 10, and 14. All three independently announced a commitment to vegetarianism about as soon as each could articulate the concept.
What Dinner Looks Like When Your Kids Are Vegetarian — But You Aren't
Maybe we shouldn't have visited The Crab Pot restaurant with our eldest, then 3, right after a trip to the aquarium? And when we clarified for his younger brother that "hot dogs" did not contain dogs, did we need to elaborate with the thing about the pigs? When the youngest asked "What is turkey made of?" one Thanksgiving, did the middle child need to answer "It's. Dead. Bird!" with such emphatically grim flair?
I respect their ethics-fueled choice, even though a flexitarian or pescetarian or even pollo-tarian consensus would make dinners easier. We adults are flexible, but don't want to give up meat and fish entirely.
As we were learning to build family meals around eating habits largely unfamiliar to us both, my husband and I decided that since we don't ignore each other's preferences when planning menus, our kids' deserve some consideration too.
One key to harmonious meals, we've realized, is treating ingredients as modular puzzle pieces to add in or swap out like Lego bricks. It solves not just the vegetarian-carnivore divide, but also the more universal issue that most people, kids and adults, have culinary likes and dislikes all their own.
Here are five of our favorite models to customize as you like — no building instructions required.
(Image credit: Lauren Volo)
5 Recipe Templates That Help Me Feed My Family
1. Tartines (aka Toasts)
Slice up a loaf of good rustic bread, drizzle on some oil, grill it, and then offer tasty toppings. We like sliced or spreadable cheeses, smashed slices of the notorious mortgage-eating avocado, pesto, chunky salads like caponata, and pickled toppings. Omnivores also choose from salami or prosciutto or Trader Joe's tins of smoked trout or sardines. We use the same logic for taco-bar-type meals.
2. Poke/Tofu Rice Bowls
Call us trendy and we would snort all over our Costco-stocked counters, yet we can't get enough of this tuna (many markets now sell it pre-cubed and frozen) marinated in a soy sauce mixture over rice. For the vegetarians, we invest an extra 60 seconds in cubing some tofu and tossing it in a separate bowl with extra marinade.
3. Momofuku Buns
The carnivores love that David Chang favorite of pork belly on steamed buns (frozen microwavable buns are available at most Asian markets.) The kids think the basic template of soft bread, hoisin sauce, and pickled cucumber tastes plenty good when combined with hard-boiled egg or slim wedges of tempeh.
4. Sushi
Buy nori wrappers and cook up some sushi rice (that's what the Instant Pot is for, right?), invest a few dollars in a bamboo rolling mat, and the fillings are up to you. The kids favor slices of tamago, a sweet egg omelet; omnivores get fish. Our rolling technique isn't perfect, but it works — and the kids enjoy making their own. It's even easier to stuff the same fillings into inari (sweet fried tofu pouches).
5. Falafel
What's better than chicken nuggets? Crunchy, savory balls of fried chickpea batter. (You can make them from scratch, but, once more, have I mentioned the freezer case at Trader Joe's?) We let the kids compose their own falafel sandwiches, choosing favorites from a smorgasbord that also includes crisp vegetables, savory tzatziki sauce or perhaps a scoop of hummus, and bowls of "salatim" such as pickled eggplant, all stuffed into fresh, warm pita breads. We carnivores could in theory substitute grilled meats for the chickpeas, but — hats off to the kids — we've never felt the need.
Welcome to Dinner with Kids
This series explores the shifting dynamics of the dinner table when kids are involved. We asked families of all shapes and sizes for their tips on mealtime success. You'll learn a few things, laugh a whole lot, and find that when kids are involved, dinnertime is always a little more eventful.