How I Repainted My Rental Kitchen and Made Peace With the Cherry Cabinets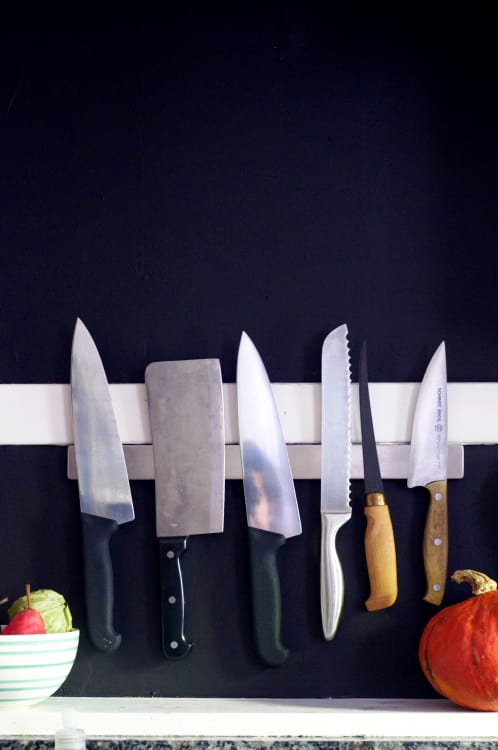 Day 7 Task: Special project
There's one big thing I've been meaning to do ever since we moved to this new apartment four months ago: paint the kitchen. My kitchen has cherry-stained cabinets, dark granite countertops, light birch wood floors, and the walls were painted a sage-y green. It was like this when we moved in, and the longer I lived with it, the more I was desperate for a change.
I'm not here to disparage cherry cabinets or granite countertops; the cabinets in my kitchen are solid wood and spacious, and I know granite has its advantages, so there is a lot to be thankful for. However, I will say that if I were to design my dream kitchen, these elements would probably be on the opposite spectrum of what I'd go for. I'm just more of a white-and-wood kind of person, not a cherry-and-granite kind of person.
Here's what the kitchen looked like when we moved in:
My biggest issue with the cherry-and-granite combination is that it can easily look dated. I think the cabinets in this kitchen were installed in the early 2000s. They may have been great then, but now they're scuffed and dull, and the dark granite just pulls everything down. What's more is that the green on the wall is doing nothing to help; in fact, it's kind of hurting everything.
But wait! Aren't complimentary colors (in this case, red and green, which are on the opposite ends of the color wheel) supposed to go together? Well, yes... if you want both colors to appear brighter. In this case the green makes the cherry color pop more, which was exactly the opposite of what I wanted. I wanted the redness of the cabinets to recede, to blend in more with the surroundings. That meant that green was the worst color for me, and I'd need to go with something closer to the the color of the cabinets, or a neutral, in order to tone the whole look down.
My first instinct was to paint the walls white, but bright white also has the effect of making darker colors jump out, so that wasn't going to work either. My older sister recommended I go with gray, so after way too many paint samples, I finally settled on two colors: a light taupe-gray on the upper part of the wall, and an inky black on the bottom.
Here's one more BEFORE (complete with paint swatches on the wall!):
And AFTER:
I still don't love the cherry cabinets or granite, and never will, but at least I can (pretty happily) live with them now!
My pantry corner BEFORE:
And AFTER:
For paint colors, I used Revere Pewter by Benjamin Moore on the upper wall, and Black Beauty by Benjamin Moore on the lower wall, both in an Aura matte finish.
Can we talk for a second about how impossible light gray is? I'm going on record to say that it is the hardest color to get right, because it varies so much in the light. I tried a number of colors on the wall (Gray Owl and Graytint, also both my Benjamin Moore) that ended up looking baby blue — seriously, BABY BLUE — on my wall. I wasn't going to even try Revere Pewter because it looks beige on the swatch, but i did and it ended up working perfectly in my kitchen. It was exactly the light gray I wanted — a slightly warm gray that didn't read blue.
Am I going to say it's the best gray ever? No, because in your house it could skew totally beige or green, I have no idea. In my kitchen it did exactly what I wanted. So, the lesson here is: you have to try it out yourself.
A few other purchases I'm really excited about: two of the RANARP clamp spotlights from IKEA which we've installed right by the island to give us a little extra light. I practically squealed when I found these: white, brass (not really brass, just the color), and a black and white cord. Omg, sold.
Another fun purchase: two Tabouret 24-inch Lemon Metal Counter Stools from Overstock. I'm still a little hesitant about putting such a bright yellow accent in the kitchen with those cherry cabinets, but I love how they pop against the black wall. Gonna live with them for a little and see how it goes!
The clock you see there? That's the BONDIS wall clock from IKEA! It's simple and big and I love it hanging above the door. (Also, the wall in the pantry area is not painted yet. It was painted in a light purple color, but I plan to paint it in Revere Pewter.)
The throw rugs below are also from IKEA: they're the TANUM rugs. I'd like to cover up more of the floor eventually since the light birch wood shows every scratch and speck and never looks clean no matter how many times you wash it. I would love to get one of these Swedish mats someday.
And finally, we put the GRUNDTAL magnetic knife rack right above the sink, where it's looking very comfortable amongst its autumnal companions.
The kitchen is still in process, of course, and that process includes a few ideas that didn't work out: a ceiling pot rack and an overhead light fixture. The ceiling pot rack is just not going to work in our ceiling for various complicated (and ultimately boring to you, I'm sure) reasons, which I'm bummed about, so back it goes.
And the light fixture? Well, let's just say that as of right now we are without power in the kitchen, bathroom, and bedroom while we figure out how to reconnect the circuit. Yes, seriously. Thank goodness for those spotlights. [Update: all is well! Power is back. It was actually a very easy fix.]
Join The Kitchn Cure!
SIGN UP
FOLLOW ALONG
SHARE YOUR PROGRESS
Questions? Comments? Pictures? Email us at kitchncure@thekitchn.com
Follow and show your progress on Instagram, Pinterest, Facebook and Twitter! Use The Kitchn Cure hashtag: #kitchncure
(Images: Cambria Bold)
Kitchn supports our readers with carefully chosen product recommendations to improve life at home. You support us through our independently chosen links, many of which earn us a commission.