How Do You Cook with Rockfish?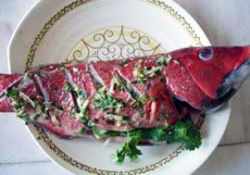 Q:
I picked up catfish for fish tacos the other day, and the fishmonger suggested using rockfish instead. I've never cooked or had it before, and I had some reservations thinking that he may have been trying to upsell me. Has anyone made fish tacos with rockfish before?
How does rockfish compare to the go-to fish like cod, snapper, catfish, and tilapia? And should I be concerned with any sustainability problems? Thank you for your help!
Sent by Lauren
Editor:
We've done breaded and baked rockfish here on The Kitchn, so I imagine it will do just dandy in tacos! The Monterey Bay Aquarium's Seafood Watch is also my go-to resource for sustainability questions:
Readers, have you ever cooked rockfish? What do you think?
(Image: Whole Steamed Monkfish / Vanessa)