How Can I Tell When Milk Has Gone Bad?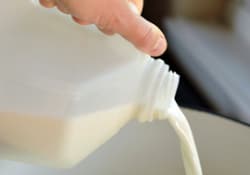 Q:
Yesterday I poured myself a glass of milk, and when I took a drink, it smelled awful. Not sour, like it was going bad, just...stinky. It tasted fine, and the smell wasn't strong. I didn't notice it until my nose was all the way in the glass.  Even so, I poured it out and bought a new gallon of milk.
We had been using the milk for a couple of days for cereal and things, and there was about a half a gallon left. We hadn't noticed the smell before and haven't noticed any negative effects. Have you ever heard of this? Did I waste all that milk?
Sent by Maggie
Editor:
 I say trust your nose on this one. If the milk didn't smell very good, my guess is that it was on its way out and you were probably right to throw it out.
Readers, what do you think?
Related: Got (Too Much) Milk? Freeze It For Later!
(Image: Emma Christensen)