How Can I Make a Lighter "Newman's Own" Vinaigrette at Home?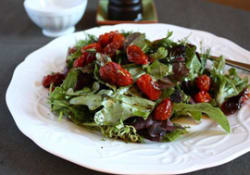 Q:
I am desperate to re-create Newman's Own Olive Oil & Vinegar salad dressing with less oil. I buy Newman's regularly, only to pour (and discard!) at least 3/4 cup of oil from the bottle before using it. Newman's light dressings do not have the same appeal; I am looking for a make-at-home solution with the same exact flavor.
Ingredients on the dressing's label are as follows: "Olive Oil Blend (Olive Oil, Extra Virgin Olive Oil), Vegetable Oil (Soybean Oil and/or Canola Oil), Water, Red Wine Vinegar, Onion, Spices, Salt, Garlic, Lemon Juice and Distilled Vinegar"
Sent by Shelly
Editor:
I'd recommend starting with a basic vinaigrette like this one, but replace the balsamic with a mix of red wine vinegar and lemon
Readers, what suggestions do you have?
(Image: Elizabeth Passarella)