How Louisville Turned a New Yorker into a Top Chef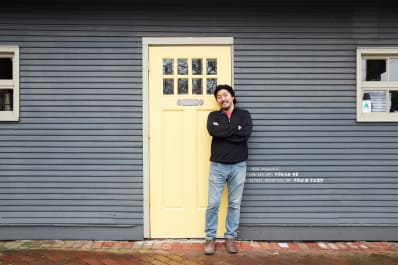 (Image credit: Tara Donne)
When the now-familiar Ed Lee — telegenic presence on several cooking shows (Top Chef season 9, Mind of a Chef) and perennial James Beard Award nominee — landed in Louisville in 2003, he was searching for life outside his native New York and a sense of post-traumatic meaning.
"After 9/11, I had to get out of the city and clear my head. I sold my restaurant and started traveling around the country, discovering what America meant to me."
On an extended road trip, he hit Louisville in the midst of the city's excessive signature equestrian event — the Kentucky Derby — and decided to stay.
"Everybody had a glass of bourbon to give me, all the people were pretty. I came thinking I'd work here for a year or two and then resume my life. Instead, Louisville became my life."
(Image credit: Tara Donne)
(Image credit: Tara Donne)
New City, New Connections
Within a year, Lee had befriended a mentor, chef/restaurateur Eddie Garber of 610 Magnolia, and set about learning about his new Kentucky surroundings.
"I had read a whole bunch of Wendell Berry before I came to Kentucky, and admired his connection of nature and agriculture. When I got here I realized that I was never more than a 30-minute drive to nature. And for someone like me, it was a great way to connect."
It was also a completely new way to connect for a Korean kid from Brooklyn, who cut his teeth at some of New York's most noted kitchens and, at the age of 25, opened up his own Asian-influenced kitchen — Clay — in Manhattan's Nolita neighborhood.
"In NYC, you have a phone relationship with your purveyors. You order, they deliver. You don't have the time to visit the farms, and they don't have the time for you."
From his new home, he saw a slower, more personal side of the food business: "Here it's more 'You should come and have lunch.' At the time, I needed that; I craved it in a way I hadn't before."
(Image credit: Tara Donne)
(Image credit: Tara Donne)
Beyond Tobacco: A New Era for Kentucky Farming
Timing was on Lee's side. As he learned the ways of the land, a bustling farming culture was developing in the counties surrounding Louisville, thanks to government programs designed to help small farmers transition away from their traditional cash crop: tobacco.
"When I first landed, farmers were converting their tobacco fields to food crops, and people didn't know quite what to do. We worked with a community farm alliance, and in the space of a generation, the farming scene really came together. Today, outside of North Carolina, Kentucky has the largest number of small farms east of the Mississippi. It's been a time of incredible growth."
The transition took years, as Louisville activists built farmers markets, distribution networks, and cottage industries around local food traditions.
"It's a case study — we're embracing modernism and change, but at the same time we're reaching back and preserving culinary history. Maybe it takes longer for things to happen, but when it does, it happens the right way."
How Louisville Made a Top Chef
Louisville wasn't the only one changing: Immersion and connections with the foods of his adopted Southern home gave Lee a different perspective on the region's trademark ingredients and cooking techniques.
As his style developed, Lee combined elements from his personal history with the new Southern influences. He paired earthy collards with spicy Korean kimchi; he substituted crushed ramen for flour in country-fried pork steaks slathered in pepper gravy; he played deep, smoked flavors of country traditions against tangy fermented vegetables of both cultures.
His personal style and connection to Louisville's evolving food scene grew in parallel as the years passed. 610 Magnolia, which he eventually took over from Garber, reflects a classically precise approach. His second restaurant, downtown's Milkwood, embraces a more casual "ramen shop" vibe, while still highlighting local food producers.
By the time he competed on Top Chef in 2009, Ed Lee was a different chef than when he had arrived. Older and more experienced, yes, but with a profound understanding of the flavors of Southern food.
What's Next for Lee & Louisville
Lee's status as emerging celebrity chef and media figure — see Top Chef, The View, Mind of a Chef — brought with it a national profile, and with that came opportunities beyond the Bluegrass State. In the next year, he and his family will be splitting their time between Louisville and Washington DC, where he'll open up Succotash, an ambitious refinement of his latest "modern Southern" restaurant venture. (His first foray into DC was a smaller "proof of concept" location in DC's Maryland suburbs.)
He'll also maintain and expand a growing Louisville empire even as he bounces back and forth between the East Coast and the city that brought him to prominence. But when he's back on the Louisville side of the long-distance commute, Lee will appreciate the vibrant farm-centric scene that shaped his career and continue his role in its growth and distinctive culture.
Visit Ed Lee's Restaurants
Kitchn supports our readers with carefully chosen product recommendations to improve life at home. You support us through our independently chosen links, many of which earn us a commission.