How a Family of 7 Eats for $125 a Week in Peterborough, New Hampshire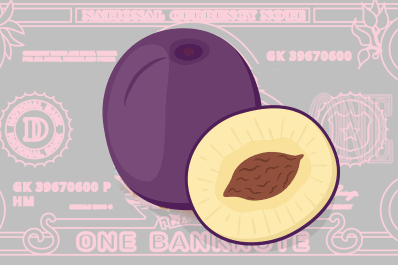 (Image credit: Plum: GettyImages)
Welcome to Kitchn's Food Budget Diaries series, where we show you how people around the country spend money on what they eat and drink. Each post will follow one person for one week and will chronicle everything that person consumed and how much it costs them.
Name: Sarah-Ann
Location: Peterborough, New Hampshire
Age: 37
Number of people in family: 7 (my husband; me; 18-year-old son, Jason; 17-year-old daughter, Jocelyn; 14-year-son, Benjamin; 9-year-old daughter, Alyssa; and 8-year-old daughter, Ari. Note that my oldest child is away this week so we only have six people in our household this week.
Occupation: My husband is a health store manager and I'm a photographer (lots of school and sports-related things).
Household income: $68,000 (doesn't include my income since mine is seasonal. Our budget is based on my husband's income because it is steady, something we can always count on).
Weekly food budget: $125
Day 1: Monday
5 a.m. Time to get up for work. I work a seasonal job, which I love, but I am not a fan of early mornings. Right now is our busy season, so lots of early mornings for me in the future. Each morning I drink a mixture of water, collagen, and a little pre-workout (a powder supplement I take for increased energy). I started drinking collagen because I read it helps with stomach problems. I can't eat first thing in the morning because it makes me sick, and my stomach calls all the shots. I quickly make a piece of toast, put some coconut butter on it, and head off to work.
6:15 a.m. The two older kids wake up for school and grab a bowl of cereal or oatmeal. Before my son leaves, he packs his lunch because he never does it the night before. Gotta love teens. Today's lunch special is "pantry style," which means we eat whatever is left since today is shopping day. I worked over the weekend, so I didn't have time to go shopping. My daughter doesn't need to pack a lunch because she gets out of school before lunch and will just come home.
7:30 a.m. Hubby wakes up with the little ones, makes them some eggs, gets their lunch ready, and gets them ready for school. He packed them both rice & beans, hummus with mini cucumbers and a few mini peppers, a handful of goldfish, and the last of our granola bars.
9:35 a.m. I'm hungry now so I eat the last of my chia bars and trail mix. Note to self: I need more work snacks.
(Image credit: Sarah-Ann)
12:25 a.m. I worked close to home today (I can work anywhere from 30 minutes away to three hours away from home on any given day), so I'm able to go home and make two eggs with salsa on top.
1:30 p.m. I'm off to my second job today — a sports shoot. The grocery shop is right around the corner, which is a total bonus. I made another one of my special drinks (minus the flavoring). I'll be outside for two hours running around like a mad women.
3:45 p.m. The kids get home from school. I usually pack too much food, so they snack on whatever is left over, if it didn't need to be refrigerated. If they have nothing left, our go-to snacks are oatmeal, baked potatoes (in the microwave, since that's all the kids know how to do), brownies, or peanut butter sandwiches.
4:35 p.m. I arrive at my favorite store on the planet, Aldi. Usually, I have my two shopping buddies to accompany me, but since I came straight from work, I was alone. I can honestly say that I missed shopping with them. We always make a game out of shopping and if they are good, they use the quarter I use for the cart for $.05 candies at Market Basket afterwards. It may be a super-small treat, but they love doing this. A treat is a treat, no matter the cost.
Aldi
Insulated bags, $1.58
White bread, $1.66
Mini cucumbers, $3.98
Bananas, $2.28
Mozzarella in water, $2.99
Cocoa rice cereal, $1.29
Rice cakes, $1.49
Almond milk, $1.99
Juice boxes, $3.58
Moo tubes, $2.98
Fruit strip, $4.99
Diet Coke, $1.58
Fudge pops, $1.49
Salmon, $3.79
Pasta sauce, $.99
Naan, $3.49
Monterey/Pepper Jack, $1.79
Coconut milk, $3.58
Eggs, $.52
Pesto sauce, $1.69
Ground turkey, $5.67
Shredded mozzarella, $2.99
Brownie mix, $.89
Red potatoes, $2.49
Zucchini, $2.98
Veggie chips, $1.99
Trail mix, $2.99
Woven wafer crackers, $1.69
Plums, $1.98
Mandarins, $3.99
Grape tomatoes, $.99
Strawberries, $1.89
Total spent: $78.27
5:56 p.m. Got home and found homemade banana bread made from bananas we have in the freezer waiting for me, courtesy of my eldest.
6:35 p.m. I'm super tired so I'm making an easy dinner tonight. I make tomato pesto pizzas on naan bread. For the kids who don't like pesto, they have spaghetti sauce instead. As anyone who has a large family knows, there will always be one or two people who won't like the meals you make. I improvise the best I can and try to make the meals work for everyone.
7:00 p.m. The little ones make their lunches for tomorrow: peanut butter sandwich, fruit strip, orange or apple, handful of goldfish (to finish off the ones I bought last week), two mini cucumbers with tablespoon of hummus, and a juice box. They always bring a water bottle as well.
8:00 p.m. The kids are in bed, and I make my work food for tomorrow: two cucumber and hummus sandwiches (bread was from last week). Then off to watch some TV until my hubby gets home at 10:30 p.m.
Day 2: Tuesday
6:15 a.m. This morning I got to sleep in a little. I have my special drink and eat half of a banana. I make some oatmeal, which I will eat later.
6:40 a.m. I'm off to work with my oatmeal and sandwiches, water bottle, and work bag with my snacks in it. My husband has the day off, so he eats at home.
8:15 a.m. I have a little time before my job starts, so I eat my oatmeal.
1:52 p.m. Lunch time! I eat both of my sandwiches. Running around photographing kids is a lot of work.
3:45 p.m. I'm home with kids who have a few leftovers from school that they snack on. They also all eat a fudge pop.
4:10 p.m. My husband makes chicken soup with a little leftover chicken and broth we had in our freezer. He adds some rice. My oldest daughter stayed home sick today, so he made this mainly for her. The little gets home and eats a few bowls of it as her snack.
6:13 p.m. I make my overnight oats for work tomorrow to go with a few snacks I have. Kids are still pretty full from the soup, so they snack on a piece of fruit. My son makes himself a large bowl of oatmeal.
7:45 p.m. The kids make their lunch for tomorrow: leftover soup for one, hummus and cucumber sandwich for the other, peanut butter sandwich for my son as well as a fruit strip, a handful of chips with salsa, and a piece of fruit.
8:11 p.m. The kids are in bed. I pack a few things for myself (sandwich, a piece of fruit, and two trail mix packs) for tomorrow since I'm traveling so far away. I make myself a drink of rum and pineapple coconut sparkling water and watch some TV with my hubby. Any alcohol I buy is included in my budget. I don't drink very much, so I don't buy it each week. This week I didn't buy any since I have some from two weeks ago.
Day 3: Wednesday
4:15 a.m. Yup, you read that time correctly. Days like this I have a hard time with. This is the absolute earliest I can ever wake up for work. I get dressed quickly, make my collagen drink, and head to work ASAP since I have a two-hour ride ahead.
8:00 a.m. Hubby packs his lunch of rice and beans and potatoes. He usually makes his lunches himself or takes leftovers, on the rare occasion when we have any.
9:15 a.m. I am losing energy supe -fast. I have a break so I eat most of what I brought with me.
12:53 p.m. I eat the remaining food I brought and finish my water. Thankfully, the job will be done shortly and I can head home.
4:45 p.m. I stop by Shaw's with my oldest to grab a few things and my baby calls me, letting me know she made me a surprise. At Shaw's I grab a few things and so does my daughter. Every time she gets paid (every other week) she buys extra things she likes that isn't in my budget and shares with us. Since we all will eat some of it, I am including what she bought in my budget for this week.
Shaw's
Gum, $1
Popcorn, $1.99
Special K, $2.50
Greek yogurt, $2
Ice cream, $5
Apples, $6.19
Lemon, $.79
Lime, $.50
Blueberries, $1.77
Strawberries, $1.77
Baby spinach, $3.99
Iceberg lettuce, $1.29
Total spent: $28.79
5:12 p.m. I get home to find my 8-year-old making me brownies. It's the only thing she knows how to cook. And, yes, it is from a box mix. Every time she makes brownies, she's so proud of herself for doing it without any help.
7:08 p.m. I'm running behind, which seems like every day when I'm working. I just started cooking dinner. At the request of the kids, we are having zucchini, broccoli, and green bean stir-fry with a splash of meat. Meat is so costly, I use it as a condiment rather than the main attraction. Otherwise, I wouldn't be able to keep my budget as low as I do.
7:20 p.m. While I'm cooking dinner, I help the girls make their lunches, and they entertain me with all their stories. We have the most random conversations sometimes. We make apple and cheese quesadillas, slice four strawberries, and pack a fruit leather, juice box, and piece of fruit.
Day 4: Thursday
6:00 a.m. Woke up, made my drink, and toasted a piece of toast with coconut butter. And off to work I go. I'm lucky that I get to travel to different states and visit places I normally wouldn't have gone. It's the biggest perk of my job.
10:30 a.m. I realize that I haven't eaten anything but the toast this morning, so I eat a pack of trail mix. Doesn't hit the spot, but I don't have time for anything else.
12:45 p.m. I'm all done and heading home for lunch. At home, I make two scrambled eggs with one sautéed zucchini.
4:01 p.m. We have a playdate with my two nieces, so things are crazy. All the kids snack on a fudge pop and a piece of fruit.
6:05 p.m. I make mac and cheese with ground beef and corn. The kids love it and it's gone in a matter of seconds. My older son and daughter eat one piece of salmon with white rice.
7:22 p.m. My nieces go home and I make myself a salad: chickpeas, one mini cucumber, a few marinated cheese balls, the last of the mini peppers from last week, and one zucchini. After I eat, I make myself a hummus and cucumber sandwich for breakfast tomorrow.
I know I eat the same things, but I can only tolerate certain foods or else I pay the price. And I can't afford to get sick. My chronic illness is a digestive tract issue. I have a condition that destroyed a muscle in my tract which caused bile to back up into my liver, causing me severe problems for a long time. After my last surgery, I haven't had any liver or pancreas problems, but my body still can't tolerate certain foods. It's similar to IBS.
Day 5: Friday
6:30 a.m. I'm up and ready for my day. It's been a long week and I can't wait for my work-free weekend. I grab my sandwich and away I go.
10:30 a.m. My sales rep comes in to help me and she brings me a little treat, a yummy donut.
1:20 p.m. I run over to Market Basket to pick up a few things. I get in and out as fast as I can, since my stomach isn't feeling the greatest. The donut didn't sit right with me.
Market Basket
Teriyaki sauce, $1.69
Cheddar cheese, $1.50
Peanut butter, $3.69
Smart Water, $1.25
Burritos, $2.50
Sparkling Ice, $2
Ice cream, $1.34
Lamb, $7.73
Green beans, $.44
Total spent: $22.14
2:30 p.m. My stomach is better so I eat a salad for lunch. My salad is simple: lettuce with a few things in it. I always put a little olive oil and salt on my salad. No other dressing needed.
3:45 p.m. I'm at school helping set up for our book fair, so the little ones eat the leftovers from their lunch while I'm working.
5:47 p.m. I give the girls $2 each to use at the concession stand at our local high school. My niece is doing a dance performance during halftime so we go and support her. Of course, they get some nachos.
Concession Stand
Nachos, $4
Total spent: $4
8:15 p.m. We're home from the game and we are all exhausted. I cut up some cheese to go with crackers, and slice up a few plums too. The kids snack on that, while I eat a little bit of salad.
Day 6: Saturday
9:23 a.m. Yay! It's the weekend and I don't have to work. We all slowly wake up, as there isn't anything we really need to do. I use my days off for our family adventures and to catch up on some food prep, since I have time to do so. Working really interferes with my budget. It's hard to be frugal when you aren't home very often.
9:54 a.m. I start breakfast. I make my favorite: sunny-side eggs over lettuce with salsa on top. It isn't pretty to look at, but it's oh so yummy. I make the kids scrambled eggs with some veggies mixed in. Our plums need to be eaten so I slice a few for breakfast.
10:01 a.m. As I am looking through the fridge to see what we have left, I notice we have a ton of food still, which makes me happy. I probably won't have to go shopping until the middle of next week. I notice the blueberries are starting to get a little wrinkly, so I decide to dry them out, instead of letting them go to waste. I don't know about you, but no one in my family, other than my husband, would eat them at that stage. But instead of wasting them, I throw them on a cookie sheet & pop them into the oven at a low temp to dry them out. It literally takes two seconds to prep.
10:21 a.m. While the blueberries are in the oven, I start making my slow cooker beef stew. I sliced up the two steaks, add dry onion soup mix, half a can of beef broth, and water with seasonings to my slow cooker. Normally, I use my own broth, but I haven't had the chance to make any, hence where working affects my budget. My beef stew is somewhere in between Norwegian potato soup and a traditional beef stew. Everything is in the slow cooker and dinner is essentially done.
12:01 p.m. The whole house smells of blueberries and I take them out to cool. Today, I decide I want to go apple picking, since my husband and I are both home, so I'll pack the blueberries up later.
(Image credit: Sarah-Ann)
12:45 p.m. Why in the world did I want to go apple picking in 80-degree weather? This was a short visit. I'll go again to a different place next week. What I love about pick-your-own fruit is that it may be higher in price, but we get yummy food and have some family time. My teens usually don't go, as they are too old. Plus, my daughter is working a 12-hour shift today.
At the apple place, I buy a bag for our apples, pumpkin cookies, two pieces of candy, and apple cider to bring to my sister's campsite (which we are going to next). They love the cider and I thought it would be nice to bring them something, since they are having us over.
Apple Orchard
Apples, $10
Apple cider, $3.75
Candy, $1.50
Cookie, $2
Total spent: $17.25
7:18 p.m. We spend the entire afternoon and evening at their camper. We don't get much family time, so this is great. So much fun. Tonight their campground held a chili cook-off, so we got free tasting of all sorts of yummy food. We held off for eating so long, because we all wanted to make room for the chili and cornbread.
8:23 p.m. We are home. What a fun day! We are all still super hungry, so we eat the beef stew that was cooking all day. While we were away, my 14-year-old stayed home. He foraged for whatever was in the house and cut up the veggies (potatoes, green beans, and mushrooms) for my beef stew and added them in. Everything was fully cooked when we got home. The only thing was my stew wasn't a stew since I didn't thicken it. So beef soup is what we ate. Didn't make any difference — everyone loved it!
Day 7: Sunday
9:34 a.m. My last day to sleep in for the next seven days. I took full advantage of it and so did my entire family. I made myself my collagen drink.
10:00 a.m. I'm motivated enough to make breakfast. I had my favorite eggs over lettuce with salsa and the kids had toast with fruit. My oldest daughter works an early shift today so she got up early to make breakfast and walk to work.
11:30 a.m. Some of my apples had bruises on them, which are perfectly fine to eat, but they still get passed over. So I quickly make apple-cinnamon breakfast bars for school tomorrow with them. It takes me a whole 15 minutes to pop them into the oven. Once cooled, I cut and wrap them individually for the kids to just grab and go.
Get the recipe: Apple Cinnamon Breakfast Bars from The Lean Green Bean
1:35 p.m. Today is football day. Go Patriots! I know, everyone hates me now. Game is underway and during a commercial I make a salad for me: lettuce, chickpeas, plum, and cheese. The kids have the same, but as a buffet instead of a salad. They think it's weird I have a sliced plum in my salad.
3:15 p.m. With the game in the background, I want to use up a half can of chickpeas I opened a few days ago as well as the last of the green beans that are starting to go bad. I put them on a cookie sheet, drizzle olive oil over them, and season with salt, pepper, and garlic powder. I also add milled flaxseed to the beans for extra nutrients. I throw them in the oven and I've got a healthy snack for tomorrow.
5:30 p.m. Dinner is early tonight, since there's school and work tomorrow. I whip together niño envuelto aka stuffed cabbage. I get a lot of inspiration from my favorite Dominican cooking site. The recipes are adaptable so if I don't have an ingredient I can still make the recipe.
Get the recipe: Niño Envuelto (rice and beef wrapped in cabbage) from Simple by Clara
5:45 p.m. While I'm cooking dinner, kids are making their lunches. I have leftover beef soup, the rest have apple and cheese sandwiches with roasted chickpeas and green beans, hard-boiled eggs, frozen yogurt, last of the plums, and juice boxes.
8:08 p.m. The kids are in bed, I pack my lunch (apple, simple salad, and trail mix pack). I put oatmeal in a bowl ready to be made for the morning. Off to watch TV before bed.
Note: I didn't always write what my kids had for school lunch or what my husband had for work. It is usually a concoction of what I have in the house for the kids. I didn't want to write the same thing repeatedly. My husband eats the same thing every day: rice with something added to it (beans, salsa, etc.) with potatoes. I think it's bland, but he really enjoys it. Also, when my kids are home, whatever they find is up for grabs. I work around with whatever is left. Which is why I didn't always mention it.
1. How did you set your food budget?
We originally set it out of necessity because that was all we could afford. We had to make due, since there wasn't any more in the budget. Now I stick to it because my job is only seasonal. Plus, it allows me to be creative and figure out ways to waste less and use everything up.
2. What are the kitchen ingredients you can't live without?
Things I use all the time and can't live without are eggs, oatmeal, hummus, salsa, beans, rice, coconut butter, and bananas.
3. What's the budget recipe you always rely on?
There are a few, but the one I use most often is slow cooker salsa verde chicken.
Since we do eat lots of snacks, these two recipes are great.
At Kitchn we believe setting a food budget for you and your family is an essential part in getting your financial life in order. Don't know where to start? We have a guide for that. Want to share your food budget diary with Kitchn? See how here.
Kitchn supports our readers with carefully chosen product recommendations to improve life at home. You support us through our independently chosen links, many of which earn us a commission.