How a Family of 2 Eats for $84 a Week in Walla Walla, Washington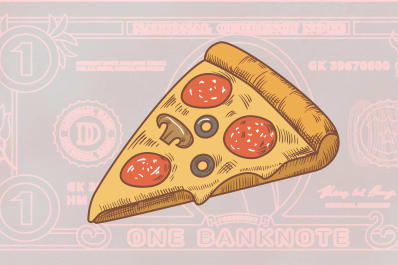 (Image credit: GettyImages)
Welcome to Kitchn's Food Budget Diaries series, where we show you how people around the country spend money on what they eat and drink. Each post will follow one person for one week and will chronicle everything that person consumed and how much it costs them.
Name: Rebecca
Location: Walla Walla, Washington
Age: 29
Number of people in family: 2 people; my husband and I.
Occupation: I'm a freelance science writer and my husband is an engineer.
Household Income: $110,000
Weekly food budget: $84 (eating out budget is $180 per month).
Day One: Sunday
8:00 a.m. I already did my planning and made my grocery list yesterday, so I leave right after breakfast to get groceries for the first part of the week (my meal plan currently extends as far as lunch on Thursday). My favorite grocery store, the best one in the area for produce and bulk items, is closed on Saturdays because it's run by Seventh Day Adventists. That's why we shop on Sunday.
Andy's Market
Green beans: $1.28
Creamy peanut butter: $4.74
Light coconut milk: $1.42
Unsalted butter: $4.74
Tempeh: $3.27
Whole raw almonds: $5.45
Navy beans: $.65
Whole spelt kernels: $1.03
Super nutty granola: $3.49
Mesclun salad mix: $1.69
Yams: $.47
Lemons: $.47
Bananas: $.28
Carrots: $.52
Green onions: $.75
Mozzarella: $4.07
(Bag refund: -$.10)
Total Cost: $35.50
10:00 a.m. I also stop at a second grocery store – Super Foods — on the way home to pick up a couple things the first store doesn't have great prices or selection for, like coffee. Inevitably I miss one thing on my list (frozen spinach).
Super Foods
Onions: $.36
Avocados (2): $3.16
Garlic: $.58
Ginger root: $.30
Yogurt: $3.88
Coffee grounds: $6.48
Oranges: $3.60
Total Cost: $14.76
11:30 a.m. For lunch we have bowls of quinoa topped with salad greens, leftover salmon patties, sliced avocado, sunflower seeds, and homemade red pepper vinaigrette made with the very last of the red peppers from our garden that we roasted and froze last summer.
Get the recipe: Salmon Cakes with Creamy Garlic Sauce
2:30 p.m. We split a big navel orange for a snack.
5:30 p.m. It's rainy out, and after relaxing inside for most of the afternoon, dinner is white pizza with chicken and garlic and a simple green salad on the side. Yum! The chicken and pizza dough were in the freezer, left over from previous meals.
Get the recipe: How To Make Awesome Pizza at Home
Day Two: Monday
6:30 a.m. I eat breakfast with my husband before he leaves for work. Last week he forgot to take his thermos of coffee with him one morning, and I ended up pouring it into an ice cube tray to use in smoothies. So, breakfast this morning is peanut butter-banana smoothies made with coffee ice.
Get the recipe: Coffee Banana Smoothie from Food52
11:00 a.m. I'm already hungry for lunch — a side effect of eating breakfast so early. Even though I work from home and can fix myself whatever I want in the kitchen, I've found that I'm way more likely to actually eat a healthy lunch if there's something prepped in the fridge, and today it's a rerun of yesterday's lunch (salmon cakes).
2:00 p.m. I have a meeting downtown, and on the way home I stop in a grocery store to pick up that frozen spinach I forgot yesterday. When I get home I throw some navy beans in the slow cooker to go into the next few days' lunches and eat a navel orange for a snack. My husband also took an orange to work with him, along with a handful of almonds.
Walla Walla's Harvest Food
Frozen spinach: $1.89
Total: $1.89
5:00 p.m. Yeah, we eat dinner kind of early. Dinner is another repeat: leftover pizza from yesterday with more salad. Luckily we don't get bored too quickly with meals we like! Almost no prep time means we have some time to work in the garden before my husband heads out to play basketball with some friends.
While he's gone, I toss some of the beans I cooked with pesto (the last of what we made and froze with basil from our garden last summer), sun-dried tomatoes from the pantry, and some of the frozen spinach. That goes in with the last of the quinoa I cooked yesterday to be a couple days' worth of lunches. The rest of the beans go in the freezer to be used later.
Day Three: Tuesday
6:30 a.m. Breakfast is yogurt with granola and some homemade applesauce from the freezer. As my husband is scooping out a serving of yogurt for himself, he discovers a grocery store mistake on my part: I accidentally grabbed a quart of vanilla yogurt instead of plain! I don't want the yogurt to go to waste, but it's so sweet I feel like I'm eating a bowl of ice cream for breakfast. Argh.
11:00 a.m. I dig into the beans-quinoa-pesto-tomatoes-spinach combo I put together last night, topped with some grated Parmesan. It's not bad! It's true what they say about dried beans: They really are cheap, cheap, cheap.
2:00 p.m. I take a walk and then indulge in a piece of toast with peanut butter for a snack. The homemade bread was from the freezer. My husband took an orange and almonds to work again.
Get the recipe: How To Make Whole Wheat Sandwich Bread
5:30 p.m. For dinner we make green curry with tempeh, sweet potato, and green beans, served over brown rice. Even though we use frozen green beans to simplify things a bit, tempeh, sweet potato, garlic, ginger, and onion is still a lot of things to chop, grate, and mince.
Get the recipe: Tempeh Curry with Sweet Potato and Green Beans from Whole Foods
Day Four: Wednesday
6:45 a.m. More of the sugary-sweet vanilla yogurt with granola and applesauce. Sigh.
11:15 a.m. Curry is one of those dishes that's better the second day, if you ask me, and I thoroughly enjoy my lunch of leftover green curry.
3:00 p.m. I have an orange for a snack. My husband only took almonds today.
5:15 p.m. Dinner tonight is Sriracha egg salad on toast (but let's be fancy and call it egg salad tartines!) with a side of roasted carrots. The bread is the same homemade bread I snacked on yesterday, and all I bought on Monday to make the egg salad was a lemon and some green onions.
6:45 p.m. After dinner I cook up a couple servings of spelt to go into our lunches tomorrow; I actually haven't cooked spelt before, but I like whole grains and I'm trying to branch out.
I also spend a few minutes planning out our meals for the end of the week. Nothing in the grocery ads really jump out at me, so I plan meals around things we already have in the house — chicken legs, green beans, pasta — and a slow cooker black bean soup recipe I've been wanting to try that will be cheap, (hopefully) tasty, and make leftovers for a couple days of lunches.
Day Five: Thursday
6:45 a.m. Yogurt, granola, applesauce. Eh.
I go grocery shopping mid-morning, with a list that will get me through next Tuesday. There's a reason for this. My favorite grocery store knocks 5 percent off your total bill on Tuesdays and Thursdays, I guess to encourage people to come in on slow days.
Andy's Market
Half & half: $1.32
Olive oil (2 bottles): $5.68
1% milk: $1.89
Salsa: $1.75
Brown rice: $1.31
Black beans: $1.68
Frozen berry medley (2 bags): $3.80
Kale: $1.90
Mesclun salad mix: $.76
Red potato: $.67
Cilantro: $.65
Bananas: $.39
Carrots:$.68
Red bell pepper: $.32
Total cost: $22.80

9:30 a.m. I also stop at a second grocery store on the way home to pick up a couple odds and ends that are cheaper there, just like last time.
Super Foods
Parmesan: $3.98
Cheddar cheese: $2.69
Celery: $.31
Onions: $.50
Gala apples: $2.71
Total: $10.19
11:00 a.m. A serving of spelt topped with the rest of the beans-pesto-tomatoes-spinach mish-mash from Tuesday. Not bad!
1:00 p.m. I have to jump on a phone call soon, so I have my afternoon snack kind of early — an apple (bought this morning) sliced up with peanut butter.
5:30 p.m. I picked up a bunch of kale on this morning's grocery run, and for dinner we combine that with some whole-wheat penne pasta and whatever else we find in the cupboards and fridge that sounds good — anchovy paste, lemon, garlic, sun-dried tomatoes, a little chicken broth, Parmesan cheese. The result is super tasty.
Day Six: Friday
6:30 a.m. Yogurt, granola, applesauce.
11:00 a.m. Leftover pasta from last night — so delicious.
2:00 p.m. It's beautiful out, and I give in to the temptation to spend a little time at my favorite coffee shop while I wrap up work stuff for the week. I have cold brew coffee and leek-and-potato croissant — fabulous. (My husband took his usual fruit and nuts to work for a snack.) Cost of both: $9.21.
Colville Street Patisserie
Cold brew: $3.25
Leek-and-potato croissant: $4.25
Total Cost: $7.50

6:00 p.m. We meet friends at a local brewery for pizza and drinks.
Burwood Brewing
Pizza (I forget how many slices): $10
Beers: $19.59
Total cost: $29.59
Day Seven: Saturday
7:00 a.m. We start our weekend with slices of homemade bread, toasted with peanut butter and banana slices. Yes, we really get up this early on Saturdays!
12:00 p.m. Time for a picnic! After getting slow cooker soup started for dinner, we head out and eat a packed lunch at a local state park — brown rice, edamame, bell pepper, carrots, and peanut sauce, topped off with some cilantro and green onion. Gotta make up for that pizza indulgence last night! (And actually, the rice salad is really tasty.)
3:00 p.m. After we get home from our outing we split an apple for a snack.
5:30 p.m. The black bean soup is a success. We eat it topped with more cilantro and green onions and some grated Jack cheese, with a green salad and bread and butter on the side. What's even better is there's plenty of leftover soup, setting us up with great work lunches for the beginning of next week.
Get the recipe: Slow Cooker Black Bean Soup from Budget Bytes
*Note that the second grocery haul should last for meal prep through Tuesday.
1. How did you set your food budget?
We started tracking our expenses closely at the beginning of 2016, using a spreadsheet. The USDA puts out monthly reports on the cost of food in the U.S., and I'd occasionally compare our grocery spending to their averages to make sure what we were spending seemed reasonable.
Eventually I set a goal of what I wanted us to spend, on average, per meal for two people — first five dollars a meal, and then, when that turned out to be too easy, four dollars a meal. I just divide what we spend on groceries each month by the number of meals we eat at home (so, this doesn't include eating out) to track how we're doing. Maybe all this math and tracking wouldn't be for everyone, but I find it really satisfying.
(Image credit: Rebecca H. )
I use a big whiteboard to plan out our meals for the week, first building meals around whatever we already have in the freezer, fridge, and pantry and then going from there. I do check the grocery ads, but I never buy anything I wouldn't use anyway just because it's on sale. Overall, we try to limit how much meat we eat in favor of lots of veggies, whole grains, and legumes. We do most of our shopping from the produce section and bulk bins.
Avoiding convenience foods and minimizing waste does mean you need to plan ahead — you'll see some mentions in my diary of things like starting a slow cooker full of dried beans to be used the next day.
2. What kitchen ingredients can't you live without?
I really rely on beans, eggs, brown rice, frozen spinach, and cheese to pull meals together easily. In summer we also do a lot of shopping at our local farmers market.
3. What's the budget recipe you rely on?
Although they don't appear this week, recipes we often fall back on include shakshuka (made with canned whole tomatoes), any of a dozen variations on rice and beans, and, for breakfast, steel-cut oats with fresh or frozen berries.
At Kitchn we believe setting a food budget for you and your family is an essential part in getting your financial life in order. Don't know where to start? We have a guide for that.Want to share your food budget diary with Kitchn? See how here.
Kitchn supports our readers with carefully chosen product recommendations to improve life at home. You support us through our independently chosen links, many of which earn us a commission.