Host an Oyster Roast Any Night of the Week: No Need for a Fire Pit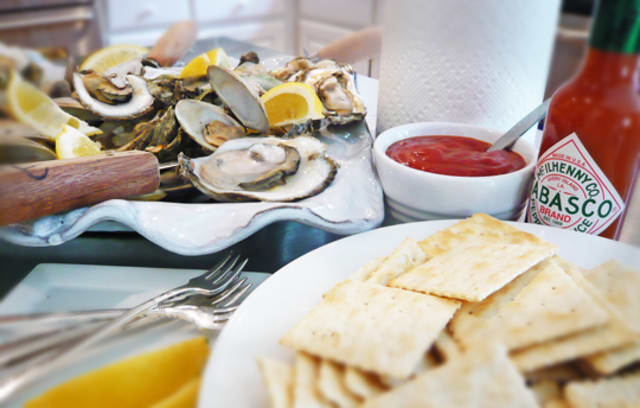 There are certain skills a parent should teach a child. Proper teeth brushing. Basic courtesy. The Electric Slide. How to safely shuck an oyster. The only way to master important skills is by practicing early and often, so we like to roast oysters at home, and doing it over an open fire isn't an easy option. I've learned to roast them in the oven, so we can enjoy mollusk madness any night of the week.

I went to the grocery store one day to pick up something normal, maybe apples or a carton of eggs. Right there in the parking lot — on a weekday! — there was a cute young couple (Hi, Lindsey! Hi, Bryan!) selling fresh seafood. I couldn't resist a couple dozen clams and oysters. And they couldn't sit around until I found the time to build a fire pit. All was not lost: A quick search of the internet yielded easy instructions for oven roasting. And steamed clams couldn't be simpler. An impromptu oyster roast is a relaxed affair, so the kids hang around and talk to me while I cook, sip wine and offer shucking tips. Besides, what's more delicious than a fresh roasted oyster, served on top of a crispy saltine with a little lemon juice and horseradish cocktail sauce?

A shellfish feast is always a crowd pleaser and so easy to prepare. Other than transferring the mollusks from the pan to a communal plate, all I have to do is put out necessities: oyster knives, seafood forks, hot sauce, cocktail sauce, paper towels, sliced lemons and saltine crackers. Melted butter is optional (just kidding) and mignonette is extra credit. It's an easy way to entertain a few adult friends, too. Just add bubbly!

An oyster roast is an event. Hosting a small version in the kitchen makes even a school night feel special. Besides, I'd rather our sons learn to wield an oyster knife in a brightly lit room than on a dark beach, where they might, you know, slice off part of a finger as they tried to find a space for the knife. With more experience, they'll shuck 'em by the fire with ease.

Once the party gets going, the kids are more willing to practice the Electric Slide (or the Cupid Shuffle, or the Wobble) and I know I've done my job as a parent.

What foods create a party atmosphere in your home?
Related: Crack, Slurp, Repeat: How to Shuck an Oyster, How To: Clean the Sand Out of Clams

(Images: Anne Postic)
Kitchn supports our readers with carefully chosen product recommendations to improve life at home. You support us through our independently chosen links, many of which earn us a commission.