Holiday Fun: Best Tools for Mixing, Baking, and Decorating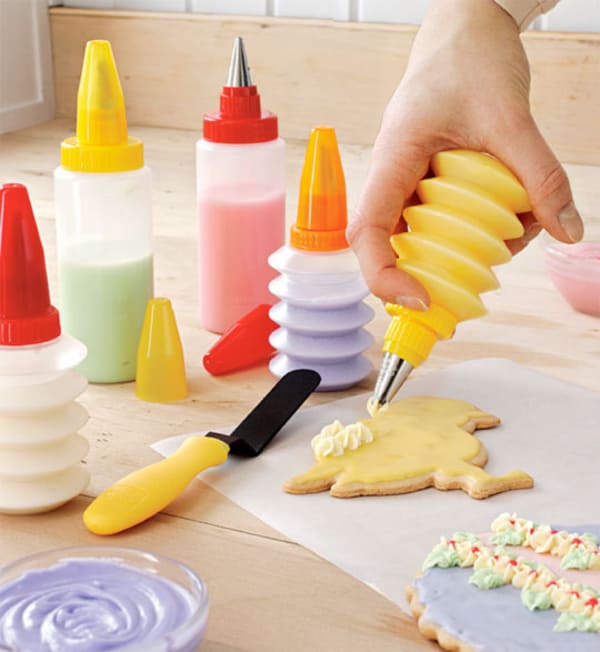 Do you have big plans for holiday baking in the next few weeks? Having the right tools for the job can make the whole process smoother and a lot more fun! Here are a few that you might find particularly useful. Go on - call it an early present to yourself!
1. Squeezable Decorating Kit - These squeeze bottles fitted with frosting tips make decorating cookies a snap. They're easy for kids to use, too! (Find It!: Sur la Table)
2. Chocolate Chipper - If you're doing anything that requires chopping up a lot of chocolate, this special pick will come in really handy. You can also try using a serrated knife. (Find It!: King Arthur Flour)
3. Offset Spatula - It's so easy to frost cakes and cookies with an offset spatula. Our fingers stay out of the frosting and it's easy to smooth the frosting in place. They're also handy for transferring cookies to and from baking sheets. (Find It!: Williams-Sonoma)
4. Silpats - We don't even have to grease our pans when we use a silpat! We also like these sheets of reusable parchment, which can be cut to fit cake pans and ramekins. (Find It!: Williams-Sonoma)
5. Cookie Scoops - When we're making a lot of cookies, a //www.thekitchn.com/good-tool-cookie-scoops-099216">scoop like this make the process of scooping and portioning a whole lot simpler! (Find It!: Amazon.com)
6. Candy Thermometer - Candy-making is just plain frustrating without one of these clipped to the side of the pan! (Image: Emma Christensen)
7. Collapsible Baking Rack - Space for cooling our delicious treats is always at a premium! Racks like this help maximize counterspace and then fold up neatly for storage! (Find It!: Amazon.com)
8. Bake-and-Give Pans - We're investing in a whole set of these pans this season! Breads and cakes can be baked right in the pan, and the ones with lids can also be used for packing cookies and candies. (Find It!: King Arthur Flour)
What other tools do you like to have handy for holiday baking?
Kitchn supports our readers with carefully chosen product recommendations to improve life at home. You support us through our independently chosen links, many of which earn us a commission.