Here's How Often Should You Clean All the Parts of Your Kitchen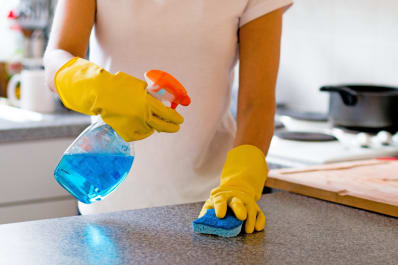 (Image credit: fonrimso/iStock/ Getty Images Plus)
Cleaning your kitchen is a never-ending job — especially if you actually use it. There are your everyday messes (those breadcrumbs that got all over while you were packing up lunch) and there are the ones that build up over time while you're busy doing other things (how'd that backsplash get so greasy?). Staying on top of all of it could end up being a full-time job. But you already have one of those!
While everyone has spring cleaning on their minds, we thought we'd leave you with this list, detailing what you should clean and how often you should clean it. It's not here to stress you out (we swear!), but rather to serve as a gentle reminder.
Here are all the things you should clean — and when.
EVERY DAY
Dirty Dishes
If there are dishes in the sink, wash them before you go to bed. If you have a dishwasher, just load them up (you don't have to run the dishwasher every day if it isn't full). We even suggest drying the dishes and putting them away, so you can start fresh in the morning, but you can let them sit in the dish rack overnight if you just can't keep your eyes open anymore.
Related: 12 Ways to Make Washing Dishes Better, Faster, and More Fun
The Sink
Once that last dish is cleaned, clean your sink too (after all, it's basically one giant dish). Give it a quick wipe-down with a sponge or microfiber cloth.
Read more: The One Thing I Always Do After I Do the Dishes
Countertops
Use a paper towel, microfiber cloth, or disinfecting wipe to go over every inch (or as many inches as you can!) of your countertop. This is a crumb-finding expedition, but it might also inspire you to put away some ingredients or cooking tools before the sweeping begins.
Spills
Spill something? Whether it was an entire mug of coffee or just a few splashes of milk, clean it up right away. There is no reason (or excuse) to let spills of any kind sit around. They'll only spread, harden, and get harder to clean over time.
The Floor
In a perfect world, you'd have time to sweep or vacuum your floor every night after you've cleaned up from dinner. But it's not the worst thing if you can only get around to it once a week.
More: 5 Things to Know About Cleaning Your Kitchen Floors
ONCE A WEEK
Expired Foods
Despite your best intentions, the fridge almost always becomes home to a random assortment of foods that are past their prime. Pick one day each week (we like Sundays) to go through and discard anything that's expired.
Appliance Surfaces
Again, if you spill something on your stovetop, it should probably get cleaned up right way. But when it comes to standard maintenance, a good external wipe-down once a week should do the trick. This includes your fridge doors and handles, your stovetop and grates, and even your frequently used small appliances like your toaster and coffee maker.
Related: How To Clean Stainless Steel Appliances with Vinegar and Oil
ONCE A MONTH
The Drain
Mix 1/2 cup baking soda with 1/4 cup table salt and pour it down the drain. Then add a cup of vinegar and let it all sit for 15 minutes before flushing with boiling water. This will break down any errant food scraps that have made their way into the pipes and help deodorize stinky smells.
More: 10 Ways to Get Rid of That Awful Smell in Your Kitchen Sink
Your Backsplash and Cabinet Faces
Again, you should wipe away splatters as they happen, but depending on how often you make greasy foods (bacon or anything fried!) or how messy of a cook you are, you might need to do a deep clean once a month or more. Do your cabinet faces while you're at it, although we like to recommend doing your cabinets every other week, depending on how dirty or dusty they get.
Related: How To Clean Greasy Kitchen Walls, Backsplashes, and Cupboards
Cookware and Knives
Take stock of your knives, stainless steel pots, and cast iron skillets. How are they looking? If any of them need any TLC, now is the time. You know, versus when you have to have get dinner on the table and you're working against the clock.
Wooden Cutting Boards
It just takes five minutes — we swear. Give some love to your cutting boards (and while you're at it, your wooden spoons) and they'll love you back for a long time.
Read more: How To Oil and Maintain Wood Cutting Boards (and Spoons!) in 5 Minutes a Month
Window Treatments
If you have curtains on your windows, you can go over them quickly with a vacuum attachment. You'll need a soft brush and warm, soapy water for blinds.
EVERY 3 TO 6 MONTHS
Appliance Interiors
Before your next big supermarket haul, pull everything out of the fridge and freezer and give the shelves a good cleaning every three months. Your oven might need less attention (once every six months or even less). But your microwave might need more (once a month or so).
Cabinet Interiors
Just because they're not out on display for visitors to see doesn't mean you don't have to clean them. At least once a quarter, pull everything out and give the shelves a good dusting. This goes for your drawers, too.
Related: How Often Should You Be Cleaning Your Kitchen Cabinets?
The Pantry
You can certainly make a case to do this more often, but at the very least we like to do this at the start of every new season. This way, seasonally appropriate ingredients can be used up and space can be made for new ones. And it's a good way to stay on top of what's in there.
Refrigerator Coils
All fridges have a condenser, the unit that releases heat through those squiggly looking coils located at the back of the fridge or across the bottom front (behind a grille). These coils can collect durst, dirt, and hair (yours and your pets!), which is a bad thing. As stuff accumulates, the fridge becomes less efficient and could eventually cause the fridge to break. Twice a year, use a vacuum to suck up all the nasty stuff.
Learn more: Why You Should Pull Your Fridge Away from the Wall Tonight
Oven Racks
You might be able to get away with doing this just once a year, depending on how much of a mess you make inside your oven. The point is that you clean the racks — and not just the oven walls.
Related: How To Clean Oven Racks In the Bathtub
Range Filters
Depending on how much (greasy stuff) you cook, your filter should last six to eight months. As for the range itself, don't forget to wipe it down when you're doing your other appliance surfaces.
Learn more: How To Clean a Greasy Range Hood Filter
That was a lot, we know. What else do you clean on a regular schedule?