Help Me Plan a Fun Vegetarian Birthday Menu for My One-Year-Old!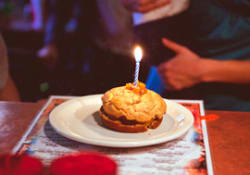 Q:
My little boy is turning 1 on September 30th. We are throwing his party in the afternoon. It will be a mix of kids and 'foodie' vegetarian adults. I'm hoping for some input on what to serve at his party. I'd like to provide wholesome snacks and some kind of light vegetarian main coarse but I would also like the baby to be able to enjoy the food too.
Any menu/recipe ideas or suggestions?
Sent by Jane
Editor: I immediately thought of a cake we wrote about a few years back:
Readers, what are your ideas for birthday-worthy, toddler-friendly, vegetarian dishes?
(Image: Leela Cyd Ross)