Haiti's Unique Cuisine Deserves Its Props Year-Round — And These 4 Chefs Are Making Sure It Gets It
We
independently
select these products—if you buy from one of our links, we may earn a commission. All prices were accurate at the time of publishing.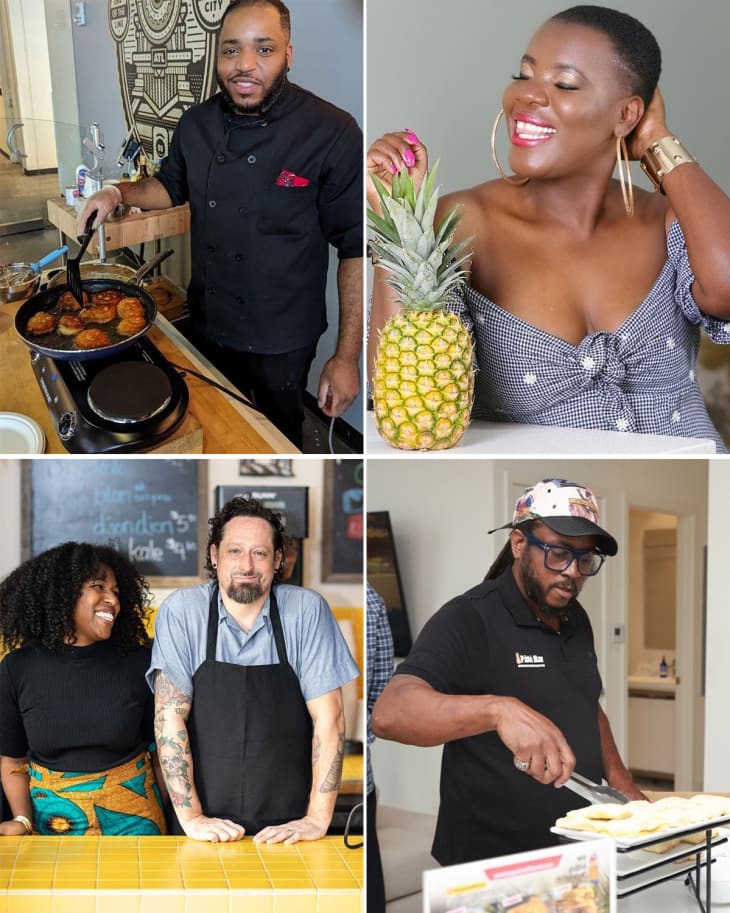 As a kid growing up in Haiti, I don't think I understood just how special Haitian food was. Don't get me wrong, I knew it was amazing, but I didn't process the level of amazingness it possessed.
Of course, there were special dishes that were reserved for special occasions — like those times when the more common red or black bean soup that accompanied the white rice was replaced by white beans or pois de souche (lima beans). Sure, I was exposed to other cuisines as well while growing up in my home country in the '90s, but I can admit that at the time, I didn't quite get how unique Haitian cuisine was. 
While most English-speaking, West Indian islands share a few of the same dishes and the cuisines of Puerto Rico, Cuba, and the Dominican Republic are very similar (albeit with a handful of specialties that carry different names locally), Haiti stands alone in many ways. Although there are similar ingredients and flavors to be found, the zeitgeist of Haitian cuisine is all its own. And for years it seemed to have remained our own little secret, with very few Haitian delicacies making their way into wide pop culture (not even the U.S., where, according to the 2019 U.S. Census an estimated one million Haitian Americans lived at the time).
Haitian restaurants outside of the U.S. may present the culture as a bit of a monolith, based on what can be called "Port-au-Prince cuisine." The term, coined by Chef Alain Lemaire — who has shared Haitian culture on a variety of cooking shows, most recently appearing on the Discovery+ reality series Luda Can't Cook — focuses on simpler dishes adapted for the hustle and bustle of cosmopolitan living. Each of Haiti's 10 departments, however, has their own delicacies, traditionally passed down from generation to generation in the kitchen.
For example, when I learned to make Soup Joumou — the mythical pumpkin-based soup once denied to enslaved people and thus used to celebrate Haiti's Independence from France — it was via oral instructions from my aunt in South Florida who graciously accepted multiple calls throughout the cooking process. I learned to make mayi moulin ak aran sò under my father's watchful eye on the day he refused to make it for me. There were no written recipes to pass down or any precise ingredient lists. Just instinct and personal taste — which almost guarantees that my version of the dish varies from other Haitian families' versions.
But regardless of what Haitian dishes you know how to cook (if any) or where your family comes from, Haitian people take pride in this centerpiece of the culture and share it freely. And today, a growing group of Haitian authors, chefs, influencers, and restaurateurs are not only opening the culture to others, but also pushing this cuisine beyond its traditional boundaries.
While Haitian Heritage Month occurs every May, Haitian cuisine deserves conversation every day of the year. Here are four Haitian chefs on the impact the cuisine has had on their journey and more.
Chef Jude Pierre Dambreville — Private Chef & Influencer
Despite only visiting Haiti sparingly as a child, Chef Jude — who grew up in Spring Valley, New York — was immersed in Haitian culture, with most of his friends being first-generation Haitian Americans like him.
"My mom makes the best lambi (stewed conch) and whenever there was a family gathering, she was always asked to make some," he recalls. "So she started out by teaching me how to clean the lambi, then eventually taught me additional steps. And from there, she eventually teaching me other things that she had to cook as well, and I just started assisting her in the kitchen. Haitian cuisine is a mixture of different cuisines and it is just unique to us. No one else has the flavors or the palette that we have because we were colonized by the French; but we also held on to our African roots so much that it screams through our food."
Buggah D. Govanah — Owner, We Pâté Different
During the pandemic, Miami-based marketing professional Buggah D. Govanah and his wife, Chef The Rose, set out to resolve a gripe they'd both held for years. "I've had Jamaican patties and I've had empanadas, but I always wondered why Haitian patties seemed to have the least amount of meat," the Brooklyn native and owner of We Pâté Different said.
With Rose's catering business on pause due to COVID-19 restrictions, the couple developed a heartier version of the Haitian pâté — which, traditionally, have beef, chicken, mori (cod) or arrang (salted herring) fillings encased in a puff pastry shell.
"Our target consumer isn't Haitian. Almost every culture has something similar to a patty or empanada. This allows us to introduce non-Haitian people to Haitian flavors by offering them something familiar. It's also a great way to promote what our catering business can offer."
Sabrina & Shawn Brockman — Owners, Grandchamps Restaurant
Nestled in Brooklyn's Bedford-Stuyvesant neighborhood, Grandchamps Restaurant is the embodiment of what many would like to see become a common thing. Not only does this family-owned, community-driven restaurant serve traditional Haitian food in a setting that can confidently receive reviewers from the New York Times; but it's also one where the food is not being prepared by Haitian co-owner Sabrina Brockman. Those duties are handled by her Indiana-bred husband, Shawn, who, according to Sabrina, spent about six months perfecting some of her mother's recipes before the restaurant opened in 2015. 
"Me and my husband live in Bed-Stuy and wanted to share my culture and heritage with the community," she explains. "Our intention was to create a platform for other Haitian businesses, which is something that we're very focused on. Creating a platform for positivity, for community, for awareness of all types of things, not just Haitian culture."
Chef Nadege Fleurimond — Food Entrepreneur and owner of Bunnan
For Nadege, cooking Haitian food has almost always been about educating others on her culture. It started while she was a political science major at Columbia University. And once she left the prestigious Harlem campus and decided to focus on the culinary arts, her graduate network allowed her to infuse catering gigs for a variety of consumers with Haitian dishes. "Growing up, I always heard that certain dishes 'pa al sou table' or shouldn't be served to company," she says. "Those are the dishes I try to elevate."
In 2014, she transformed her own quest to learn more about Haitian cuisine into a cookbook, Haiti Uncovered: A Regional Adventure Into the Art of Haitian Cuisine. The book goes beyond recipes to some of the regional and cultural history behind a variety of dishes. She's since partnered with Cap-Haitien based Bellevue Tours to offer a culinary tour of Haiti that allows participants to discover the country through food, leaving the traditional media portrayal of Haiti far behind.