The Best Parts from That New York Times Profile on Gwyneth Paltrow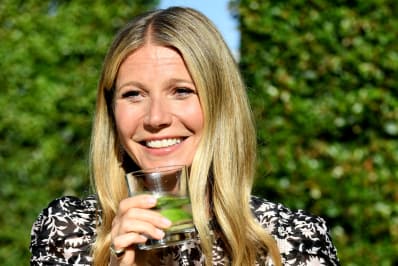 (Image credit: Emma McIntyre/Getty Images)
Even when people hate Gwyneth Paltrow, they still want to know how she gets such glowing skin. She's managed to turn that particular hate-love relationship into a $250 million business by telling people what vitamins to take, foods to eat, and things to buy, in order to live a little bit more like her. She's embraced the idea that her company is selling an "aspirational" lifestyle.
And she does have a lot of great stuff, as anyone who has ever gone to her site to mock a pseudoscientific health claim and found themselves buying a really great sports bra or a travel sleep mask with molded cups so the mask doesn't press against your eyes knows. (I bought it, it's great.)
The Goop lifestyle looks pretty great, if wildly unattainable. But one can't help wondering if anyone, even Gwyneth, can actually live that way. In an in-depth and beautifully written profile in The New York Times this week, writer Taffy Brodesser-Akner followed Gwyneth to Harvard Business School, ate dinner at her house while her kids played guitar, and got a vitamin B12 shot in her butt at a Goop Health Summit to find out.
Here are five things we learned from that New York Times profile of Gwyneth Paltrow.
1. The weird reason her company is called Goop.
According to Brodesser-Akner, pretty much everyone who works for Gwyneth calls her by her initials, G.P. And at some point in the murky haze of her past, someone told her that "all the successful internet companies have double O's." Thus Goop was born, and it turned out to be a pretty prescient name for a company that would wind up selling "clean" face cream and Moon Dust.
2. It started with turkey ragù and banana nut muffins.
Today Gwyneth's $250 million company is most famous for selling things like "bio-frequency healing stickers," which claimed to rebalance the electrical energy in people's bodies, but were really just stickers that cost $120. But back in 2008, Goop was just an email newsletter Gwyneth sent out from her kitchen table about things she liked. Her very first newsletter included recipes for turkey ragù and banana-nut muffins.
3. She has a "house manager" named Jeffrey.
A man in a shawl-collar sweater opens doors and gets wine for guests at Gwyneth's house, but Gwyneth says he's not her butler.
"No, he's a house manager," she said when Brodesser-Akner asked if he was her butler. "He's the best. He's from Chicago. He's so incredible. He helps me with everything."
I've watched every episode of Downton Abbey so I'm pretty sure I'm an expert on butlers, and that sure sounds like butlering to me.
4. She can cook clams in a white dress without getting anything on her.
It's no surprise that Gwyneth cooks for her guests; she has three cookbooks, and they're actually quite good. (It's All Good has some particularly great vegan recipes, and a sautéed mushroom and quinoa dish that goes with everything.) But she managed to shock her interviewer by cooking an entire meal of steamed clams and grilled bread while drinking a whiskey on the rocks and wearing a white dress with no apron, and she didn't get a single spot on her. Now that sounds like an actual superpower. Who needs aprons when you have a psychic aura that telekinetically repels stains?
5. Psychic Vampire Repellent is not the weirdest thing Gwyneth is selling.
Psychic Vampire Repellent is a "real" thing, and Gwyneth is selling 3.4-ounce vials of it on Goop for $27. It's a "protective mist [that] uses a combination of gem healing and deeply aromatic therapeutic oils" to "banish bad vibes and shield you from the people who may be causing them." You're instructed to spray it generously around your head to safeguard your aura from psychic attacks.
That sounds great, but I'd take a psychic vampire over a screaming toddler any day. For that, Goop sells a Chill Child Kid Calming Mist, which is the same sort of thing but instead of protecting you from psychic vampires, it's supposed to make children calm down and stop throwing tantrums. Because nothing stops a toddler meltdown like spraying rosewater at them.
Kitchn supports our readers with carefully chosen product recommendations to improve life at home. You support us through our independently chosen links, many of which earn us a commission.