7 Smart Things You Should Always Buy at the Grocery Store Before a Party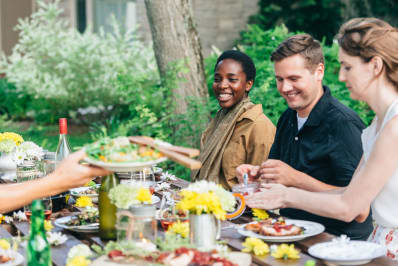 (Image credit: Jen Grantham/Stocksy)
Smart hosts know that a good party is about more than just the food and the guest list. They know that a party's success depends on their level of preparedness. They know that if they run out of cups they're gonna have problems.
With that in mind, here are seven things smart hosts get while they're stocking up on food at the grocery store.
1. Ice
Even in the dead of winter, you need ice to chill beverages in a cooler and mix into drinks, and it melts quickly, so you always need more than you think. (The general rule is one pound per person.) Your ice maker's not gonna cut it, so clear some space in your freezer ahead of time to accommodate at least one extra bag.
2. Non-alcoholic bubbles
Whether it's cans of LaCroix or a nicely packaged elderflower cordial (I recently discovered the Belvoir brand), it's always thoughtful to have a fancy-feeling alcohol-free option for non-drinkers. Or kids! Or pregnant people! Or people who drank too much already!
3. Gluten-free crackers
Maybe it's just me, but a large percentage of my friends are, as we call them, anti-Glutites, either because of serious allergy reasons or hazier health choices. Whatever the reason, these days there are enough decent gluten-free options that you might as well have all your crackers be gluten-free, so the celiacs in your group don't have to stress.
4. Pre-sliced meats
If you've ever watched a stranger manhandle a piece of salami trying to cut a slice for a cracker, you understand this suggestion. Stick to pre-sliced meats for safety and sanitation purposes. Slice or cube up your cheeses ahead of time for the same reason.
5. Plenty of cups
Stock up on cups. Like, really stock up on cups. If you're using disposable you'll need about three times as many as your guest count. I took a cue from my in-laws and got a set of stemless wine glasses from World Market that I now break out when we have a bigger group. The stemless glasses are classy and dishwasher-safe; depending on how big your grocery store is, you may be able to pick up something similar there.
Buy: Stemless White Wine Glass Set, $25 for 12
6. Paper goods
Although I generally prefer reusable items, for a bigger party I like paper napkins. First of all, you can find really cute ones to establish the scheme for the party. Second of all, it makes cleanup much easier. I do not want to shake someone's half-eaten meatball off a cloth napkin! Another paper thing: toilet paper. More than you ever thought you could need. It goes quickly.
7. Cleaning supplies
There are two important things you're going to need: trash bags and stain remover. There's bound to be a spill and there's going to be plenty of garbage.
What other things do you stock up on before a party — aside from food?
Kitchn supports our readers with carefully chosen product recommendations to improve life at home. You support us through our independently chosen links, many of which earn us a commission.