3 Things to Ask the Grocery Store Butcher to Do Before You Buy Chicken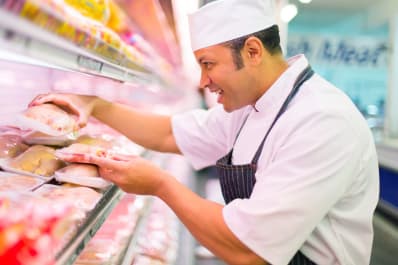 (Image credit: michaeljung/Getty Images)
Perhaps you've seen him? Your local grocery store's butcher. You know he's the butcher because, well, he's checking up on the boneless, skinless chicken breasts and wearing that tell-tale apron. He's also almost always carrying out big packs of meat to replenish the shelves. Once you spot him, you should say hi. And, if you're there to buy chicken, you should also consider asking him to help you.
Here are three things you could ask your grocery store butcher to do before you buy a package of chicken.
1. Debone the meat
Buying a whole chicken? The butcher can take the back bone out of the bird and flatten it (it's called spatchcocking or butterflying). Or, let's say you need boneless meat but all you're finding is bone-in? The butcher can get you what you need.
2. Do some cutting
Some people just do not like touching raw chicken meat. We get it. The butchers get it, too! That's why they're usually willing to cut breasts up into chunks or strips. You know, in case you want to make a stir-fry or grill up chicken skewers. Just pick out the pack you like and ask the butcher — nicely! He'll also cut up a whole chicken into chicken parts if you need him to.
3. Repackage the offerings
I've made this BBQ shredded chicken recipe a bunch of times, and I almost always need to ask the butcher to repackage something — either a pack of thighs or breasts — in order to help me get to the recommended three to four pounds of total meat needed. (Dear Price Chopper, why is it that during one visit you'll only have three-pound packs of chicken, and during another visit only 80-pound packs? Okay, it's not nearly that extreme, but it's hard to find just what I need!)
Asking the butcher to repackage some chicken is helpful when you're trying to total up to a certain number of pounds. It also comes into play if you, say, love the pieces in a five-pound tray of skinless chicken breasts but know that a two- and three-pound option (saving the latter one for later) would be better for your family.
What are some things you ask your grocery store's butcher to do to help you when you're buying chicken?