How to Eat for 3 Weeks on $85: A Virginia Couple's Grocery Diary
We
independently
select these products—if you buy from one of our links, we may earn a commission. All prices were accurate at the time of publishing.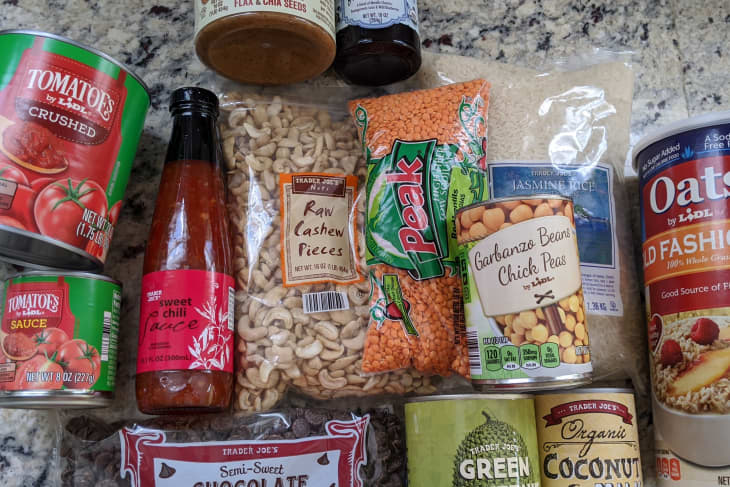 Name: Anna
Location: Fairfax, VA
Number of people in household: 2 (myself and my boyfriend) 
Age: I am 25, my boyfriend is 29
Occupation: I'm a technical writer (currently working from home); my boyfriend is a technician (going into work)
Where did you shop? Trader Joe's & LIDL
How much did you spend? $82.53
Dietary restrictions? No, but I buy plant-based groceries.
We're changing up our Grocery Diaries column to reflect what grocery shopping looks like during the coronavirus outbreak. Want to share your story? See how here.
How did you set your budget?
I typically aim to spend less than $100 a month on groceries for two people. However, I didn't set a strict budget because the circumstances right now are so unique. I am currently working from home, where normally I would get free lunch delivery at the office twice a week. My boyfriend is also getting free lunch at his workplace because he's an essential worker so that reduces the amount of meals we would need to make. We would also normally eat out on weekends — usually at least one meal.
How did you decide on how long to stock up for?
My goal for this trip was to stock up on enough pantry basics and frozen items to be comfortable for 3 weeks and supplement that later on in the month with a produce box. I wanted to balance limiting outings with not hoarding, so 3 weeks seemed like a middle ground. My boyfriend is also getting free lunch at his workplace so that reduces the amount of meals we would need to make. 
Did you get your groceries delivered or did you go to the store?
Neither of the stores I wanted to shop at do grocery delivery, so I had to go out. Later on in the month, I plan to get a produce box delivery, but they weren't accepting new customers until the last week of April.
How did you choose where to buy groceries?
I first chose to go to Trader Joe's because they implemented pretty strict social distancing and store capacity guidelines as well as senior hours. Since most Trader Joe's are tightly packed, this made me feel much better about maintaining a good amount of space and keeping everyone safe. Also, I think Trader Joe's has the best selection and quality of frozen and pre-made food, which I wanted to stock up on for weeks 2 and 3.

When I went shopping, LIDL unfortunately had not done anything to monitor the amount of people in stores (update: since April 11, they do in some locations based on their website), but they have better prices on a lot of basics like oatmeal. I knew ahead of time what items I wanted to get there and where they were located — this helped me get in and out as quickly as possible.
What time did you shop, and what was it like?
I got to Trader Joe's right when it opened. There was already a line outside because of the 20-person capacity, so it took about 30 minutes to get inside. I went to LIDL soon after opening, and it was fairly crowded. Because of the layout, it was hard to avoid people and the checkout lines were pretty close together.
I chose meals that use mostly pantry basics and produce that stays fresh for longer like kale and broccoli. I came up with about 10 meals and picked grocery items that would fit into multiple meals, depending on what I was feeling at the time. 
Produce: 1 red onion, 2 yellow onions, 1 shallot, 1 green bell pepper, 6 ounces of blueberries, bag of carrots, bag of lemons, bag of limes, 6 avocados, 1 head of broccoli, 1 bunch of broccolini, 1 bunch of kale, 1 bunch of green onions, 1 bag of yellow potatoes, 1 bag of russet potatoes, 1 bag of cilantro.
Pantry: Jar of peanut butter, jar of jelly, sweet chili sauce, 1 large can of crushed tomatoes, 1 can of tomato sauce, 1 can of jackfruit, 1 can of coconut milk, 2 cans of chickpeas, old-fashioned oats, red lentils, jasmine rice, raw cashews, semi-sweet chocolate chips, tortillas.
Refrigerated items: Marinara sauce, pesto, hummus.
Meat & dairy alternatives: 2 packs of tempeh, 1 pack of beefless ground beef, 1 pack of tofu, 1 pack of soy chorizo, vegan butter, almond milk.
Frozen: Bell peppers, berries, veggie burgers, veggie fried rice, vegetable stir-fry, ice cream, frozen peas.
The pasta shelves were very bare. Luckily, I had stocked up on pasta back in January, so that wasn't an issue.
What do you plan on making?
Soy chorizo tacos
Breakfast casserole (potato and veggies)
Tofu scramble
Oatmeal
Stir-fry veggies + rice
Baked potatoes
Pasta with marinara/pesto sauce
How is this different from how you normally shop?
I normally buy way less food at a time because I don't want to risk produce going bad. I also like to take advantage of weekly coupons at stores like Giant and Safeway and use that to plan my meals every few days instead of thinking weeks in advance. However, many stores are limiting the coupons they're giving out (probably because they don't want people hoarding), so I had to be more diligent with meal planning. Also I would usually eat out more often, where now I am trying to limit that as well to minimize contact. To make up for that, I stocked up on several "take-out" replacement items like fried rice, fancier pasta sauces, and burgers.
Overall, I am going to end up spending more than I usually do on groceries because each time I go shopping, I want to be able to stock up on items I know will last.
At Kitchn we believe setting a food budget for you and your family is an essential part in getting your financial life in order. Don't know where to start? We have a guide for that. Want to share your Grocery Diary with Kitchn? See how here.