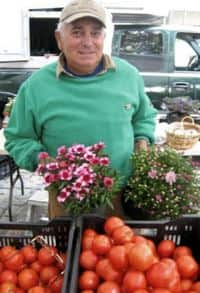 Greenmarket Report: Bowling Green
As I ascended the subway stairs Thursday morning, I was thinking one thing: I'm glad I don't have to wear a suit to work. But if I did work a high-powered job downtown I'd find a little solace in the tiny Greenmarket at the top of the 4/5 escalator at Bowling Green.
Bowling Green Greenmarket has only four stalls, but I was told there were a couple of veggie stands earlier in the season. On the end is Vic Scalici and Sons.
Vic has been raising greenhouse plants for over fifty years on Staten Island and growing tomatoes on his farm in Pennsylvania for nearly as long.
An Italian farmer and acres of tomatoes seems like the perfect marriage. But Vic, who claims he could burn water, doesn't go near the stove. He wife used to make tomato sauce by the quart and can what they didn't eat that night. Now they sell most of what they produce. I asked Vic how much longer he'll be farming. His response was "How you gonna retire? I'll work till I die."
Begonais, spikes, $2/ea; mums and dianthus, $5/ea; grape tomatoes, $3/pint; tomatoes, $2/lb; pumpkins, $2/ea; ugly pumpkins, $4/ea.
Other stands: Meredith's Bread, Just Rugelach and Red Jacket Orchards.
Published: Sep 29, 2006