Green & Good-Looking: A French Press Made From a Mason Jar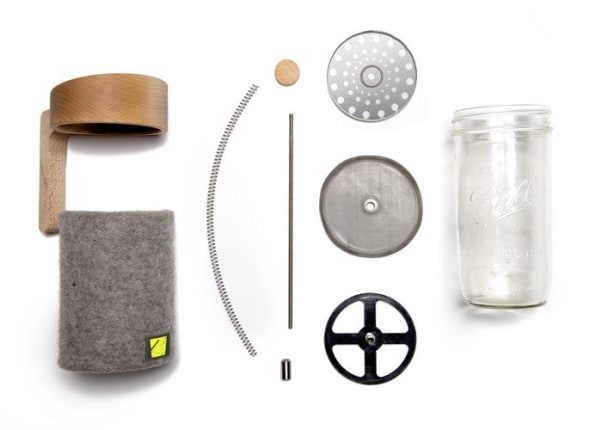 If you're already shaking up cocktails or sipping your morning smoothie from mason jars, you'll be glad to hear about the Portland Press, a french press coffee maker that uses a 24-ounce canning jar in place of the usual glass beaker. Even better, it is made in Portland from materials sourced in the USA and comes with a lifetime warranty.
Bucket, the team behind the Portland Press, is on a mission "to create smart, sustainable products that are designed and manufactured responsibly," as they explain in the video below. They also give a peek into the origins of some of french press's components, from the field of Oregon sheep providing wool for the outer cozy to the family-owned, Portland-based metal-stamping company that produces parts for the filter. It's fascinating, especially considering how little we know about how most of the products in our lives are made.
The french press also comes with a lifetime warranty; the goal is a product that lasts, not one that ends up in the trash after a few years.
The Bucket team is currently taking pledges through Crowd Supply, a Portland-based Kickstarter alternative, in hopes of getting the prototype into production. With a little over two weeks left, they are about 40% funded. If you're interested in being one of the first to own a Portland Press, a $99 pledge will get you there.
What do you think? Are you willing to pay more for a product if its manufacture is more transparent and sustainable?
(Images: Bucket)