The New 'Great British Bake Off' Trailer Is Here, and It's Making Everybody Cry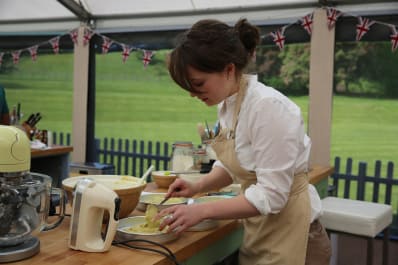 (Image credit: Courtesy of Love Productions)
This new Great British Bake-Off trailer is the new "Laurel or Yanny?" video, or the new dress that half the world thinks is white and gold and half says is blue and black. Because, depending on the viewer, the new Bake Off trailer is either emotional and heartwarming, or creepy as heck. Really, it's a little bit of both, and people are loving it.
Last year's trailer featured singing cakes and pastries crooning Paul McCartney's We All Stand Together, in an ad that was called the "creepiest of the year," according to Express. Creeping out the audience seems to work well for Bake Off, so this year they brought the singing cakes back.
The commercial starts out with a plethora of baked goods looking distraught. We see a cake that's supposed to be a hedgehog whisper "Don't look at me." A pastry with a sad face starts mournfully singing Christina Aguilera's Beautiful, about feeling ugly and insecure. A tray of bunny cupcakes that sounds like a chorus of children sings about not being able to breathe. It's getting a little dark, and I'm worried that I've been holding these pastries to unattainable beauty standards. I feel deeply guilty for laughing at the cake wrecks on Nailed It.
But then a huge bread that was supposed to look like a regal swan but actually looks more like an X-rated Muppet clears its throat, looks directly at its bewildered baker, and belts out in full opera voice: "I am beautiful!"
That confident, misshapen swan bread is the hero they all need. All the cakes join in, singing about how they're beautiful, no matter what anybody else says. The cakes get a lot better-looking, though. The last few singing cakes look like they'd be right at home on Instagram, and the final cake, a glorious, three-tiered cake drizzled with chocolate and covered with flowers and fresh fruit, sings out triumphantly as she's carried through a tent that is immediately recognizable to any GBBO viewer and set down in front of Paul Hollywood, Prue Leith, Noel Fielding, and Sandi Toksvig.
It's a little bizarre, but people are loving it. Maybe they're identifying with the animated cakes, or maybe they're just excited about a new season of Bake Off, but Twitter is having a lot of feelings about the new commercial. Some people said they cried.
Now that Channel 4 has made everybody weepy, hopefully they'll be ready to announce a start date soon.
What do you think of the new Bake Off trailer?