The Great British Bake Off Is a Lesson in Overcoming Social Anxiety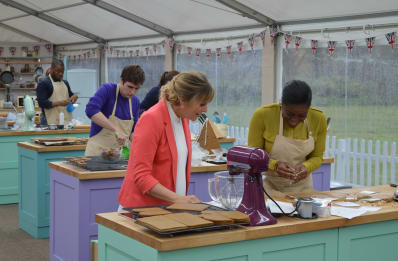 (Image credit: Courtesy of Tom Graham)
Tackling new experiences can be really hard, whether you struggle with social anxiety (like me) or not. New jobs, new schools, new experiences with new people — it can feel totally overwhelming. And no version of this looks more intense than the "first day of a reality show" experience, especially for competitions. But on the Great British Bake Off, as usual, they do things a little differently.
I kept noticing that in the opening episodes of each season of the Great British Bake Off, there was none of the "I didn't come here to make friends" cutthroat attitude you see in most reality show competitions.
Actually, they were kind of crushing it at not just making cakes, but also comfortably fitting in to a new situation. They seemed nervous, sure (who wouldn't be?), but they were also friendly and affable, helpful and able to jump into the flow.
(Image credit: Mark Bourdillion/Love Productions)
These are all feelings that I'd love to channel in social-anxiety-sparking situations. I took a closer look at the first episode of each season to figure out what exactly they were doing differently and came away with three pieces of advice.
3 Strategies for Tackling Social Anxiety from GBBO
1. Focus on what you're doing right.
Be gentle with yourself. That inner voice that wants to chime in to let you know how awkward or terrible you are? It's wrong. Seriously.
On GBBO, the contestants are charmingly good at getting in touch with what they've done right. By focusing on the positive, they create a friendly environment for themselves to try and fail and flourish and flail. Sandy in season three, episode one sums up this phenomenon by saying "I've got to have faith in my own ability. Powerhouse of self-confidence going on."
And typically in the interviews, the bakers will hone in on what went well, not just what went wrong. They stay positive and don't beat themselves up too much for their mistakes. They know there are going to be more challenges, and that getting bogged down with negative self talk isn't going to help them succeed in the next round. "I don't want a cloud of 'oh I'm going home.' I just want to enjoy what I'm doing," says Claire in season one, episode one.
Your homework: What have you done well today? What thought or attitude would help you feel less anxious? Pat yourself on the back. You're getting through a new experience and not melting into a pile of goo or being attacked by a bear who only goes after people who can't make small talk (just a few of my go-to anxiety nightmares).
2. Keep it in perspective.
For me, social anxiety manifests as this feeling that everything is going to go wrong, wrong, horribly wrong — even if "everything" is just grabbing coffee with a few friends or going to a birthday party. Deep breathing helps, and so does the reminder that whatever is coming up is, well, not a huge deal if you really look at it. GBBO has given me a good mantra for this situation: It's only a cake.
"It's only a cake" is a line that comes up a lot. In season one, episode one, Jordan cheerfully sings "It's only a cake!" when the pressure is on during one of the challenges. When Dorret's cake collapses into a mudslide of mousse in the first episode of season three, Sue rubs her back and says "It's only a cake, it's really only a cake." It all feels like such a huge, monumental problem in the moment. But if you can keep it in perspective, you can diffuse some of the pressure and make space for yourself to relax into new situations.
Your homework: It's only a cake, it's only awkward small talk, it's only an exhausting first day. Take a deep breath. Pour a cup of tea and sip slowly. You're going to get through it.
3. Fake it till you make it by channeling your inner Mel and Sue.
People always say fake it till you make it — that if you act relaxed and friendly, you'll eventually feel that way too. If this feels as inscrutable as Paul Hollywood's face during judging, get a role model whose behavior you can model. Mine is Mel and Sue. They always stroll into the first day like everyone is an old friend. They crack jokes, dole out compliments, and maintain a kind and playful attitude that puts everyone at ease. There aren't that many situations in my life where I can steal a bowl of someone's frosting and make that seem like the world's most delightful icebreaker. But I can ask myself what Mel and Sue would do and follow their lead.
Your homework: Channel Mel and Sue.