Our Smartest, Most Delicious Advice for Traveling with Kids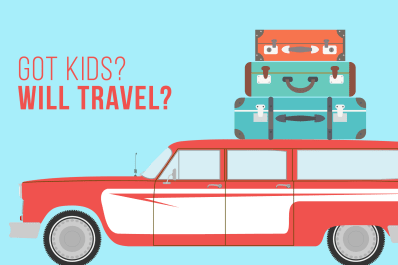 (Image credit: Susanna Hopler/Shutterstock/Shutterstock)
Traveling with my two kids is one of my favorite luxuries. I love seeing my favorite cities through fresh eyes and experiencing the salty joy of ocean waves in their laughter. But I'd be kidding myself to say that traveling with kids is easy. It is not always, so I'm grateful for the advice of seasoned parents, savvy traveling friends, and our wise readers.
We polled our talented team of editors, contributors, and lovely readers for ways to make family vacation better, easier, and, of course, more delicious. From smart packing strategies to the best alternative to a babysitter while you travel, here is our best advice for traveling with your kids this summer.
First Things First: Hotel or Airbnb?
For the most part, parents recommend vacation rentals over hotels. You're generally getting more real estate for your dollar, the convenience of a kitchen, and other amenities, including, as so many of you noted, a separate bedroom with a door! My new favorite resource for family-friendly rentals is a site called Kid & Coe. It's like Airbnb, but for travelers with tots (and teens).
Of course, there are advantages to staying in a hotel, too — namely room service, room service, and room service. But also, as contributor and mother of two Trish Friesen writes, "If I'm going to pack up my life and hop on a plane, I want a hint of catered."
Your Vacation Meal Plan
Regardless of where you're staying, you'll need to eat! And the most important rule of vacation meal planning is this: Always — always — pack snacks. Let's be honest, this is probably good advice if you don't have kids, but it is essential advice if you do.
Always Pack Snacks
One cannot, of course, live on snacks alone. And you'll want to go out for at least a few meals, right? Eating out with kids, while challenging, can be just as much fun — although it helps to be prepared. Our Editor Faith relies on three things to make eating out with her toddler, Thea, accessible and enjoyable: a big bib, big tips, and (naturally) snacks.
And, by the way, don't feel like you have to eat at only casual restaurants. Contributor Trish treated her son to his first bite of pizza from a Michelin-starred chef in Rome.
If you're staying in an Airbnb and driving, you may want to bring a few essentials. As reader mdorothy writes:
Even simple meals are much easier to prepare if you have a couple good knives, a cutting board, a pepper grinder, a corkscrew you know works, and a few fave spices. And this will give you an excuse to explore local produce and farmers markets and such.
But even if you're working with a poorly equipped Airbnb kitchen, there are plenty of meals you can make that don't require a lot of fuss or fancy equipment. After all, it's vacation and all you really need (or want) are recipes that call for a few ingredients, even fewer dishes, and the ability to feed family or friends who stop by to visit or vacation with you.
If you're staying in a hotel, that doesn't have to mean eating out for every meal, which can be exhausting, not to mention expensive. Here's a suggestion from reader kuk:
Ask for the mini fridge to be emptied (or ask for a mini fridge in the room, some hotels have them!) and then stock up at a local grocery store with your favorites so you are never left without a snack and drink. This works for mini meals too if you don't always want to be eating out.
Read more: 3 Things I Always Keep in My Hotel Fridge
It's Your Vacation, Too (Allow for Alone Time)
"The best thing we did on our last vacation was plan that we each got some time alone," says Food Editor Christine. "Even though it's a family vacation, we very easily get caught up in only doing kid-related activities. So this time around, we planned a 'switch off' day. My husband went to a history museum I had no interest in while my daughter and I went to a children's museum, we all met up for lunch, and then we switched and I went sightseeing and shopping! We each came back rejuvenated and relaxed, did something that would've been difficult to do with a kid, and we each had some one-on-one time with our daughter, too."
Christine also has an ingenious tip for getting some alone time. Her secret? Order a proper drink at the hotel bar, but ask for it without ice. Then, once the kids are sleeping, add ice for instant, easy cocktail hour in the comfort of your hotel room.
Or, you could always enlist help, as reader Heather Oakley Arroyo suggests:
If the kids are young, bring someone along who can babysit (doesn't have to be a nanny; could be a relative). That way mom and dad can have some down time and/or a few evenings out and about.
Plan Ahead for an Easier Trip Home
I know, I know: You haven't even left on vacation yet and I'm already talking about the trip home! But there are a few things you can do now to make coming back to regular life a tiny bit easier. Our favorite tip is one that applies to everyone, not just parents: Stock your freezer.
It might sound like a lot of work, but it doesn't have to be. Just make a few extra portions of the meals you're already eating before you leave and you won't be tempted to stop for fast food or worry about meal planning when your brain is still in piña colada land.
Another smart pre-trip planning tip? This comes from one of our readers:
If you can afford it, a buffer day pre- and post-trip. Plan a day off work/school before and after you leave. Gives you peace of mind for last-minute packing/errands and a day to get back to reality/unpack/do laundry and reenergize for your normal day to day. — kuk
Slow Down, Take Some Deep Breaths & Have Fun
Last, but not least, remember that this is supposed to be fun. Try not to over-plan, overthink, or rush through things. We'll leave you with this parting tip from Susan Werner, via Facebook:
If you drive, consider the journey as much as the destination: Kids are much happier taking stops than getting somewhere quickly and arriving cranky. It's hard when I feel like a long stop is "wasting" vacation time, but if I plan for it, it's fun. The kids remember the stop at a random city park, where they ran around and ate lunch, as part of the vacation. You can usually find lots of historical sites along the way. (Otherwise we drive at night.)