Celebrate Pi Day with Dominique Ansel's Delicious Google Doodle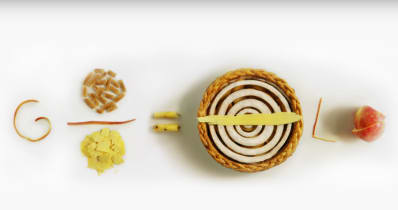 (Image credit: Google Doodle)
It's Pi Day! Really, every day should be pie day, but March 14 is officially "Pi Day," because the date 3/14 matches up with the first three digits of pi. It's a fun math joke we can all share, and I think the best way to celebrate Pi Day is with pie (obviously).
Clearly Google agrees, because it's celebrating Pi Day with a special Google Doodle and pie recipe from pastry genius Dominique Ansel.
Dominique Ansel is probably best known as the creator of the Cronut, but the pastry that took over the entire world in 2013 is just one of the many out-of-the-box science experiment desserts he's dreamed up. He's also the creator of the "blooming" marshmallow, and he's easily one of the most famous and inventive pastry chefs in the world.
Today is actually the 30th anniversary of Pi Day, which was first celebrated in 1988 by physicist Larry Shaw. Since today is a day for science and math, but also pie, Google asked Ansel to make a pie for its Google Doodle.
Ansel was the obvious choice for this assignment. His work is very scientific and experimental, and he does things with pastry that nobody has ever thought of doing before. For Pi Day, he created a salted caramel apple pie with dark brown sugar, bourbon, apple cider, and a bit of nutmeg, cinnamon, and sea salt. It sounds delicious, and it's a rich, traditional sort of recipe, which Ansel used to make a modern-looking pie covered in concentric circles.
The recipe is available from Google, who also released a video of Ansel making the pie. Ansel's process does not look anything like my grandma's, but it is really cool to watch him peel an apple with a drill.
When the pie is baked and the Google Doodle is all arranged, it represents the formula for pi: circumference divided by diameter. Man, Dominique Ansel really makes math look delicious.