Good Question: What is a Sugarplum?
Dear Kitchen,

What is a sugar plum? I know they have something to do with Christmas. Can you tell me more?

– S.C.
Thanks for this challenge.
First, the express lane answer: According to The New Food Lover's Companion as quoted on the Food Network site, a sugarplum is "a small confection, often consisting of fruit such as a candied cherry or dried apricot surrounded by fondant." There's a similar definition here and a picture of just such a treat here. This definition shows that sugarplums don't even need to have plums in them.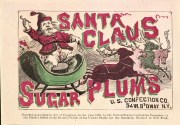 Now, here's more of my research filled with sugar plum visions, sugar plum dances, two poets, links and recipes too.
We connect sugar plums with Christmas for two reasons: New Yorker Clement Clarke Moore's "A Visit from St. Nicholas" poem stars children sleeping while "visions of sugar-plums danced in their heads" and the Dance of the Sugar Plum Fairy is one of the most popular parts of Tchaikovsky's The Nutcracker, a ballet usually performed during the holiday season.
I'm sure your familiar with the stone fruit, the plum. I also found mentions of a variety of especially sweet or small fresh plums called "sugar plums". Prunes are dried plums, so recipes calling for prunes are still keeping things plum-my.
FoodReference.com says sugarplums were "originally sugar coated coriander, a treat that offered a sweet start and then a spicy burst of flavor."
Poet Eugene Field says The Sugar-Plum Tree "blooms on the shore of the Lollypop Sea in the garden of Shut-Eye Town."
I've never been to the Lollypop Sea so that might be why I'm having such a hard time finding a conclusive definition of sugar plums. Like Santa Claus and the holiday season as a whole, sugarplums (or "sugar plums", some use the space, some don't, the poets like to use a dash) bring different meanings for different people.
Anyone up for trying some so-called sugarplum recipes and letting us know how it goes? I couldn't think of another example of foods that have the name of another food in their title, but don't truly contain that ingredient, can you? Even mincemeat pie uses nutmeats.
We support our readers with carefully chosen product recommendations to improve life at home. You support us through our independently chosen links, many of which earn us a commission.
Published: Nov 27, 2007