Good Question: Tools for a New Kitchen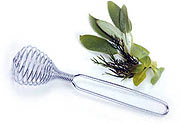 I love my cooking stuff - utensils, pots and pans and other kitchen related items. But now that I am  moving into a tiny tiny apartment in the city, what are the essential items for a fully functioning kitchen that accommodates international cooking of all kinds and entertaining? Please help me figure this out before I move - so that I can pare down and also invest in some worthwhile pieces. 
Thanks -C
Great question! We have discussed this a couple of times - see this post from a year ago in particular. There's a good list there for setting up a basic kitchen. Also, if you're a baker, take a look at this recent list of essentials for home bakers.
However, it sounds like you're paring down - not gearing up. In that case, the first step should be to take a good hard look at what you use every day. Are there certain pans or spatulas that you gravitate towards? I could not do without my heavy 4-quart pot, or my plain wooden spoons. I have a huge jar of spatulas and fancy utensils, but I really use just a few 90% of the time.
For international cooking, what do you like to cook? Chinese? Indian? Thai? It depends on the cuisine, but you should probably have the aforementioned heavy pan with a lid, along with a large saute pan with a lid as well.
Take a good look at your serving dishes, too. Do you have neutral platters and dishes that will be versatile and adaptable for different kinds of food and occasions?
As you clean things out, look for items that are single-use or used infrequently and box them up in storage or get rid of them completely.
We're going to start talking about basic kitchen tools here in a systematic way, giving you all an outlet to talk about the best of the best and trying to find the perfect complement of good tools for small city kitchens.
In the meantime, everybody else - most of you live with tiny kitchens! What do you find invaluable? What do you wish you had? What have you gotten rid of with relief?