Get the Cheesecake Plates Out, Because a Golden Girls Cookbook Is On the Way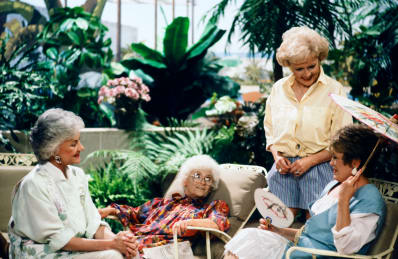 (Image credit: NBC/Getty Images)
During a heavy-on-the-flashbacks episode of The Golden Girls called "One For the Money," the four girls reminisce about the time that they decided to start a catering company, pulling an all-nighter to stuff enough whole chickens for a 300-person wedding party. "In Sicily, we [cooked for crowds] all the time," Sophia said. "And we didn't have the modern conveniences you have today. We had to slaughter our own meat, prepare our own seasonings, and, if the food wasn't perfect, after cappuccino, they shot the cook."
If that's the case, then we're both curious and terrified about what Sophia's chapters will look like in the upcoming Golden Girls cookbook. And let's pause here and make a high-pitched squealing sound because A GOLDEN GIRLS-THEMED COOKBOOK IS GOING TO BE PUBLISHED. (Then let's pause again before audibly harrumphing, adjusting the shoulder pads in our nightgowns and stomping off to our bedrooms, because it won't be released until 2020).
According to Babble, the cookbook will be printed by Kingswell, an imprint of Disney Publishing, and it is definitely going to be heavy on the cheesecake recipes. How could it not be heavy on the cheesecake? According to some estimates, Dorothy, Blanche, Rose and Sophia ate more than 100 onscreen cheesecakes during the show's seven-season run, which averages out to one cheesecake every 1.8 episodes. (And — true fact — the real-life Bea Arthur straight-up hated cheesecake).
Babble has published one recipe as a sneak peek and — of course! — it's for a Double Fudge Chocolate Cheesecake. As for the other recipes, that'll just have to be a surprise. The menu at the short-lived Golden Girls-themed restaurant in New York, Rue La Rue Cafe, drew more from the stars' own lives than it did from the show — although it did serve Sophia's 16-Hour Lasagna al Forno, clam chowder from the Rusty Anchor bar, and a "Stan the Putz" Turkey Club in...honor (?) of Dorothy's ex-husband.
We feel confident in saying that their stuffed chicken recipe might not make the final cut. That catering business didn't even get to work its first wedding.