The Best Gluten-Free Snacks to Pack in a Lunch Box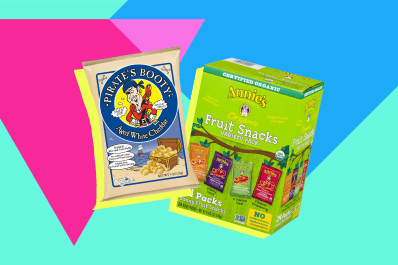 (Image credit: Amazon)
Gluten-free eating may be a big food trend, but it's also a necessity for kids and grown-ups with Celiac disease or gluten sensitivity. Fortunately, because it's a trend, there are lots of good snack options out there that are lunch-box compatible.
I reached out to Kristen Smith, RDN, LD, a spokesperson for the Academy of Nutrition and Dietetics, and Alyssa Ardolino, RD, nutrition communications coordinator at the International Food Information Council, to get some guidelines about how to pick the best gluten-free snacks to pack in a lunch box. Keep reading for those tips — and some snack recommendations based on their guidance. (Note: Neither expert was able to endorse specific brands or products, so these are nominations from Kitchn.)
Tips for Picking Gluten-Free Snacks
1. Know your ingredients.
"While wheat, barley, and rye are the core three allergens here, keep an eye out for derivative as well," says Smith. If the labeling doesn't say gluten-free, check the nutrition info for ingredients like wheat berries, durum, spelt, semolina, farrow, gram, malt in various forms, brewers yeast, or wheat starch. If your child has a serious allergy, seek out products that are clearly labeled as gluten-free, which means that, in addition to not having gluten in the ingredients, they are not exposed to those ingredients in the processing stage, either.
2. Read the labels.
Besides looking for wheat and wheat-derived ingredients, keep an eye on the amount of sugar and salt within the snack. While every child's nutritional needs are different and your pediatrician can give the best recommendations for yours, consider this: If a child is only supposed to have 25 grams of sugar per day, a snack with 15 grams of sugar is going to fill a lot of that quota. Snacks that are higher in protein and fiber will keep kids fuller longer, too.
That being said, "I would not advise parents to be overly concerned about target calorie counts for kids. Let the kids be in charge of their hunger. If parents are providing healthy snacks most of the time (think: apple slices and peanut butter, cheese and crackers, yogurt and granola), the kids will be able to tell them when they're full," says Ardolino.
3. Go for variety.
"It's important to offer your child a variety of foods," says Smith. It's easy to get into a rut of offering the same things every day, but to meet your child's nutritional needs, you'll do best if you provide balanced meals and balanced snacks, too. "The healthiest snacks from a nutrition standpoint are snacks that contain a wide range of food groups," says Adolino. "For example, a food that has all three macronutrients — like a yogurt (protein/fat) with granola or fruit (carbs) — would be a great healthy snack. But give your child some autonomy to decide what to eat."
4. Don't forget whole foods!
While this article focuses on snacks you can shop for, remember that whole fruits and vegetables are both gluten-free and among the healthiest foods that your kids can eat, period. So in addition to packaged snacks, be sure to keep these in steady rotation.
The Best Gluten-Free Snacks at the Grocery Store
Savory snacks
"Some good gluten-free grains include rice, oats, corn, quinoa, buckwheat, and millet," says Ardolino. If those are among the first items on the nutrition labels, they're a good bet for gluten-free crunch.
Bars and mixes
"Most nuts, granolas, and fruit bars are gluten-free, but read the labels," says Smith.
Packaged fruits and veggies
"You can't go wrong with fresh fruits and vegetables, but if you're looking for shelf-stable or packaged products, most pouches made from fruits or vegetables are a good bet, and usually fruit bars are good, too," says Smith.
Are there any other gluten-free snacks that your kid loves? Tell us about them in the comments below!
Kitchn supports our readers with carefully chosen product recommendations to improve life at home. You support us through our independently chosen links, many of which earn us a commission.