Gluten-Free Girl's Guide to the Best Restaurants in Seattle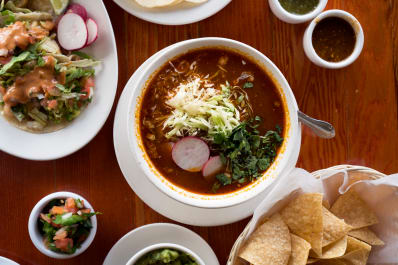 (Image credit: Charity Burggraaf)
It's not hard to find good food in Seattle. In 2016 alone, 160 new restaurants, bars that serve food, or little corner shops opened in this rainy city where food is a comfort and entertainment both. Southern-inspired brunch spot? Wings and waffles? Ethiopian food? Wood-fired Latin American dishes? Sustainable poke places? They're all here now.
Related: The One Seattle Neighborhood Food-Lovers Should Know
The dramatic increase in awareness of food intolerances in the last decade means it's also not hard to find good gluten-free fare in Seattle. In every neighborhood in the city, you can find chefs and servers who know how to feed celiacs safely — no easy feat, since even 1/8th of a teaspoon of gluten can make us sick for days. But if we're happy, the restaurants are happy. And happy customers means repeat business.
So I feel pretty safe eating in most good restaurants in Seattle — so safe that I'm more likely to make a repeat visit to a Matt Dillon or Renee Erickson restaurant than a new place with a gluten-free menu. I like great food, not gluten-free food per se.
However, sometimes it's worth the treat of eating in a place where I feel entirely safe. These are the seven Seattle restaurants I return to for a memorable gluten-free eating experience.
Gluten-Free Girl's Guide to Eating Out in Seattle
1734 12th Avenue; 206-695-2588
A few friends suggested we try Chavez for our anniversary dinner last year. Thank you! This Mexican restaurant featuring the cuisine of Durango is a celebratory restaurant, to be sure. And everything in the place is gluten-free, aside from a few desserts, made in a separate place in the kitchen. Settle back with a cocktail of tequila, fresh grapefruit, and red sangria and prepare to eat well.
We wanted to order half of the dishes from the menu: pork cheeks with mole and nopales; corn soup with cuitlachoce and roasted poblano; braised lamb tacos with agave leaves, chilaca pepper, and tomato. The Pacific red snapper fish tacos are the best tacos I've ever eaten — so fresh.
818 East Pike Street; 206-397-3564
Walk into Capitol Cider on a Friday night and you'll see plenty of people drinking cider and wine, laughing and sharing plates of food. A few people in the room will be beaming or staring at the menu in disbelief. Capitol Cider is the largest independent cider bar in the country with interesting food that happens to be free of gluten.
Try the confit duck wings, the cod chowder with horseradish gremolata, the fried cheese curds with savory apple butter, or the French onion soup made with bone broth, bacon, Gruyère, and gluten-free crostini. It's still astonishing to look at this menu and think I can eat everything. Top off the night with a flight of local ciders and you're golden.
2901 E. Madison Street; 206-325-9100
When I was first diagnosed with celiac in 2005, the people writing in online gluten-free message boards all insisted the same thing: Don't bother trying to eat in a restaurant again. No one gets it. Three months later, a good friend convinced me to try Café Flora, a long-loved vegetarian restaurant in the Madison Park neighborhood of Seattle. I nearly cried when I saw the GF symbol on so many dishes.
Fast forward more than a decade and there are plenty of restaurants that understand how to feed gluten-free customers, but I still go back to Café Flora. It's a great place for brunch — get the Hoppin' John fritters with apple-mint relish and cayenne aioli — and right now I want to try the roasted rhubarb and watercress salad, with English peas, toasted hazelnuts, and parsley-lemon dressing.
1923 7th Avenue, ; 206-602-6656
I'm not a big fan of anything that smacks of "clean eating." (Like fat or sugar is something dirty?) This is why I was a little wary of Sweetgrass Food Co. Kale smoothies, a cold brew coffee menu, and Buddha bowls? I thought it could be full of good intentions, but not much flavor.
Luckily, this lovely space downtown keeps bringing me back. I can't get the lemon-fennel amaranth grits with sharp white cheddar out of my mind. And I'd eat the rice pottage with adzuki beans, pickled sweet chilies, cilantro, fresh ginger, shaved fennel, and scallions any time of the day. This place is friendly, full of great local ingredients, and follows through on its good intentions.
Want something gluten-free, delicious, and fast? Try a quinoa bowl from the I Love My GFF food cart. It serves only two bowls — fiesta bowl (pumpkin seed sauce on top of spiced roasted chicken with cheddar and green onions) and sunshine bowl (cannellini beans, red peppers, chicken, and sunshine sauce) — and they're both entirely gluten-free and mostly organic. If that's not enough, there's a chocolate chip cookie made with grain-free flours. Yum!
There's a cart every day in South Lake Union (the Amazon part of town) and others throughout the city. This one is always reliable.
518 15th Avenue East; 206-395-4623
I remember when the owner of Nuflours, Amanda Bedell, was selling her baked goods at a farmers market in Seattle. Wanting to be nice, I tried some of her baked goods when she recognized me from her site. Most gluten-free baked goods are so bad, so I was pleasantly shocked to find I loved these.
Amanda's work has only gotten better now that she and her co-owner have a spot in Capitol Hill. My daughter adores the cheese danishes and my son always craves the lemon bar. When we four go into Nuflours, we stare through the cases, contemplating the choices. We always order more than we need and go home happy, with treats for the next morning. This is a gluten-free neighborhood gem.
1010 E. Union Street; 206-257-1676
There might be no place more Seattle 2017 than Frankie and Jo's. This plant-based ice cream is made of cashew milk churned on site and served on house-made gluten-free waffle cones.
I love that after explaining that the ice cream is vegan, mindful, mostly certified organic, and locally sourced, the FAQ on the Frankie and Jo's website has the question: Does your ice cream taste good? Because, how could it, right? Luckily, this ice cream is unbelievably good. Try the date shake, the nettle pistachio, or the beet strawberry rose. I like a pint of the gingered golden milk all to myself sometimes.
Do you agree? Does Seattle have the best gluten-free food or is there another city that should take the prize?