Whole Foods Is Now Selling a Gluten-Free Beet Crust Pizza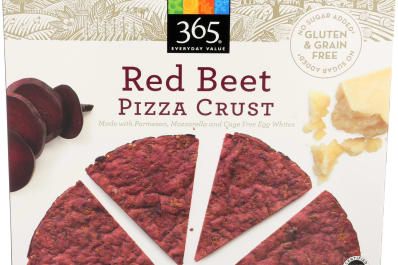 (Image credit: Courtesy of Whole Foods)
Cauliflower pizza crusts are so trendy right now. Costco just introduced two new frozen pizzas with cauliflower crusts, and the cauli crusts at Trader Joe's are so popular the stores even added cauliflower gnocchi and cauliflower rice to their lineup.
But a new player might be coming for cauliflower's trendy veggie crown, because Whole Foods has a new pizza crust made of beets. (And yes, it's red.)
PopSugar calls it a "beet-za," and reports that the new organic beet pizza crust is gluten-free, grain-free, and made with Parmesan cheese, mozzarella cheese, and cage-free egg whites. They're designed to be topped at home with whatever strikes your fancy; that bright, purplish-red crust looks really good under a pile of fresh vegetables like arugula, avocado, sliced peppers, or whatever you like. I'm excited to see beet crust pizzas around this summer, but I do hope the term "beetza" doesn't catch on. I still haven't gotten used to calling zucchini noodles "zoodles."
I love the color of this beet pizza crust. Most gluten-free pizza crusts seem to try to look as much like regular pizza crust as possible, and I find it impossible to shake the feeling that my pizza is trying to taste like a regular pizza, and it's failing. But with the beet crust, the red color signals right off the bat that this is not a regular pizza crust, and that's OK. It's not that you're eating a sad pizza crust simulacrum out of gluten-free necessity — you're eating something cool, new, and red.
I eat regular pizza crusts all the time, and I would absolutely try this beet pizza just because it looks so cool. (I would especially like to try it under a Hawaiian pizza, because I think the red crust would look great with some yellow pineapple, and maybe a little arugula for the greenery.) Plus, the crust is $6 at Whole Foods right now, so it'll be fun and inexpensive to experiment with.
Would you try this beet crust pizza?