Thursday Giveaway: Foodie Fight Trivia Game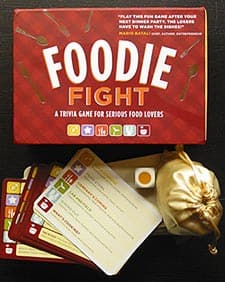 When Joyce Lock sent us her new trivia game, Foodie Fight ($12.89, Amazon), we were intrigued. We wondered how much of a game you could get out of food facts and trivia. Quite a lot, it turns out. Foodie Fight is a blast, and we're giving away a copy to one lucky (and random) reader.
To enter: Post a comment in this thread before tomorrow, Friday, September 28 at 5pm Eastern time. Any comments after that don't count. Your comment needs to include who you would play this with, and a weird, offbeat, interesting, or funny food fact. We'll choose a qualified entrant at random. The winning reader will be asked to submit a review and several photos of the game in use.
Read on for a brief review, some trivia bits that stumped us, and the winner of last week's Thursday Giveaway...
Foodie Fight comes a compact, attractive box - like a small treasure box. It is very straightforward and doesn't clutter up game-playing with a lot of extra rules; you have to answer a certain number of questions from a certain number of categories to win. There are little boards with color-coded pieces to help you keep track, and a die to determine the categories. The rules aren't complicated; in fact, they emphasize "Table Manners" - Players should just agree amongst themselves on how long someone has to answer a question or how specific the answer should be.
The real star of the game is the trivia. Lock has collected an immense amount of food trivia - all of it genuinely interesting and much of it helpful in the kitchen. There are six categories, with questions that range from food terminology, party planning, dining out, and techniques. Cooking science plays a big part, and so do food stars - food on the tables of books and movies.
This is a game for people who are genuinely interested in food, but we think it would be fascinating to those who consider themselves just eaters - not foodies. No matter whether you win or not, you'll learn a lot - we want to play through every card!
Here are a few of the trivia bits that stumped us so far - see if you do better:
Q: What size is a "cube" cut if not specified in a recipe - 1/4 inch, 1/2 inch, or 3/4 inch?
A: 1/2 inch (on all sides).
Q: What wine is a classic pairing with goat cheese?
A: Sauvignon Blanc.
Q: What dining table lighting is considered an insult to guests?
A: Unlit candles.
Q: What state leads the US in Spam consumption?
A: Hawaii (6.7 million cans of Spam each year).
Last week's giveaway: Last week we gave away a copy of Alone in the Kitchen With an Eggplant, and Julie was our winner! Look for her review in a couple of weeks.
Kitchn supports our readers with carefully chosen product recommendations to improve life at home. You support us through our independently chosen links, many of which earn us a commission.