Get Them While You Can: The Pleasure of Leftovers for Breakfast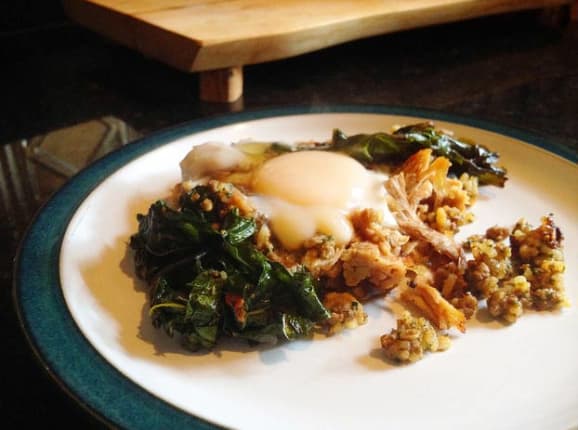 We were so proud of ourselves. Our children learned early to eat what they were served and to appreciate a variety of flavors and styles of food. They also learned to steal my precious restaurant leftovers before I was alert enough to brew a cup of coffee. In our house, delicacies in cardboard containers never make it to lunch. Is this the case in yours? 
In other countries, the boys were happy to eat local treats. Oh, the humble brag: "Little Xander — you know he's only eight? — was just obsessed with oeufs durs mayonnaise when we were in Paris!" Hubris always comes back to bite, n'est-ce pas? Our children are great eaters, and it costs a fortune to feed them. They are uninterested in children's menus in restaurants, they drool over the grass-fed pastured beef tenderloin at the local farmers' market, and family sushi night practically requires a second mortgage. 
Worse — they are acutely aware what a cardboard box in the fridge means: Fancy leftovers! What could it be? Ratatouille from a favorite local chef? Pad Thai from that chic Thai bistro down the street? Maybe half of a perfectly prepared, rare filet mignon!
If I want my leftovers, I have to eat them early. I can take almost any half eaten dish, sauté it in a pan, throw in a handful of microgreens, and crack an egg over the top. By the time the egg has reached over-easy perfection, the leftovers are crispy and the greens sufficiently wilted. If I'm quiet about it, I may even be able to finish half of it before the inevitable inquiry, accompanied by pleading eyes, "Whatcha' got there?" And, yes, I always share, or at least
offer pancakes
as a consolation.
Do you eat leftovers for breakfast? Are there rules about who can eat leftovers in your house? Does the early bird get the worm?
(Images: Anne Postic)