Geoffrey Zakarian's Lobster Roll Has a Spicy Surprise
We
independently
select these products—if you buy from one of our links, we may earn a commission. All prices were accurate at the time of publishing.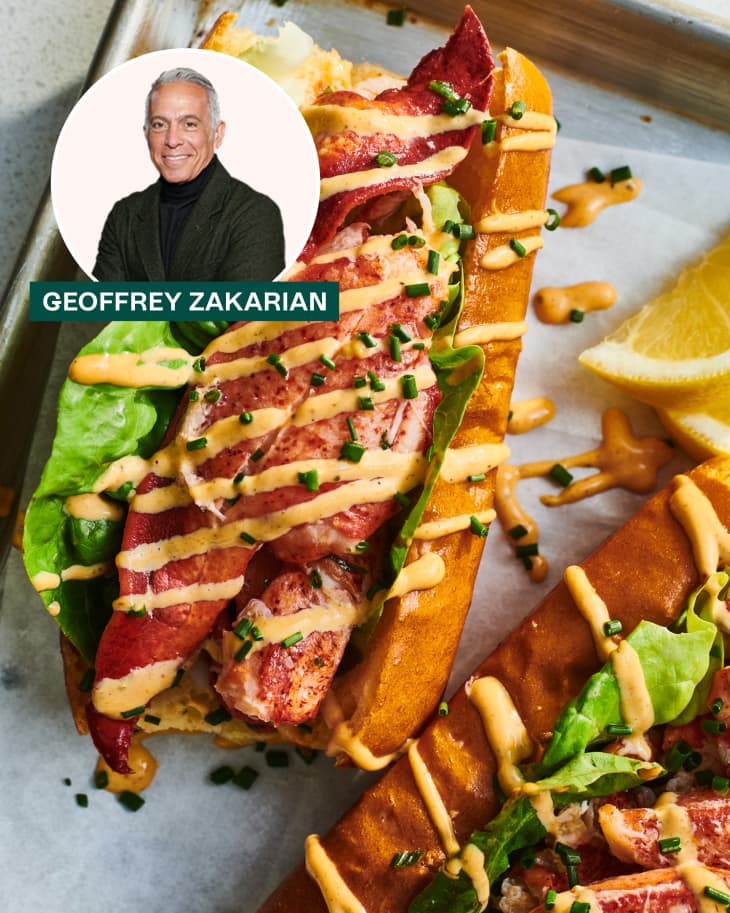 In the search for Connecticut-style lobster rolls to include in our epic lobster roll showdown, I stumbled upon Geoffrey Zakarian's recipe, which follows a classic Connecticut-style preparation (read: the lobster is warmed in butter), but then he also adds a spicy mayo on top of the roll. Is this the solution to the butter vs. mayo in lobster rolls debate? There's only one way to find out, and that's to do the darn thing. Here's how it all went down.
How to Make Geoffrey Zakarian's Lobster Roll
Zakarian calls for cooked whole lobsters with the meat removed and left whole. Take these large hunks of lobster meat and mix them with melted butter, shallots, and tarragon. Make a spicy mayo with Dijon, mustard powder, lemon juice, Sriracha, and Old Bay seasoning. 
Toast the trimmed edges of split-top buns until both sides are golden-brown. Dress a couple of lettuce leaves in red wine vinegar, olive oil, salt and pepper, and nestle them into the buns. Stuff the rolls with the lobster mixture, drizzle with the spicy mayo, and top with chives. Serve with lemon wedges on the side.
My Honest Review of Geoffrey Zakarian's Lobster Roll
I hate to be the bearer of bad news, but this one was not my favorite. I felt that compared to a lot of the other lobster rolls that I made, it was much more involved (there was a separate mayo dip, you had to dress the lettuce leaves, etc.) and this added effort did not result in a substantially better roll. 
I didn't love the raw shallots in the lobster mixture, and I also wasn't a huge fan of putting the buttery, lukewarm lobster on top of a fresh lettuce leaf. If you're going to use a lettuce leaf between the bun and the lobster, I want the lobster mixture to be chilled and mixed with mayo. The spicy mayo was fine, but nothing groundbreaking or revolutionary. I do think that lobsters taste great with a spicy element, so I was pretty liberal with the Sriracha. 
If You Make Geoffrey Zakarian's Lobster Roll, a Few Tips
Warm things up. I think this roll would be improved if the lobster mixture was prepared over heat. I'd lightly sauté the shallots in the melted butter, then fold in the lobster and tarragon. 
Don't skimp on the spice. If you want to heat things up, be generous with the Sriracha in the mayo sauce.
Leave the lettuce plain (or skip it altogether). If you like some greens with your lobster, go ahead and keep the lettuce, but don't bother dressing it. If you prefer your salad on the side, skip it on the roll and make a proper salad to go alongside.