How the Great British Baking Show Inspired Me to Give Baking Another Try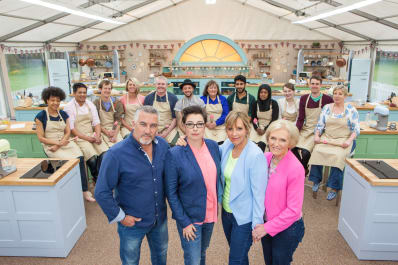 (Image credit: Courtesy of © Mark Bourdillion/Love Productions)
I've always loved to cook, but for a long time I felt restrained by the rigidity of baking. To me, cooking allowed for more creativity and improvisation (and I could add extra garlic or hot sauce to almost everything without serious consequence).
Conversely, I learned the hard way that skipping an egg in a cake recipe can seriously impact how it turns out; that baking soda and baking powder are two very different things; and that granulated sugar isn't a substitute for confectioner's sugar, especially when it comes to buttercream frosting.
My mom, who is an excellent baker, has always told me that baking is a science — and (as per usual) she's right. She excels at following recipes, yielding bakery-worthy treats, while I tend to stray, turning out edible (but unpresentable) goodies.
I started watching the Great British Baking Show a few years ago, originally as a low-key Netflix option to watch before bed. Instead, I got incredibly invested in the competition and all of the lovely bakers (they are the nicest people EVER), and the show got boosted up in my schedule to prime-time, post-dinner viewing.
The bakers are impressively creative, and I found it refreshing to watch them put new spins on classic pastries. Whether it's shaping bread to look like a lion's head or building a coliseum out of gingerbread, my inner baker was quickly inspired to dust herself off and get back in the kitchen. They were having fun and dreaming up all sorts of new concoctions. I wanted to do the same!
(Image credit: Courtesy of Love Productions)
The Great British Baking Show really showed me that when it comes to the science of baking, there is a method to the madness. I've learned why temperature and timing are so important, whether it's something as simple as letting a cake cool before you frost it, or keeping butter as chilled as possible while you're rolling out puff pastry.
I've also learned that even though baking is a science, there's still room for some creativity. I'm newly obsessed with decorating cookies and cakes. I recently added a DIY chai spice mix (cardamom, cinnamon, cloves, and ginger) to a basic banana bread recipe, and later to the frosting I made for my birthday cake. Leftover apple butter once became the basis of a perfectly sweet spice cake, and I stirred the remnants of a jar of tahini into batter for salty-sweet white chocolate chip cookies. In a quest for healthier treats, I've also started testing out swaps like applesauce, avocado, and pumpkin for butter and oil in brownies, quick breads, and cakes.
Now, if only a show could inspire me to love cleaning up after myself ...
What about you? Has the show inspired you to bake more?