The 5 Best Pieces of Advice If You Want to Start a Small Container Garden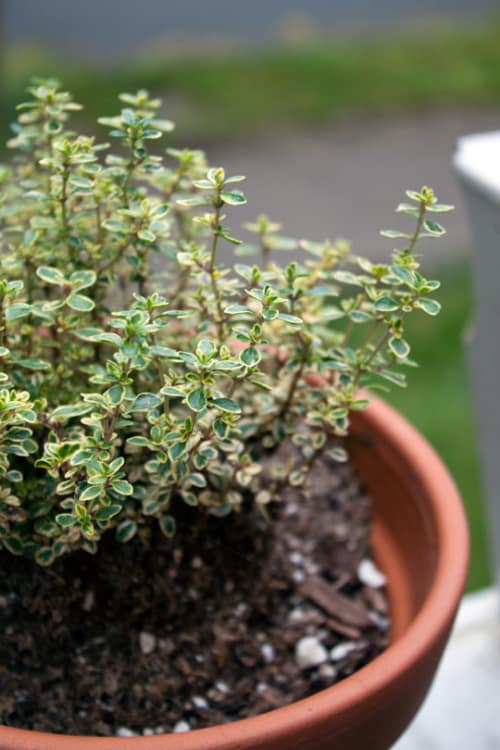 Last week we asked those of you who garden in small spaces to share your best advice for starting and maintaining a successful kitchen garden in pots or containers. You had lots of tips to share, but we culled the top five. If you're ready to jump in and start your own cook's garden, read on for advice from those who've done it before:
1. Start with herbs.
You may dream of abundant tomato plants and pounds of heirloom squashes, but when you're just starting a container garden, it's wise to start small... and that means herbs. But herbs are wonderful! Think of how expensive they are at the grocery store, how little you get for how much you pay. Wouldn't it be so much better to be able to pop outside to your porch or patio and snip off a few sprigs of rosemary, or a handful of mint? Herbs work well in pots or containers, too, which makes them ideal beginner plants for newbie gardeners.
Start small and start with whatever herbs you already use to cook with. I keep a small bed of herbs just down the steps from my kitchen door: rosemary, thyme, oregano. This year I'll add more thyme (I use tons of it) and maybe something new...marjoram? -barlowgirl
I live in a condo and have always mixed pots of perennial herbs like mint, thyme, rosemary and lavender with other potted plants in the patio. They require very little care—just need to be cut back once in a while. -kb from la

Herbs are also fairly simple indoors. Things like rosemary and thyme like a lot of light, but not too much water, and can be grown together in one pot. Parsley and cilantro like more water, and can also be grown together. -Charlotte - Roots and Rafters

I am a terrible gardener, but one thing I always grow is basil. It's pretty easy. Just make sure to clip leaves often don't just let them accumulate. Clipping makes them bushier. - moke076

I'd say arugula, lettuce, and herbs give you the most bang for your buck... they take very little space, they're very easy to grow, you get the most nutritional benefit eating your greens super fresh, and buying them at the supermarket is usually stupid expensive. -mnaminal

2. Greens and lettuces are generally easy to grow.

Once you've got a few herbs going, move on to lettuces and greens. According to Kitchn readers, the "cut and come again" plants — those you repeatedly trim, and then they grow back — are a good investment.
Leaf lettuce is insanely easy to grow. Just pick a shallow planter and sow your leaf lettuce seeds in it. In two weeks, thin the leaves out and use the thinnings in an early salad, and then sow a second planter with seeds. Four weeks from planting the first planter, the leaves in it will be mature, and you can cut them to use in a salad and use the thinnings of the second planter. Then keep alternating cutting from each planter for a perpetual supply of lettuce. Re-sow seeds if your plants don't pop up again as nicely as you'd like. -Charlotte - Roots and Rafters
"Cut and come again" greens do well in planters — like the name says, you harvest by trimming them down to an inch or so, and they keep growing back. You can buy seed packets with ready-mixed blends in different styles; mild salad mixes with lots of lettuces, spicy salad mixes with arugula and other peppery greens, and braising mixes with more robust greens that can hold up to a quick stir-fry. Just remember to water regularly — containers dry out quickly! -Claire from Plant and Plate
3. Use big pots.
If you buy plants that come in small plastic pots, the first thing you should do is replant them in larger pots, even herbs. In fact, especially for herbs! If you want to give your plants a fighting chance to produce a big yield, you need to give them space to spread out and grow. Cute little three-herb ceramic containers look nice sitting on your countertop, but may disappoint you in the long run.
Use the biggest pots that you can fit in the space for planting so the roots can spread and mix the herbs in with the vegetable plants. Often the herbs (or garlic) will deter squirrels and other critters because they don't like the smell/taste of them, plus it looks prettier to have a nice full pot! -KathNYC
The best tip I have is to plant in LARGE containers. Nothing smaller than 8", even for herbs. Otherwise you'll be very disappointed in your yield. I regularly have friends who are in disbelief over how much better my herbs are doing than theirs, and the difference is usually that I have mine in big plastic pots while they have theirs in those cute little herb garden planters that have three already-labeled pots and a tray. Those are probably okay for succulents, but not if you want a real herb garden! -AliFair
When we lived in our old apartment we grew everything in five gallon buckets with holes drilled into them for drainage. We even found an old acrylic bathtub to use as a large container. Things that worked in buckets for New Orleans heat and Herbs - rosemary, basil, sage, various mints, and absolutely lemongrass, which is good for mosquitos... By and large using the buckets was the easiest and most affordable way to garden on a small porch. -Galeana

4. Consider your light source.
Do you get full-on sun all day long? Or is it bright in the morning, and shady in the afternoon? Take note of how the sun moves around your space throughout the day, and plant accordingly!
If you have a spot that gets 4 or 5 hours sun, as opposed to full, all-day sun, greens do really well, I've had terrific luck with mustard greens, chard, and chicory. Also green beans do fine and some herbs. I've grown parsley and green onions successfully. Don't bother with stuff like eggplants or tomatoes, they need a LOT of sun. - leapkate
In the full sun area, basil, strawberries, tomatoes, parsley, zucchini, rosemary, and hops on a trelis. Less sun: hydroponic romaine, celery, and mint. - Angela!
5. Get a book.

Take a cue from the experts, and read a book on the subject of small space gardening. Kitchn readers spoke highly of the following:
If you want to do container gardening, I HIGHLY recommend the book The Bountiful Container. It tells you how to grow just about any vegetable in a pot. It's saved my bacon a couple of times when trying to make decisions about what and how to grow in containers, and it's probably the most thorough book on the subject that I've ever read. -Charlotte - Roots and Rafters
(Images: 1. Leela Cyd Ross; 2. Emma Christensen; 3. Faith Durand; 4. Clarkson Potter/Random House and Workman Publishing Company)
Kitchn supports our readers with carefully chosen product recommendations to improve life at home. You support us through our independently chosen links, many of which earn us a commission.