8 Things Kitchn Editors Never Buy from the Freezer Aisle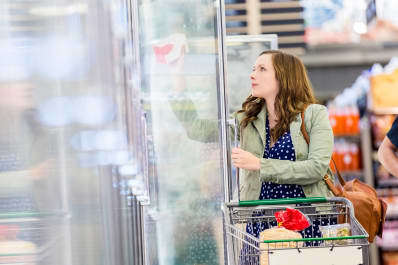 (Image credit: Steve Debenport/Getty Images)
We're not ashamed to admit how much we rely on freezer aisle staples when it comes to getting breakfast, lunch, or dinner on the table. The freezer aisle rocks (and is making a comeback too)! But there are a few items that Kitchn staffers are not so inclined to buy, for various reasons. Sometimes we can make a dish better from scratch, prefer the texture of a fresh version, or just simply can't trust ourselves to not inhale certain items in a fraction of a second.
Here's a list of items Kitchn staffers just can't bring themselves to buy.
"I like low-calorie ice cream, but avoid any with stevia or sugar alcohols, which rules Halo Top and its competitors right out. I'd rather eat a smaller amount of a tastier ice cream than a whole pint of something that will upset my stomach (erythritol, eek!)." —Faith Durand, Editor-in-Chief
2. French Fries
"I never buy frozen french fries because, honestly, my husband and I eat way too many of them every time we go out. (Fries or salad? What kind of question is that?) However, I did just buy Alexia's Crispy Sweet Potato Puffs after learning about them for our Kitchn 100 grocery list. They do not disappoint!" —Lisa Freedman, Lifestyle Director
(Image credit: CSA Images/Getty Images)
3. Frozen Dinners
"I'm more inclined to buy frozen potstickers and turn them into a dinner by serving them over a bowl of rice. I also skip the combined pasta and seafood entrees. Instead, I just stock the necessary ingredients (shrimp, peas, and other veggies) in the freezer and make my own super quickly." —Meghan Splawn, Associate Food Editor
4. Frozen Pizza
"There are some surprisingly good options out there, but I find pizza to be so fun to make that I don't want to take the shortcut." —Grace Elkus, Senior Food Editor
(Image credit: littleny/Shutterstock)
5. Frozen bagels.
"They're just not that satisfying to me. I love bagels but don't eat them all that often, so when I do, I want a fresh bagel that delivers. I am willing to freeze bagels from the shop down the street, however!" —Kelli Foster, Associate Food Editor
6. Bread
"I never buy bread from the freezer aisle. I'd rather buy a fresh loaf of something I really love and then freeze half of it for later." —Ariel Knutson, News & Culture Editor
7. Breakfast Sandwiches
"I will never be able to bring myself to buy frozen breakfast sandwiches. I find that the texture of eggs doesn't really lend itself well to freezing (and when you heat them, they kind of stink up the microwave). Plus, I'm from Jersey, so nothing beats a piping-hot pork roll, egg, and cheese." —Lauren Masur, Staff Writer
8. Frozen Jalapeño Poppers
"They are my guilty pleasure and I simply cannot allow them in my house. If I bought them, I'd eat them all before they even hit the freezer." —Patty Catalano, Contributor
What about you? Do you have anything to add to this list? See anything you disagree with? Tell us in the comments below!
Kitchn supports our readers with carefully chosen product recommendations to improve life at home. You support us through our independently chosen links, many of which earn us a commission.