From the Files: Warm Grain Salads for Fall
Grain salads are one of our favorite bridge dishes – spanning the shift from one season to another. They can easily be adapted with seasonal vegetables, and the range of textures and flavors is always appealing. Really – we like them not because they're practical and healthy (although they are) but because they're chewy, creamy, nutty, savory, spicy, and crisp.
Here are a few favorite grain salads and a guide to some of our favorite grains.

The key to a good grain salad is a mix of textures and ingredients. Just like with green salads, our rule of thumb is something crunchy, something soft, something tender, something savory, something sweet or sour, and something spicy.
Use your imagination – I'm sure you can improve on our recipes here with your own set of ingredients and local produce.
On Grains and Other Ingredients
• Spelt – Spelt has a chewy, nutty texture and flavor. It's one of our favorite grains. It's easy to toast and simmer into a risotto-like dish. Use it in any of the recipes below.
• Trader Joe's Harvest Grains Blend – The star in this blend is the pearl couscous. The grains are nearly as large as tapioca and have a delicious chewiness. We also like the diversity in this blend – it takes the work out of mixing grains and finding other ways to improve texture!
• Farro – Similar to spelt, farro has a chewy texture and delicious nuttiness.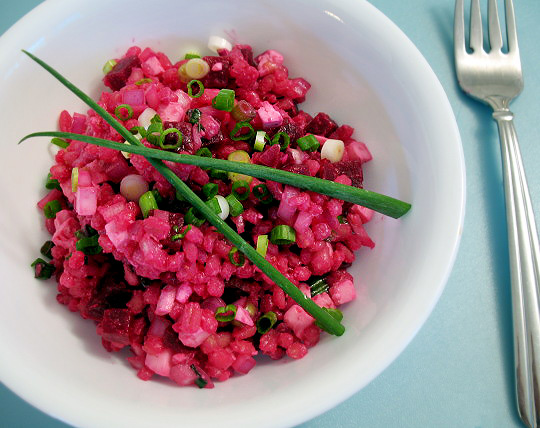 The Recipes
• Meyer Lemon Grain Salad with Asparagus, Almonds and Goat Cheese – We worked hard on the textures in this one: chewy grains, tender young asparagus, crunchy almonds, and creamy goat cheese. This got better (as grains salads usually do) as it aged. All of these store well and are great carry-overs for lunch and weeknight supper.
• Cous Cous Salad with Winter Squash and Cranberries – Squash is a good soft and creamy element for grain salads; it's almost like a dressing in itself.
• Roasted Beet Salad with Barley, Feta, and Red Onion – This is really a barley salad made bright and delicious with the feta (another great grain salad cheese) and sweet roasted beets.
• Wild Rice Salad with Roasted Green Beans and Dried Cranberries – Wild rice has a rich flavor unparalleled by regular rice. Here the dried cranberries and roasted green beans give it another kick of flavor.
• Spelt Farotto with Tuna and Artichokes – This is a hearty dish, best served warm or hot. It's chewy and full of flavor. The canned tuna and jarred artichokes also make this a good cupboard meal.
Have you made a grain salad lately? What are your favorite combinations of grain and ingredients?
Published: Sep 5, 2008