We Tried 4 Classic French Toast Recipes and the Winner Was from a French Grandma
We
independently
select these products—if you buy from one of our links, we may earn a commission. All prices were accurate at the time of publishing.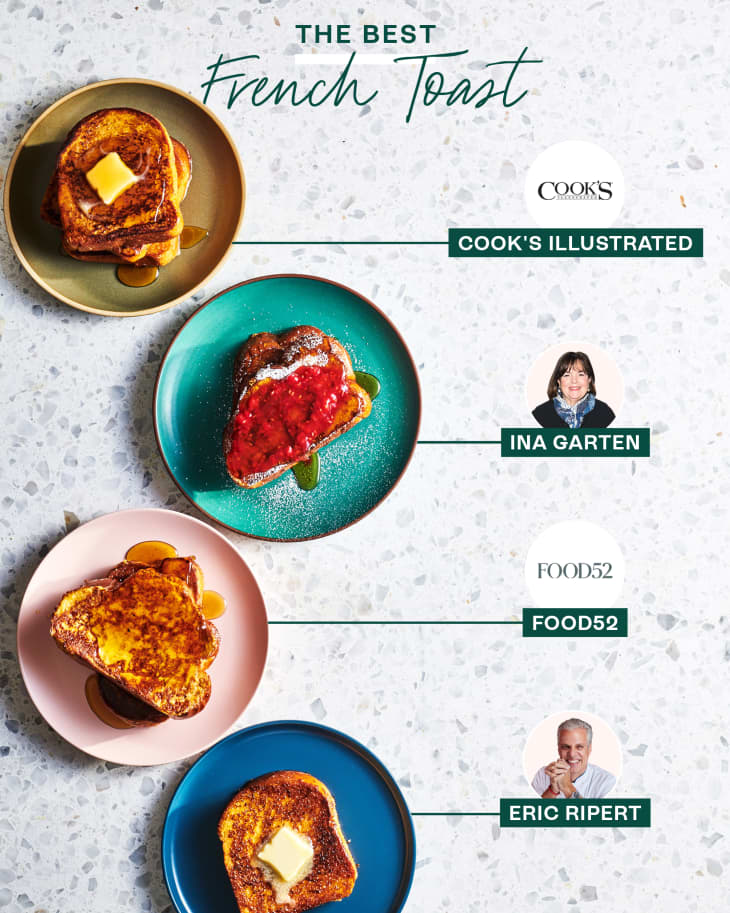 In the ranking of Very Good Breakfast Dishes, French toast is always number one for me. While syrup-soaked pancakes and waffles are wonderful, really good French toast absolutely knocks them both out of the running. When it is really good, French toast hardly needs any syrup.
But French toast can be tricky to get right at home — you need the right kind of bread; a good ratio of eggs, milk, and sugar for the custard; and the right cooking method to create that ideal crisp-to-creamy ratio. 
So when the opportunity to find the best classic French toast recipe was presented, I had to jump on it. French toast is one of my family's favorites, and even as a French toast lover I've struggled to find that perfect recipe I could go back to again and again. In an effort to find just that, I put four highly regarded (and regularly recommended) classic French toast recipes to the test. The winning recipe ruined me for all other French toast recipes. 
Meet Our 4 French Toast Contenders 
For this recipe showdown, I focused my search on classic French toast rather than easy French toast. Classic French toast is typically made with challah, brioche, or thick-cut white bread rather than sandwich bread or soft white bread buns. Easy French toast is something you cook and eat quickly to use up bread or dairy, while classic French toast is made intentionally with good bread and is meant to be savored. 
To find the best classic French toast recipe, I asked friends and family and also dug through a few Reddit threads on the subject. From all of those suggestions I pulled four contenders. 
Bell-less, Whistle-less, Damn Good French Toast on Food52: This 4-ingredient recipe has tons of 5-star reviews on Food52 and ranks high when searching for "the best French toast recipe." It also gets honorable mention on Reddit for being a minimalist's dream. Could less really be more?
Ina Garten's Challah French Toast: As you might imagine, Ina's French toast has lots of loyal fans. One reviewer even said "No joke, this is THE GREATEST French toast we've ever had." The inclusion of vanilla extract and lots of orange zest made me excited to give it a try.
Cook's Illustrated French Toast: Cook's Illustrated's French toast is one of the most-talked-about French toast recipes on the internet, including a Reddit thread that declared the custard "divine." 
Eric Ripert's Gran Ma's French Toast: A few loyal fans of this recipe sent me this recipe directly, which immediately got my attention. Plus, who would make better French toast than a French chef using his grandmother's pain perdu method? 
I used challah sandwich loaves from a local bakery for testing all of the recipes and did my best to cut the loaves into uniform slices, based on the thickness indicated in each recipe (1/2-inch for some recipes and 3/4-inch for others). Using the same bread as a control let me focus on the custard and cooking method. Only one of the recipes called for stale bread. I did this in advance so all of the recipes could be tested on the same morning.
I first cooked 2 slices of each recipe back-to-back so I could taste the French toast warm. I tried one piece plain and the other with syrup (or as suggested in the recipe). Then I cooked through each recipe in full to rate things like custard-to-bread ratio (was there enough egg mixture for all the bread slices?) and ease of cleanup. Read on for all the sticky details.
1. The French Toast Recipe That Left Me Scratching My Head 
This recipe gets 4.5 stars from Food52's community of cooks, the compelling headline draws you right in, plus it promises "you only need bread, eggs, cream, and good maple syrup." However, problems appear the minute you slice the bread and realize there won't be enough custard for all of the thick slices. 
I was enamored of the idea of a super-simple French toast, but I was really disappointed by this recipe. The custard is so thick that it doesn't fully soak into the bread. The only thing saving this recipe is the amount of butter the slices are cooked in, which gives it decent color, some crisping, and some flavor. A little seasoning in the form of salt or sugar or cinnamon would go a long way in making this recipe more appealing.
2. A Rare Miss from the Queen of Easy Luxury 
A quick read through Ina's French toast recipe will get you excited — it has all the markings of a class Garten recipe — good honey, XL large eggs, copious amounts of orange zest. But a deeper dive into the recipe's directions reveals a few missteps. 
Without any granulated sugar to break up the eggs when whisking, Ina's custard mixture ends up a little inconsistent, which makes for somewhat spotty finished toast. The honey used for sweetening isn't enough of a sweetener and doesn't help the toast brown (you need sugar for that). However, I was surprised by how well the flavor of the orange zest came through, which is a tip I'm taking from this recipe.
3. The Essential French Toast Method Everyone Should Know 
While the ingredient list and directions for this recipe look long, it doesn't require any preparation the day before and gently walks you through making some of the best French toast you'll ever have. However, there will also be lots of dirty dishes. 
The brilliance of this Cook's Illustrated's French toast recipe seems to be that both the bread and the custard are warmed before beginning. Toasting the bread gives it some extra sturdiness and the warm custard soaks right into the bread. I wish some of the steps were streamlined, but overall this recipe does not disappoint — a very delicious plate of French toast awaits anyone who tries this recipe. 
4. The French Toast That Will Ruin You for All Other French Toast 
Eric Ripert's French toast destroys everything I thought I knew about French toast. There is no custard to be made, no spices to measure, and yet weeks after trying it for the first time,  I can't stop thinking about it. Instead of dipping the stale bread into an egg-dairy mixture, you pour milk on the bread, then spoon whisked egg on the bread, then sprinkle the bread with sugar before cooking the bread in plenty of butter. The result is a French toast like I've never had before. 
I know this looks incredibly basic in the photos, but what we have here is everything French toast was made to be. The exterior is a crackling layer of buttery, caramelized sugar that makes syrup unnecessary. And inside? There you'll find a stunningly creamy, almost cake-like interior of milky custard. 
Final French Toast Thoughts 
While I'll think about Eric Ripert's French toast often (and eat it as much), Cook's Illustrated's method is the recipe I'd recommend everyone try first. Ripert's recipe requires some finesse and you may end up with a burned piece or two before you fall in love with it, while the Cook Illustrated's method all but guarantees you'll have restaurant-quality French toast at home. Either way, you're now saved from sad, soggy French toast forever. You're welcome.
Do you have a favorite classic French toast recipe? Let us know in the comments!