7 Freezer Essentials If You're Cooking for One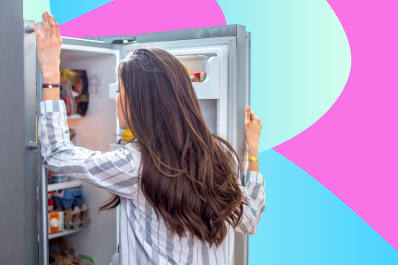 (Image credit: Nikodash)
A smartly stocked freezer is a true asset for a solo cook. It ensures easy, fast meals for one are always within arm's reach, no matter the day or occasion. And, of course, it's a great place to stash leftovers. Here are seven ways to stock your freezer if you're cooking for one.
1. Embrace bags of frozen fruits and vegetables.
Keep a few bags of frozen fruits and vegetables in your freezer and you'll always have something wholesome to reach for. Opt for loose bags of everything from frozen spinach and broccoli to frozen strawberries and mango chunks. That way you can easily pour out enough broccoli to roast it as a side or scoop out just the right bit of berries to blend into your smoothie.
2. Always have good bread tucked away.
While sliced sandwich bread lasts a bit on the counter, the best stuff — free of preservatives – does not. There's no reason you can't enjoy a crusty baguette or sourdough loaf solo, though. Cut the bread in slices or individual pieces, tuck it into a freezer bag, and reach for what you need when you need it.
3. Lean on frozen shrimp.
We're big fans of frozen shrimp at Kitchn. Not only is it affordable, but there are also so many ways to turn it into an easy dinner. It's usually sold in one-pound bags, but it's easy to grab a single serving and defrost it — or even cook it straight from frozen.
4. Freeze individual portions of meat.
Take advantage of that sale on chicken at the grocery store, but as soon as you get home, divide it into single portions and freeze them. That way you can easily reach for what you need without having to worrying about breaking up a frozen solid block of two pounds' worth of chicken breast.
5. Portion out freezable leftovers.
This might seem obvious, but it's worth noting: Freeze leftovers in single servings. Make the giant pot of soup and then divide leftovers among several small containers to freeze rather than one big container. For things like casseroles or lasagna, cut and freeze individual serving too. That way you can take out a portion easily instead of defrosting your entire supply.
6. Preserve your fresh herbs.
Single cooks may be all too familiar with buying a bunch of herbs for a recipe and having it wilt before getting to it all. Besides following some best practices to ensure they last as long as possible in the fridge, it's worthwhile to embrace a couple of ways to preserve them in your freezer. They can be frozen in olive oil in ice cube trays, made into a fragrant herb salt, or blended into pesto. Once in the freezer, you can take out just what you need instead of having to buy a big bunch again.
7. Keep quick desserts for one on hand.
Your future self will thank you for this: Make a batch of your favorite chocolate chip cookies, scoop the dough out into balls on a baking sheet, and freeze them. Once frozen solid, pop the dough balls into a freezer bag. Then, when your sweet tooth calls, you can easily grab a couple and bake them straight from frozen — they'll just take a couple of minutes longer.