For Entertaining: 5 Classic Salad and Serving Bowls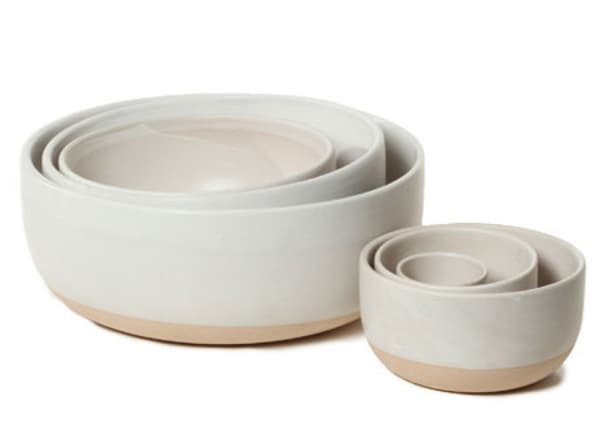 Serving bowls are essential: while your food may be the star, a beautiful bowl is necessary to really show it off. From ceramic and wood to stainless steel and recycled glass, here are five classic designs:
1. Stoneware Bowls Set of 6, $196 from Blackbird: Delicate yet durable. Finished with a cream, flecked food-safe glaze. Sizes range from 3" x 1.5" diameter to 7" x 2" diameter
2. Large Maple Wood Bowl, $170 from Kiosk: Handmade in Vermont. 15"x 4 1/2"
3. Tourne Serving Bowl, $55 from Brook Farm General Store: Ceramic with a white glaze. Made in the USA. 8.5" x 4"
4. Alessi Stainless Steel Serving Bowl, $110 from Canoe: Part of a series of serving pieces introduced in the early 1960s. 4.25"H x 11.5"D
5. Straight-Sided Glass Bowls, $12 from Canvas: Clean and stylish. 5" and 9" diameter.
Are you partial to one particular material or color? I've decided stoneware is my favorite, although you can't go wrong with a smooth, glazed ceramic. What do you think?
Related: Timeless Tableware: My Grandmother's Wood Salad Bowl
(Images: as linked)