What's the Difference Between a Food Processor and a Blender? Here's What You Should Know
We
independently
select these products—if you buy from one of our links, we may earn a commission. All prices were accurate at the time of publishing.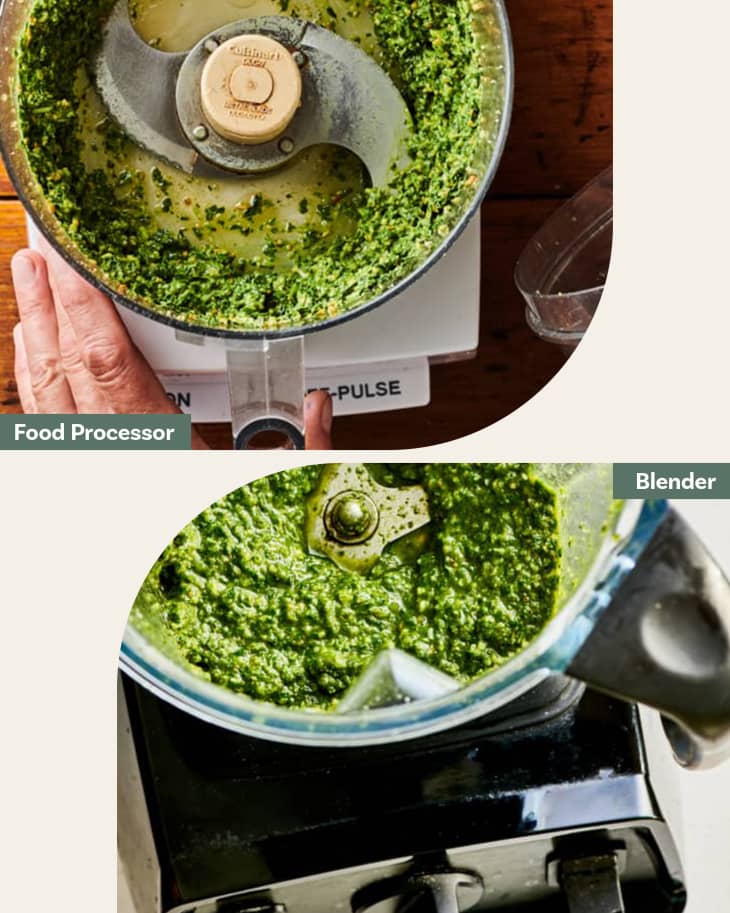 With the endless slew of kitchen appliances available to make your cooking experience less labor intensive, it's easy to feel a little in over your head. So perhaps you've asked yourself: what exactly is the difference between a food processor and a blender? They both blend and chop food, but what sets them apart from a technological standpoint?
Quick Overview
What's the Difference Between a Food Processor and a Blender?
While a food processor and a blender both contain blades meant to manipulate and break down foods, they differ in mechanical function. A basic food processor typically contains an s-shaped blade meant to precisely chop and mince various ingredients. A blender usually has multiple shorter blades that fan upwards, which help to turn ingredients into a very smooth consistency, such as a puree, soup, or smoothie. Both a food processor and blender, however, commonly have various settings and speeds in order to create various textures.
These days, something as simple as choosing a blender or food processor has become a test of your critical thinking skills with all of the different variations available at your whim. Throw into the mix the question of which one you need most, and if you're not careful, you'll end up walking out of the store with both in hand. Luckily, the difference between each is fairly distinctive, though the two appliances do share plenty of similarities. 
Food Processor vs. Blender: What's the Difference?
Food Processor: As per the experts at KitchenAid, a food processor "opens a whole world of possibilities from convenient food prep, to creating complete dishes." A jack-of-all trades type of kitchen appliance, the food processor will chop and grind to your heart's desire as well as purée. However, unlike a blender, a food processor is best used for chunkier results and features a wider work bowl and multiple blades for shredding and slicing. It can also be used for messy tasks such as making pasta dough. The larger s-shaped blade yields a far more precise cut at slower speeds than a blender, making it a workhorse of an appliance.
Blender: Considered the food processor's "close relative in the kitchen," a high-quality blender is a kitchen essential. A versatile kitchen tool in its own right, blenders are used to make pourable purées such as smoothies and soups, and can even handle bigger batches of food and hard ingredients such as frozen fruit or ice. Where the blender really shines is in its ability to effortlessly break down foods with exceptionally smooth results. 
Can You Use a Blender Instead of a Food Processor?
While both appliances are interchangeable for a handful of tasks including emulsifying and puréeing, the truth of the matter is that they each do serve their own unique purpose. If you are in a position where you find yourself deciding on purchasing one over the other, try to consider what exactly you will be using the appliance for, and decide from there. If you're someone who plans to make a lot of pesto and make quick work of chopping vegetables, opt for a food processor. Choose a blender if you'd prefer to make  smoothies and creamy soups.
What Is the Disadvantage of Using a Food Processor?
In an article published in Kitchen Habitat, it was concluded that food processors are "not intended for mixing liquids to make smoothies or purées." The article went on to warn of the dangers of using the appliance to combine liquids due to the potential "risk of leakage through the middle of the bowl." And in terms of combining heavy ingredients, a food processor may still leave behind some unprocessed bits. 
What Is the Disadvantage of Using a Blender?
As mentioned in an article published in Money, the downside to using a blender came down to the fact that it can "take longer to blend ingredients than a food processor due to its lower power output." More liquid may also be required to fully purée the ingredients.