Essential Detroit: 15 Places Everyone Should Eat in the Motor City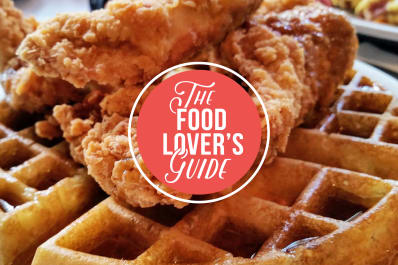 (Image credit: Dana McMahan/ Graphics: Susanna Hopler)
Sometimes food is about artisan ingredients, beautiful plating, and a chef's brilliance; sometimes food is about soul-soothing nourishment. That's not to say it can't be both, but the latter is one of the reasons I fell in love with an unlikely Midwestern city. In fact, I fell so hard I bought a big, old house that had plenty of soul, but needed a lot of TLC.
How I Fell in Love with Detroit & Its Food
My Michigan husband and I bought a triplex in a neighborhood near the Motown museum, after I'd gone to Detroit to write a travel story, and — like so many others since — fell under its spell.
Armed with tidy to-do lists, Pinterest boards, and dreams of opening the home to fellow Detroit dreamers, we tipped into a gauntlet of endless work. The summer of riveting possibility turned into an autumn of angst as costs exploded and problems mounted, then into a winter of worry. The cold blowing off the Detroit River threatened to seep the last scraps of joy we'd started out with.
But always just out there, the promise of Detroit awaited. We'd pry ourselves from plaster repair and just drive the vast city and remember what we loved.
We met an employee at a hardware shop who sold us homemade chicken pot-pies to sustain a single-digit Valentine's night of windows-open floor sanding. We slurped noodles in the blissfully warm and steamy confines of a ramen joint.
On a day of almost comically bad proportions — Friday the 13th, no less — we had to flee the four walls, and found solace with a drive through falling snow, only our headlights illuminating the flakes skidding across the broken glass and graffiti on the wide, empty streets. We slid famished into a table at a brightly lit bistro and left with new friends, warmed by the companionship as much as the whiskey the chef brought when he heard we were from Kentucky (and by his proclamation that Detroit is the greatest city in the world).
Being around Detroiters at comforting restaurants healed my weary heart and soul and refueled me for the work remaining. But you don't have to be in the throes of home renovation to appreciate this kind of place. Fall is the perfect time to visit so if you're Detroit-bound, here are some places to feed your own soul.
15 Essential Places to Eat & Drink in Detroit
This little eatery on the Avenue of Fashion serves rib-sticking fare that was just what the doctor ordered on a frigid winter's day when I was ready to hightail it home to Kentucky. Better still was the warmth and friendliness of the patrons, staff, and chef. Tightly packed tables made for communal-style dining, and when they learned we were from Kentucky whiskey started landing on our table.
This recommendation comes from Brian Spencer, a freelance journalist and founder of Beer Travelist.
Like many metro Detroiters the "everyday pizza" for me growing up was Little Caesars (Pizza! Pizza!), with a takeout square from Papa Romano's as an occasional treat. However, it was (and still is whenever I'm back in town) a special occasion to head to Buddy's Pizza — any of the 11 locations around the area will do — to dig into one of its signature decadent square pies. The puddles of tangy sauce, the crispy and wonderfully greasy crust, the gooey cheese — my god. Chicago deep dish gets more cred, but I'll take Detroit-style pizza, best embodied at beloved Buddy's, over that overrated stuff any day!
(Our own favorite Buddy's location is the original on the corner of Conant and Six Mile.)
Some days (and nights) call for chicken and waffles in a completely no-frills space. This joint is sure to have a lengthy wait time, and the butter is of the not-actually-butter packet variety, but man do they have some happy-making chicken and waffles!
Crispy fried chicken and fresh-out-of-the-iron waffles that I drench, and I mean drench, in sticky-sweet syrup let me forget for a while the latest renovation woes. We take every friend or family member who visit us in Detroit to this place and they all become instant fans.
I'm not alone in the chicken-and-waffle love. Sandy Levine, owner of Detroit Free Press Restaurant of the Year Chartreuse Kitchen & Cocktails and speakeasy The Oakland, raves about this soul food restaurant down the street from 1917.
I usually get the Trey-Deuce (three-piece chicken and two waffles). I like the flaky crispness of their batter and usually eat pretty healthfully, so it's always a treat to go there and just get down on some real comfort food. In addition to the food, the atmosphere is really warm and hospitable too — the staff is always smiling and in a good mood and, needless to say, so are the guests.
(I would add, who wouldn't be smiling when you can pour bourbon maple syrup on your plate?)
Everybody needs a go-to spot — a welcoming place they can just head to no matter what and count on great, affordable food and drinks. Ours was this early arrival to the now super-trendy Corktown neighborhood. From the first time I walked into the '70s throwback done up in horse racing memorabilia (you can take the girl out of Kentucky), I was at home.
With a short menu of inexpensive but wildly delicious sliders and $3 drinks, dim lighting that makes you blink when you emerge, and laid-back service, this was our lifeline to the world outside our house many a day.
Liquid fuel feeds the soul too, says Detroit historian Mickey Lyons.
My comfort food is usually along the lines of a good bourbon and conversation. Whisky Parlor's upstairs loft-style bar is cozy and welcoming, and you can often find a great jazz trio playing. It's above Grand Trunk Pub, so you can order anything from a Reuben to a nice hearty soup from downstairs, but the Parlor also has their own menu of small plates.
If I'm in real need of indulgence, I'll have the potato pancakes with crème fraîche and caviar. It's just enough decadence to make me feel special, but it's affordable enough that I can still focus on the real comfort: the whiskey.
Depending on my mood and what they've gotten in lately, I'll go with a sherry-cask-aged Scotch or maybe a nice single-barrel bourbon. And the staff are consummate hosts. They're great at engaging regulars and newcomers to the city in conversation about whiskey and life.
Eastern European fare is about as soul-satisfying as it gets. Polonia had me at bacon spread — a cold spread of bacon fat topped with bacon crumbs and fried onions — slathered on hearty bread with pickles on the side. Trust me on this one; I took extra home for later sustenance.
I can't pick just one of these two old-time family restaurants in Hamtramck, and neither should you! Polish Village won me over with a magical old-world underground dining area that I just want to be ensconced in until winter ends.
Pick your fish and they'll fry it up. Take home massive portions of fried fish, French fries, hush puppies, cole slaw, and any other fixing you can imagine. Your car will smell like fryer, your fingers will be covered in grease, you'll have a ridiculous amount of food left over, and you'll be a fan for life.
The claim to fame for this jazz bar and soul-food restaurant on 8 Mile? It's the world's oldest jazz club. But the claim could just as easily be for their heaping plates of fried chicken and fixings. Go for the throwback glamour of this intimate live music joint — but stay for the food.
Picture grandma's best Sunday dinner but in a dark room with low-slung booths and flickering lights, a crooning sax on the stage right in front of you, the friendliest servers you've met, oh, and a bar done up like a piano. There may be no more magical place in Detroit — or anywhere, for that matter.
5 More Spots to Hit in the Motor City
But wait, there's more! All told we spent a year house-hunting and a year-and-a-half working on the house, getting a thriving Airbnb and a rental going, long enough to find quite a few favorites. We eventually sold that house to focus on an even older house renovation in our own home city — clearly we never learn! — and the best part about no longer being tied to property responsibilities in Detroit is how much more time we have to just enjoy eating when we're in town visiting!
Have you been to Detroit? What are your favorite places to eat & drink?