Flour, Too by Joanne Chang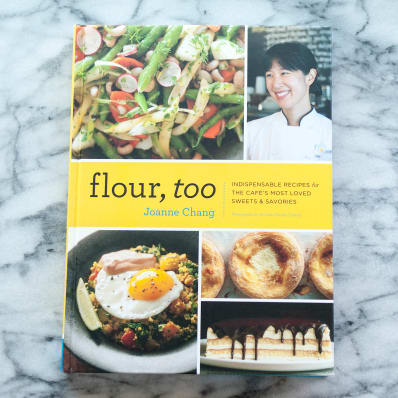 As a former resident of Boston and a frequent consumer of Flour Bakery's jam-filled doughnuts during those years, this cookbook brings me great joy. Flour Bakery is a special place and the food they serve — everything from vegan berry muffins to chicken pot pie! — is the kind to make you happy in both belly and in spirit. And although it's not quite the same as sitting at one of their sun-dappled café tables on a Saturday morning, being able to re-create favorite Flour Bakery treats at home is definitely the next best thing.
Quick Facts
• Who wrote it: Joanne Chang
• Who published it: Chronicle Books
• Number of recipes: Over 100
• Recipes for right now: Cinnamon-Cream Brioche, Vegan Vanilla-Mixed Berry Muffins, Flour's Famous Egg Sandwich, Ham and Vermont Cheddar Hot Pockets, Curried Tuna Sandwich, Summer Three-Bean and Potato Salad, Slow-Baked Atlantic Salmno with Tabouli, Flour Pickles, Best Boston Cream Pie, Cantaloupe-Mint Seltzer
• Other highlights: While Joanne Chang's first Flour cookbook focused on the bakery's breakfast pastries and baked goods, this second book turns toward Flour's savory menu offerings. Oh, how I wish the pictures were scratch-and-sniff! The flavors in each dish seem precisely designed to tempt and tantalize, like dollop of harissa-spiced yogurt that brings together a bowl of stewed chickpeas, and the candied lemon peel that tops off a light salad of crunchy fennel. I feel such as decision-torn while reading through the table of contents as I do when standing at Flour's register.
The book is broken into Breakfast, Lunch, Dinner, Party Time, and Drinks. Subsections in each chapter go into sweet and savory breakfast offerings, salads, sandwiches, main courses, desserts, snacks, and desserts. If you've coveted something off their blackboard menu, chances are that you'll find it here!
These don't feel like restaurant recipes — they feel like the kinds of foods we want to cook for ourselves. You won't find any fussy steps or hard-to-find ingredients here. The recipes are playful and fun, and they feel completely approachable for any home cook.
• Who would enjoy this book? Fans of Joanne Chang and Flour Bakery, cooks looking for new inspiration for breakfast, lunch, and dinner.
Find the book at your local library, independent bookstore, or Amazon: Flour, Too by Joanne Chang
Apartment Therapy Media makes every effort to test and review products fairly and transparently. The views expressed in this review are the personal views of the reviewer and this particular product review was not sponsored or paid for in any way by the manufacturer or an agent working on their behalf. However, the manufacturer did give us the product for testing and review purposes.
(Images: Emma Christensen)
Kitchn supports our readers with carefully chosen product recommendations to improve life at home. You support us through our independently chosen links, many of which earn us a commission.