Finch's Sunny San Francisco Kitchen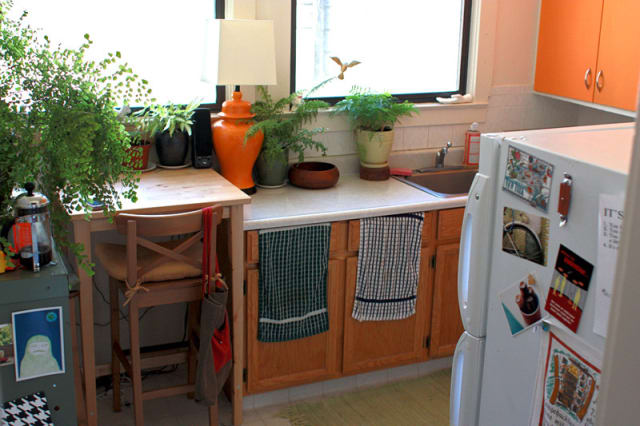 Who cooks here? Finch and boyfriend, Ben.
Location: San Francisco, CA
Own or rent? Rent
Kitchen size: 82 square feet
What challenge have you overcome in your kitchen?
When I first moved in, the refrigerator was where the bar table now resides, blocking most of the one window. Moving it next to the oven opened up the window and improved the work flow triangle of the space, and made it possible to put the nice little table in.
Give Finch a THUMBS UP if you think this kitchen belongs in the finals!
Thumbs Up Voting is only activated for 48 Hours — so don't delay!
What's the story of your kitchen?
The previous occupant painted the floor to ceiling cabinets orange, and the landlord didn't paint them over when she moved out. It was really startling at first but it makes it really cheery. There's also a lot of counter and storage space, and places for indirect-light loving plants.
What is your favorite meal to cook here?
It's really difficult for me to choose... I love making week night dinners, desserts and baking bread, and cooking breakfast/brunch on the weekends.
More posts in Small, Cool Kitchens Contest 2010 presented by The Kitchn - Rent