Family Traditions: Snacks for the Road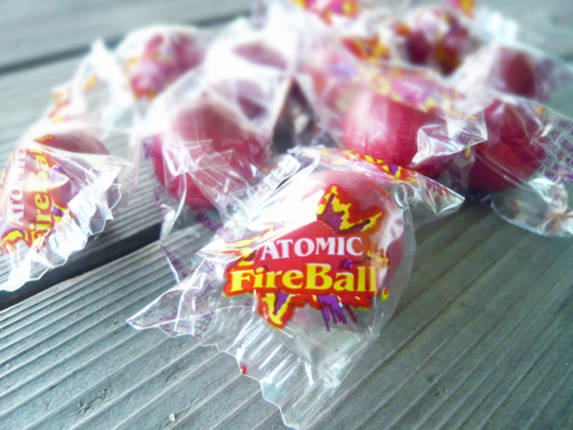 Road trips are fun, especially when I don't have to take the kids. Just me, my iPod (filled with hip hop, R&B, rap and the show tunes nobody else wants to hear) and my favorite car snacks. Junk food for the road! I love a cold diet soda and a bag of spicy chips. Like Pavlov's dog, my mouth starts to water for that combination as soon as I pull into the first gas station. But when I was younger, we had fire balls.

I have two sisters and a brother, and our parents had a navy blue Buick LeSabre station wagon, with tan interiors and a thin, tan racing stripe. I vaguely recall thinking the car looked more sophisticated than its wood paneled counterparts. Though we had a good time on vacation, the trip there was not always the best part. There was the time when my mother got into the car, still mad at my dad because he wouldn't listen when she said the luggage box on the roof needed to be more secure. About an hour into our trip, I watched from the rear-facing back seat as it flew from the top of the car, exploding on the side of the road. I can still see my father jogging down the side of the highway to retrieve our luggage, while my mother sat in the front seat with a self satisfied smile.
Snacks for four children can be expensive, so my parents brought fruit and crackers, simple things to stop us from complaining. We usually stopped at least once to get gas and stretch our legs. Dad would always come back to the car with a handful of fireballs. For the rest of the trip, we entertained ourselves by competing to see who could suck on them with a closed mouth for the longest time. Were fire balls hotter back then? I swear they were.
These days, when we travel with all three of our boys, I don't buy snacks unless we're really, really hungry. But I do treat myself on solo road trips. Last summer, while traveling with just one of our sons, I let him in on my little secret. A year later, alone on the road with him again, we stopped to get gas and snacks.
"Mom! They have your chips!"
It's a sweet boy who remembers his mother's favorite junk food.
Do you have a favorite snack for the road? Do you try to keep it healthy or do you indulge?

(Images: Anne Postic)