Faith's Kitchen Renovation: The Big Reveal, the Final Result!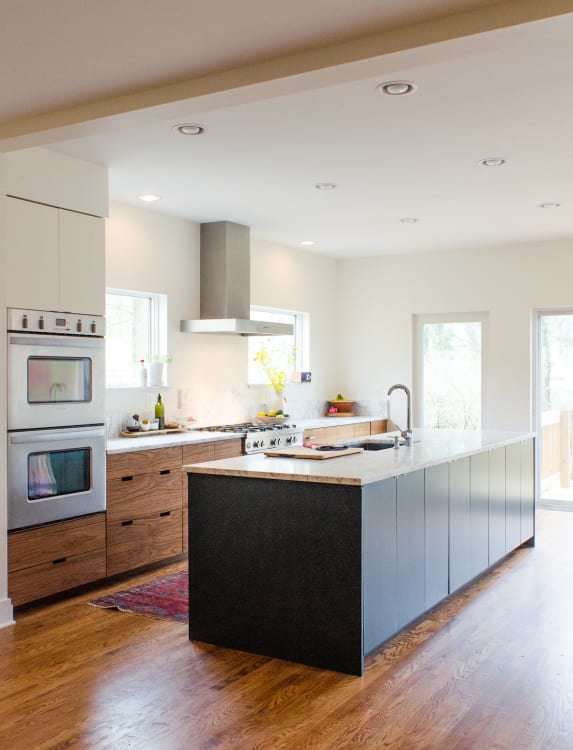 I've been sharing my kitchen renovation with you over the past couple of months (see all the posts and the progression here). Today's finally the day: the big reveal! Here are some photos of my kitchen as it is today, after all the research, sweat, and dust. We are thrilled and feel so lucky — hope you enjoy the peek!
The Kitchen
When you come down the hall from our front door and vestibule, this is what you see — a big open kitchen and dining area. We actually added on to our home to make this space possible.
As I told you earlier, we opted to use IKEA cabinets, with custom fronts from Semihandmade Doors. We are so happy with the way they turned out! You can see in some of the photos above how John made the walnut grain run continuously from drawer to drawer. Beautiful!
We bought unfinished doors from John for the island (so reasonably priced!) and had them painted by a local shop who did them in a spray booth. The final finish is very smooth and washable.
A few notes on decor: I really wanted a kitchen that felt part of the home — built-in and comfortable, without drawing a lot of attention to stainless steel or industrial style finishes. So a rug was one of my first decor picks. I bought it for $50 (!) at a local antiques shop and put it over a very secure non-slip mat. It's very easy to clean, and since it's old and threadbare, I find that I don't worry about ruining it. It adds color and warmth to the kitchen — I love it.
We saved money in several places in the kitchen, and lighting was a major place we had to scrimp. I wanted really cool statement lighting for over the table, and ended up with two synthetic paper lamps that have such a great shape and vibe — but won't hang straight for love or money! They were less than $100 apiece, though, and they are a great solution for now while I save my pennies for the light fixture of my dreams in a few years.
The Dining Area
Our home is older (1921) and we wanted an open living and dining layout in the kitchen. This is a very practical desire for us; we have people over a lot, and my whole family lives in town. Since there are eight of us kids, plus spouses, our family dinners are big!
Also, I am a professional recipe developer and food writer, so I spend a ton of time in the kitchen. I wanted an open area where other people could hang out with me while I cooked, without getting in my space too much.
A cabinet where we keep our liquor and cocktail glasses. Someday I'd love to have a built-in desk here as well as a wet bar area with upper cupboards.
Storage Peeks
Here are a few peeks inside the storage in the kitchen and the many (many, many!) drawers.
I love them — I am short and having everything below me instead of above has been the single biggest improvement in this kitchen. More info in the captions of the photos...
Looking back down the hall, the pantry on the right...
The Pantry
Even though there's an embarrassment of space and storage in the kitchen drawers, I wanted a pantry with space for ingredients and products waiting to be reviewed for the site. I also wanted laundry near to hand — a huge perk.
We also keep our coffee setup and the microwave and toaster in here. Tucked behind the fridge is a narrow pull-out pantry from IKEA that holds yet more.
Before & After
And what's a big reveal without at least one before and after shot? We added on to build this kitchen, so there's not a proper before shot of the kitchen (other than the back deck!) but here's a look back down the hall, where we put in the pantry and a small bathroom.
It's marvelous what fresh drywall and white paint can do to a place!
Thanks for reading!
Thanks everyone for reading along about my kitchen renovation. It was so fun to share it with you! I'll add some more thoughts on renovation dos and don'ts soon, and some of the things we learned. Watch for more in-depth reviews of our appliances later this summer, too.
Featured Resources
Cabinets: IKEA
Art over Table:
Vermeer, printed by
ixxi
Runner Rug: Vintage from antiques store
Chairs: Vintage and IKEA
(Images: Faith Durand)
Kitchn supports our readers with carefully chosen product recommendations to improve life at home. You support us through our independently chosen links, many of which earn us a commission.