Aran Goyoaga of Cannelle et Vanille Shares Her Favorite Seattle Secrets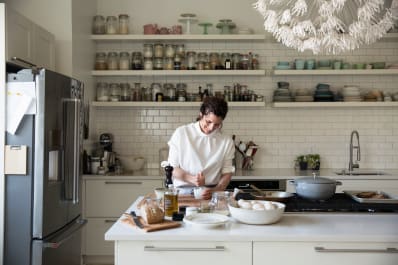 (Image credit: Charity Burggraaf)
Aran Goyoaga, an effervescent Seattleite who grew up above her family's bakery in Spain's Basque Country, has earned a reputation as one of the country's best food photographers. Her bright, airy studio in Seattle's Belltown neighborhood doubles as a meeting space, where she also teaches photography workshops and hosts fundraisers. On any given day, you'll find her there, working on one perfect photo for a corporate client, having eggs on toast with homemade pistachio-rose dukkah with a friend, or brainstorming for her next big project while she turns out loaves of gluten-free sourdough.
But Aran is also the kind of person you want holding your hand when you need a snack in Seattle — in part because she always knows where to find the best food, but also because as a food photographer (and Instagram sensation at @cannellevanille), she also eats for the light. We followed Aran on a day off to find out what Seattle spots she relies on for great coffee, good conversation, and constant inspiration.
(Image credit: Charity Burggraaf)
(Image credit: Charity Burggraaf)
Aran's Goyoaga's 5 Favorite Seattle Spots
I meet with a lot of photographers regularly at Oddfellows because its architecture — and the fact that it's in a gorgeous historic building — reminds me of a lot of old European coffee shops. But it's also modern and it has great light. I'm usually there for breakfast, when I have the baked eggs with ham, or for lunch, when I get the roasted carrots with hummus and their amazing gluten-free bread. And coffee. Always coffee.
(Image credit: Charity Burggraaf)
Food and music are the two conversations that are always constants in my life, and Porchlight has both. It's a tiny place, but they fit so much inside! Zack Bolotin, the owner, is someone I've gotten to know, and I love to go when he's there because he's funny and we get to talk about music. They also have a bargain record bin, they make really great lattes, and they usually have art for sale from local artists and a cool collection of merchandise that rotates every few months.
(Image credit: Charity Burggraaf)
Book Larder is an entire store dedicated to cookbooks. I tend to be a cookbook hoarder, and for me it's the most perfect place to shop because owner Lara Hamilton and her staff really do know each book inside and out. They also carry the original issues (as opposed to American editions) of many foreign cookbooks, and I'm a total fan of British cookbooks. Plus, they are constantly hosting incredible cookbook authors for signings and cooking classes.
(Image credit: Charity Burggraaf)
My ideal lunch is a hearty salad or beans with a perfectly soft-cooked egg, which is why I love Vif in upper Fremont. I often head there with friends, because I can also sip on a latte made with their homemade almond milk — it's super creamy. And if I need a sweet treat, I love the doughnut muffin — it's almost like a baked sugar-dusted doughnut. Because it has huge windows, even on a rainy day it has amazing light.
(Image credit: Charity Burggraaf)
(Image credit: Charity Burggraaf)
I get a lot of my props for photography at Marine Area 7, a cute little shop in Madison Valley owned by another Seattle food photographer, Jim Henkens. Besides a great wine selection, he just has the most beautiful vintage serving dishes and cookware, and all these unusual things he brings back from trips around the world — old cutting boards, antique knives, and other assorted kitchenware. I've gotten plates and copper pots there, and he also has a good selection of cookbooks.
Thanks for the visit, Aran! Find out more about her photo workshops at Cannelle et Vanille, pick up a copy of her book Small Plates and Sweet Treats, and follow her gorgeous Instagram feed @cannellevanille.
Kitchn supports our readers with carefully chosen product recommendations to improve life at home. You support us through our independently chosen links, many of which earn us a commission.